A list of upcoming and previous NHGRI events held in celebration of National DNA Day, including special seminars, online discussions and guest speakers.
Upcoming Events
No National DNA Day events are currently scheduled at this time. Please check back later for more information on upcoming events.
Past Events
Louise M. Slaughter National DNA Day Lecture - David Kong, Ph.D.
NHGRI hosted its annual Louise M. Slaughter National DNA Day Speaker Series with special guest speaker David Kong, Ph.D., is a synthetic biologist, community organizer, musician and photographer.
Dr. Kong's discussion topic is connecting the life sciences with diverse communities. The event took place on Tuesday, April 23, 2019 from 3 p.m. - 4:30 p.m. in Lister Hill Auditorium (Bldg. 38A).
More about Dr. David Kong:
Dr. Kong received a Master's degree in nanotechnology and a Ph.D. in synthetic biology from MIT. He is a researcher at MIT's Lincoln Laboratory developing microfluidic, "Lab-on-a-chip" biotechnologies. Dr. Kong was recognized as an emerging leader in synthetic biology as a "LEAP" fellow, served as a guest faculty member at the Marine Biology Lab in Woods Hole, and is managing faculty of "How To Grow (Almost) Anything," an international course on biotechnology. He is the founder and director of EMW, a community center in Cambridge, MA. Dr. Kong is part of the EMW Street Bio team that created Biota Beats. Biota Beats translates bacterial cultures into music, ultimately fostering community, transfer and exchange while celebrating art, science and life in all forms.
National DNA Day Reddit "Ask Me Anything" (AMA)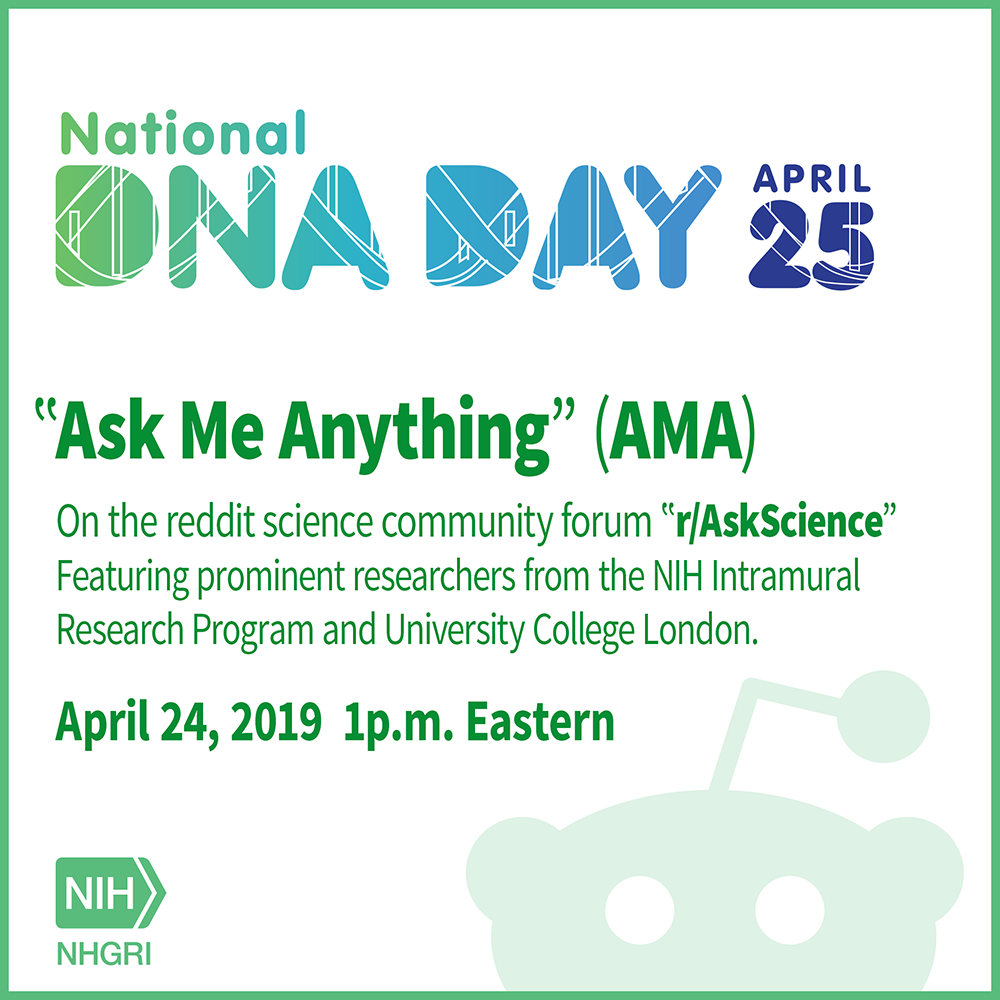 The National Human Genome Research Institute (NHGRI) hosted a National DNA Day Reddit "Ask Me Anything" (AMA) on Wednesday, April 24, 2019 at 1:00 p.m., Eastern.
Prominent researchers from the NIH Intramural Research Program and University College London answered questions at the Reddit Science community forum, "/r/askscience".
A Reddit AMA is an opportunity to ask interesting individuals questions about anything and everything.
Smithsonian Hot Topic - Erin Ramos, Ph.D.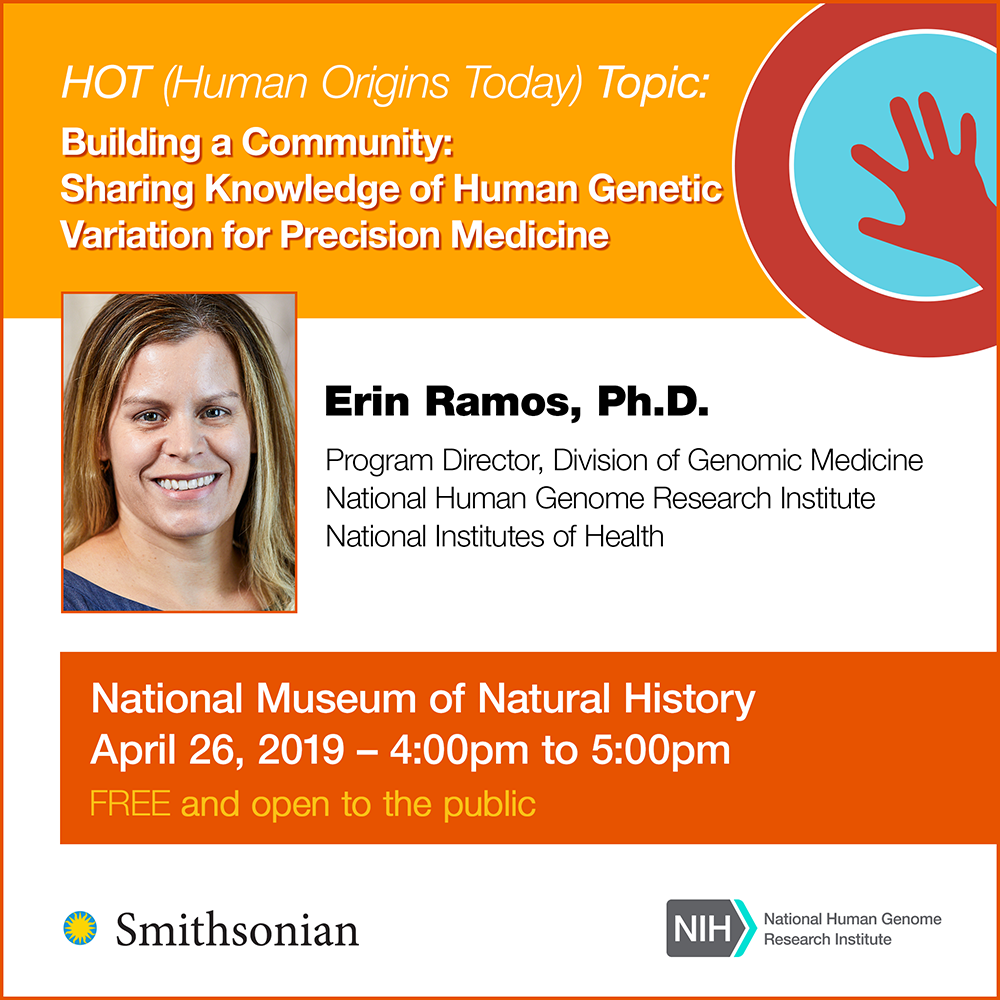 NGHRI partnered with the Smithsonian's National Museum of Natural History (NMNH) for their HOT (Human Origins Today) Topic public forum series.
This National DNA Day took place Friday, April 26th, 2019. This year's speaker was NHGRI's own program director in the Division of Genome Medicine, Erin Ramos, Ph.D. Dr. Ramos' discussion topic was "Building a Community: Sharing Knowledge of Human Genetic Variation for Precision Medicine".
Time: 4:00 - 5:00 p.m.
Location: One Species Living Worldwide Theater, Hall of Human Origins
Free: No advance reservation or ticket required
Learn More: Building a Community: Sharing Knowledge of Human Genetic Variation for Precision Medicine
Last updated: April 23, 2019