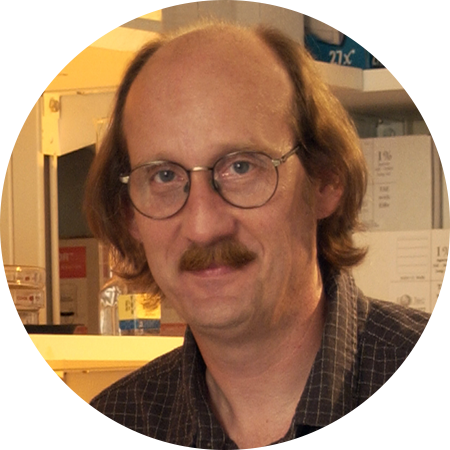 Erich Roessler, M.D., Ph.D.
Associate Investigator
Human Development Section
Education
M.D. Baylor College of Medicine, 1986
Ph.D. Baylor College of Medicine, 1984
Biography

Dr. Erich Roessler obtained his B.A. summa cum laude from the Plan II Honors program at the University of Texas at Austin, and completed a combined M.D./Ph.D degree at Baylor College of Medicine as a Howard Hughes Medical Scientist scholar. After completing a pediatric residency at Children's Medical Center, Dallas, he trained in basic research and clinical trials as a medical staff fellow in the Metabolism Branch, National Cancer Institute, National Institutes of Health. He began formal training in medical genetics at the NIH in the Inter-Institute Training Program.

Following subspecialty training at the Children's Hospital of Philadelphia in medical and biochemical genetics, he returned to the NIH as a staff scientist in the laboratory of Max Muenke, M.D. In recognition of his contributions to the success of the Muenke lab, he was promoted to faculty status and is engaged in development of a vigorous translational genetics program, adoption of new next generation technologies, implementation of rigorous diagnostic testing for the many disorders under investigation, and functioning of the lab.
Scientific Summary

Dr. Roessler focuses on identifying human genetic mutations that contribute to birth defects and demonstrating how these mutations cause their pathophysiology. His research has impacted the field of the molecular genetics of forebrain development through the systematic genetic and environmental study of holoprosencephaly (HPE) susceptibility factors. HPE is the most common malformation of the human forebrain, and is often pathogenetically implicated in concurrent malformations of the face. Dr. Roessler has led the design, organization, implementation and interpretation of most of the Muenke lab's research investigations into HPE over the past decade and a half, especially with respect to the molecular aspects of HPE pathogenesis. The group has intensively investigated and reported dozens of developmental genes in the scientific literature . Dr. Roessler regularly offers his experience as a physician-scientist to bridge the expertise of basic researchers with active clinicians, collaborators and clinical trainees.

As a team leader, Dr. Roessler has helped to identify many of the genes implicated in HPE malformations, and understands the interconnections between environmental and genetic risk factors. This fundamental understanding of disease mechanism helps during the process of genetic counseling, the articulation and development of novel research questions, and in establishing biological assays of gene function in model organisms, such as the zebrafish and mouse.

The zebrafish is an ideal organism to study many of the key steps of both laterality (body plan organization) and brain development (HPE and related malformations) by virtue of its optical transparency and rapid development (organogenesis within one day). Working with an extensive network of intramural cores and principal investigators, Dr. Roessler is developing and applying many of the essential strategies for individual gene and gene-network analysis. For example, in collaboration with the NIH zebrafish community and staff scientists in the Muenke lab, he has refined and developed a biosensor approach that allows for direct assessment of normalized biological activity of variant alleles. This approach and its mathematical framework demonstrate the underlying strategy for human genome functional annotation. As technical challenges to revealing the secrets written in the human genome are revealed by advances in sequencing technology, scientists and clinicians are still left with immense challenges in interpretation of detected variations. In addition to conventional zebrafish manipulations, Dr. Roessler employs newer n-Counter Nanostring methods and targeted gene disruption using TALEN and CRISPER techniques. These strategies are superior to an individual variant or mutation counting method because they constrain the interpretation to actual experimental measurement.

By developing tools to analyze the biological effects of individual gene variants, in conjunction with members of the Muenke lab, Dr. Roessler has paved the way for meaningful genotype-phenotype characterization of changes in those genes most commonly associated with HPE spectrum disorders: SHH, SIX3, TGIF, ZIC2, CDON, BOC and GLI2. Taken together, these mutational spectrum analyses and genotype-phenotype studies have established the basis for understanding HPE pathogenesis and the likely characteristics of future HPE genes.

A direct benefit of his sustained research and cumulative expertise is the collection of an unparalleled cohort of patients with HPE spectrum disorders. The HPE team has collected over 1,000 cases that now allow for sophisticated analyses using the latest in molecular techniques (e.g., array CGH, modifier screens on sub-cohorts of mutation carriers, whole-genome sequencing of selected pedigrees allowing for exploitation of Mendelian inheritance and comparative genotype-phenotype analysis).

Dr. Roessler has successfully competed for a proposal funded by the NHGRI Flagship committee and has collaborated extensively with the Genomics, Microscopy, Microarray, Zebrafish and Mouse Cores. His most recent work includes targeted capture of both coding and noncoding elements surrounding known HPE genes and potential candidate genes. Retrospective analysis of the molecular characteristics of well-established HPE genes across multiple diagnostic centers provides clear predictions for future HPE genes and their modifying factors. This approach will establish a clear framework for future whole genome analysis, as the initially prohibitive costs of medical sequencing continue to decline.

Dr. Roessler has contributed to dozens of molecular and clinical papers related to HPE and related disorders over the past several years. In addition, he has made substantial contributions to the experimental design and molecular approaches to the genetics of behavior (e.g., ADHD), craniofacial anomalies, and brain disorders distinct from HPE (e.g., schizencephaly), among others.
Publications

Roessler E, Belloni E, Gaudenz K, Jay P, Berta P, Scherer SW, Tsui L-C and Muenke M. Mutations in the human Sonic Hedgehog gene cause holoprosencephaly. Nat Genet, 14: 357-360. 1996. [PubMed]

Roessler E, Belloni E, Gaudenz K, Vargas F, Scherer SW, Tsui LC, Muenke M. Mutations in the carboxy-terminal domain of Sonic Hedgehog cause holoprosencephaly. Hum Mol Genet, 6:1847-1853. 1997. [PubMed]

Wallis DE, Roessler E, Hehr U, Nanni L, Wiltshire T, Richieri-Costa A, Gillessen-Kaesbach G, Zackai EH, Rommens J, Muenke M. Mutations in the homeodomain of the human SIX3 gene cause holoprosencephaly. Nat Genet, 22:196-8. 1999. [PubMed]

Gripp KW, Wotton D, Edwards MC, Roessler E, Ades L, Meinecke P, Richieri-Costa A, Zackai EH, Massague J, Muenke M, Elledge SJ. Mutations in TGIF cause holoprosencephaly and link Nodal signaling to human neural axis determination. Nat Genet, 25:205-208. 2000. [PubMed]

Bamford RN, Roessler E, Burdine RD, Saplakoglu U, dela Cruz J, Splitt M, Towbin J, Bowers P, Marino B, Schier AF, Shen MM, Muenke M, Casey B. Loss-of-function mutations in the EGF-CFC gene CFC1 are associated with human left-right laterality defects. Nature Genetics, 26:365-369. 2000. [PubMed]

Goldmuntz, B., Bamford, R.N., Karkera, J.D., dela Cruz, J., Roessler, E., Muenke, M. CFC1 mutations in patients with Transposition of the Great Arteries and Double Outlet Right Ventricle. Amer J Hum Genet, 70:776-780. 2002. [PubMed]

Roessler E, Du YZ, Mullor JL, Casas E, Allen WP, Gillessen-Kaesbach G, Roeder ER, Ming JE, Altaba AR, Muenke M. Loss-of-function mutations in the human GLI2 gene are associated with pituitary anomalies and holoprosencephaly-like features. Proc Natl Acad Sci USA, 100:13424-13429. 2003. [PubMed]

Roessler E, Ermilov AN, Grange DK, Wang A, Grachtchouk M, Dlugosz AA, Muenke M. A previously unidentified amino-termial domain regulates transcriptional activity of wild-type and disease-associated human GLI2. Hum Mol Genet, 14:2181-2188. 2005. [PubMed]

Jeong Y, El-Jaick K, Roessler E, Muenke M, Epstein D. A functional screen for Sonic hedgehog regulatory elements across a 1 Mb interval identifies long range ventral forebrain enhancers. Development, (4):761-72. 2006. [PubMed]

El-Jaick KB, Powers SE, Bartholin L, Myers KR, Hahn J, Orioli IM, Ouspenskaia M, Lacbawan F, Roessler E, Wotton D, Muenke M. Functional analysis of mutations in TGIF associated with holoprosencephaly. Molecular Genetics and Metabolism, 90(1):97-111. 2007. [PubMed]

Roessler E, Ouspenskaia MV, Karkera, JD, Velez JI, Kantipong A, Lacbawan F, Bowers P, Belmont JW, Towbin, JA, Goldmuntz E, Feldman B, Muenke M. Reduced NODAL signaling strength via mutation of several pathway members is linked to human heart defects and holoprosencephaly. Amer J Hum Genet, 83:18-29. 2008. [PubMed]

Jeong Y, Leskow FC, El-Jaick K, Roessler E, Muenke M, Yocum A, Dubourg C, Li X, Geng X, Oliver G, Epstein DJ. Regulation of a remote Shh Forebrain enhancer by the Six3 Homeoprotein. Nature Genet, 40:1348-1353. 2008. [PubMed]

Domené S, Roessler E, El-Jaick K, Snir M, Brown J, Vélez JI, Bale, S., Lacbawan, F., Muenke, M., Feldman, B. Mutations in the human SIX3 gene in holoprosencephaly are loss-of-function. Hum Mol Genet, 17:3919-3928. 2008. [PubMed]

Roessler E, Lacbawan F, Dubourg C, Paulussen A, Herbergs J, Hehr U, Bendavid C, Zhou N, Ouspenskaia M, Bale S, Odent S, David V, Muenke M. The full spectrum of holoprosencephaly-associated mutations within the ZIC2 gene in humans predict loss-of-function as the predominant disease mechanism. Hum Mutat, 30(4): E541-E554. 2009. [PubMed]

Roessler E, Pei W, Ouspenskaia MV, Karkera JD, Veléz JI, Banjerjee-Basu S, Gibney G, Lupo PJ, Mitchell LE, Towbin JA, Bowers P, Belmont JW, Goldmuntz E, Baxevanis AD, Feldman B, Muenke M. Cumulative ligand activity of NODAL mutations and modifiers are linked to human heart defects and holoprosencephaly. Mol Genet Metabolism, 98(1-2):225-34. 2009. [PubMed]

Roessler E., El-Jaick K.B., Dubourg C., Vélez J.I., Solomon B.D., Pineda-Alvarez D.E., Lacbawan F., Zhou N., Ouspenskaia M.V., Paulussen A., Smeets H.J., Hehr U., Bendavid C., Bale S., Odent S., David V., Muenke M. The mutational spectrum of holoprosencephaly-associated changes within the SHH gene in humans predict loss-of-function through either key structural alterations of the ligand or its altered synthesis. Hum Mutat, 30(10):E921-E935. 2009. [PubMed Central]

Solomon BD, Lacbawan F, Mercier S, Clegg NJ, Delgado MR, Rosenbaum K, Dubourg C, David V, Olney AH, Wehner LE, Hehr U, Bale S, Paulussen A, Smeets HJ, Hrdisty E, Tylki-Szymanska A, Pronicka E, Clemeens M, McPherson E, Hennekam RC, Hahn J, Stashinko E, Levey E, Wieczoorek D, Roeder E, Schell-Apacik CC, Booth CW, Thomas RL, Kenwrick S, Deaton A, Balog JZ, Hadley D, Zhou N, Velez JI, Pineda-Alvarez DE, Odent S, Roessler E, Muenke M. Mutations in ZIC2 in human holoprosencephaly: description of a novel ZIC2-specific phenotype and comprehensive analysis of 157 patients. J Med Genet, 47(8):513-524. 2010. [PubMed Central]

Bae G-u, Domené S, Roessler E, Schachter K, Kang J-S, Muenke M, Krauss RS. Holoprosencephaly-Associated Mutations in CDONResult in Defective Interactions with Other Hedgehog Receptors. Amer J Hum Genet, 89:231-240. 2011. [PubMed]

Roessler E, Vélez JI, Zhou N and Muenke. M. Utilizing prospective sequence analysis of SHH, ZIC2, SIX3 and TGIF in holoprosencephaly probands to describe the parameters limiting the observed frequency of mutant gene x gene interactions. Mol Genet Metabolism, 105(4):658-64. 2012. [PubMed]

Roessler E, Hu P, Srivastava K, Carrington B, Sood R, Petrykowska H, Elnitski L, Ribeiro LA, Richieri-Costa A, Feldman B, Odenwald WF, Muenke M. Unique alterations of an ultraconserved non-coding element in the 3'UTR of ZIC2 in holprosencephaly. PLoSOne, 7:e39026 doi:10 1371. 2012. [PubMed]
Human Development Section Staff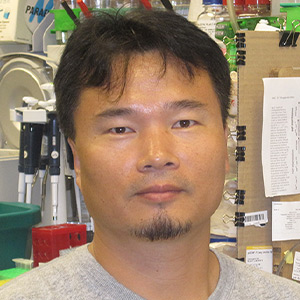 Sungkook Hong, Ph.D.
Staff Scientist
Human Development Section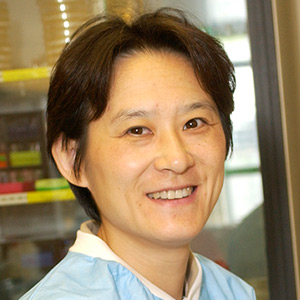 Ping Hu, M.S.
Staff Biologist
Human Development Section
Last updated: January 6, 2015