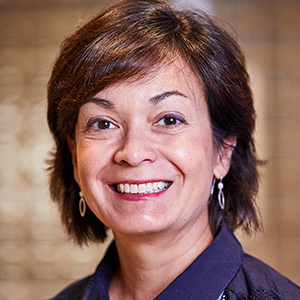 Kim M. Keppler-Noreuil, M.D.
Associate Investigator
Medical Genomics and Metabolic Genetics Branch
Education
B.A. Grinnell College, Grinnell, IA, 1984
M.D. Southern Illinois University School of Medicine, 1989
Biography

Dr. Keppler-Noreuil completed her B.A. in biology and french from Grinnell College in Grinnell, Iowa in 1984. She obtained honors in coursework at the Institute of European Studies in Paris, France in 1983. In 1989, she earned her M.D. from Southern Illinois University School of Medicine in Springfield, Illinois. She completed her pediatric residency at the Arkansas Children's Hospital, University of Arkansas for Medical Science in Little Rock, Arkansas in 1992, and her fellowship in Medical Genetics in the Department of Pediatrics, Laboratory of Medical Genetics at the University of Alabama at Birmingham in Birmingham, Alabama in 1995.

Dr. Keppler-Noreuil served as Instructor of Pediatrics and Medical Genetics at the University of Alabama at Birmingham until 1996, during which she received a Junior Faculty Development Award, completing a research project on the H19 tumor suppressor gene in Beckwith-Wiedemann syndrome in the Comprehensive Cancer Center. Dr. Keppler-Noreuil joined the faculty of the University of Iowa in the Department of Pediatrics and Division of Medical Genetics in 1996 until 2012, where she was promoted to the academic position of Professor of Pediatrics in 2008. At the University of Iowa, she was appointed as Clinical Director for Birth Defects for the Iowa Registry for Congenital and Inherited Disorders, and program director of the Medical Genetics Residency Training Program, Maternal-Fetal Medicine/Medical Genetics Training Program, Division of Medical Genetics. She also served as co-director of the Medical Genetics Course for first-year medical students. Dr. Keppler-Noreuil was recruited to the National Human Genome Research Institute in 2012.

Among the awards Dr. Keppler-Noreuil has received are the Distinguished Alumni Award from Southern Illinois University School of Medicine, and the NIH Director's Award for the Rare Diseases Group, PIK3CA-Related Overgrowth project. She has served as chair of the Membership Committee for the American College of Medical Genetics, and on multiple committees within NHGRI, and previously at the University of Iowa Hospital and Clinics.
Scientific Summary

Dr. Keppler-Noreuil's clinical and research interests include natural history and clinical characterization, genetic studies, and therapeutic interventions of somatic overgrowth disorders, including Proteus syndrome and PIK3CA-Related Overgrowth Spectrum (PROS), as well as other malformations and genetic disorders, including OEIS complex/cloacal exstrophy and Bardet-Biedl syndrome. Her studies of Proteus syndrome and PROS have included: descriptive analyses of craniofacial abnormalities, cardiac, risk for thromboembolism, prevalence and complications of vascular malformations and tumors.

Her work has included further delineation of the clinical findings and complications in PROS and Proteus syndrome, and the role of somatic mutations in the PI3K/AKT/mTOR pathway in these disorders and in tumorigenesis. As principal investigator and co-lead of the PIK3CA-Related Overgrowth Multinational Investigation of Sirolimus Efficacy (PROMISE), she has initiated the pilot treatment trial in collaboration with the University of Cambridge, United Kingdom, and the University of Dijon, France, as part of the Consortium for Overgrowth Disorder Management and Evaluation of Therapeutics (COMET). Future therapeutic trials of alternative agents for PROS are being planned. She is also lead associate investigator of a Phase 1 dose finding trial of an AKT inhibitor, ARQ 092, in children and adults with Proteus syndrome.

Dr. Keppler-Noreuil's other areas of research have included clinical delineation of multiple malformation syndromes, and studies of epidemiology and pathogenesis of birth defects, inherited and chromosomal disorders. She has been involved in helping characterize the genetic etiology and clinical presentation of several multiple congenital anomaly syndromes seen in the Rare Diseases Group within the Clinical Genomics Section of her branch.

She also continues to collaborate in research involving the Centers for Birth Defects Research and Prevention (CBDRP), including studies of OEIS complex/ cloacal exstrophy, Dandy-Walker malformation and hydrocephalus. She has been co-author on studies of the role of in vitro fertilization in birth defects, development of a registry and guidelines for assessment of potential congenital anomalies in women on clinical trials, as well as those treated for cancer during pregnancy, twinning and major birth defects, and risk factors for Dandy-Walker malformation.

Dr. Keppler-Noreuil is lead investigator of the descriptive epidemiological study of cloacal exstrophy and related malformations, "Clinical and risk factor analysis of cloacal defects in the National Birth Defects Prevention Study (NBDPS)," and a sequencing study of cloacal exstrophy and bladder exstrophy with CBDPS and NISC. She is interested in further exploring the role of somatic genetic mutations in the etiology of cloacal exstrophy. She will collaborate on a multistage investigation of clinical characteristic, environmental exposures and genetic variants for congenital hydrocephalus.

Dr. Keppler-Noreuil is also involved in teaching/mentoring in the Medical Genetics Residency Training Program and the Genetic Counseling Training Program, directing the resident conference, "Case Studies: Approach to Malformations & Morphogenesis" for the training program. She has served as chair of the Program Evaluation Committee, NHGRI/NIH and Medical Genetics Residency.
Publications

Keppler-Noreuil KM. OEIS Complex (Omphalocele-Exstrophy-Imperforate Anus-Spinal Defects): A review of 14 cases. Am J Med Genet, 99:271-279. 2001. [PubMed]

Rasmussen S, Olney R, Holmes L, Lin A, Keppler-Noreuil K, Moore C, National Birth Defects Prevention Study. Guidelines for Case Classification for the National Birth Defects Prevention Study. Birth Defects Res A Clin Mol Teratol, 67:193-201. 2003. [PubMed]

Herrasse M, Spentchian M, Taillandier A, Keppler-Noreuil K, Fiorito A, Wallerstein R, Muti C, Simon-Bouy B, Mornet E. Molecular study of three cases of odontohypophosphatasia resulting from heterozygosity for mutations in the tissue non-specific alkaline phosphatase gene. J Med Genet, 40:605-609. 2003. [Full Text PDF]

Olsen CK, Keppler-Noreuil KM, Romitti P, Budelier WT, Sparks AET, Van Voorhis BJ. In vitro fertilization is associated with an increase in major birth defects. Fertil Steril, 84:1308-1315. 2005. [PubMed]

Keppler-Noreuil KM, Gorton S, Foo F, Yankowitz J, Keegan C. Prenatal ascertainment of OEIS complex/ cloacal exstrophy - 15 new cases and literature review. Am J Med Genet A, 143A:2122-2128. 2007. [Full Text PDF]

Keppler-Noreuil KM, Welch J, Baker-Lange K. Syndrome of congenital cataracts, sensorineural deafness, Down syndrome-like facial appearance, short stature, and mental retardation: Two additional cases. Am J Med Genet A, 143A:2581-2587. 2007. [PubMed]

Vlangos CN, Siuniak A, Ackley T, van Bokhoven H, Iyer R, Park JM, Keppler-Noreuil KM, Keegan CE. Comprehensive genetic analysis of OEIS complex reveals no evidence for a recurrent microdeletion or duplication. Am J Med Genet A, 155A:38-49. 2011. [PubMed]

Keppler-Noreuil KM, Blumhorst C, Sapp JC, Brinckman D, Johnston J, Nopoulos PC, Biesecker LG. Brain tissue-and region-specific abnormalities on volumetric MRI scans in 21 patients with Bardet-Biedl syndrome (BBS). BMC Med Genet, 12:101. 2011. [PubMed]

Lindhurst MJ, Sapp JC, Teer JK, Johnston JJ, Finn EM, Peters K, Turner J, Cannons JL, Bick D, Blakemore L, Blumhorst C, Brockmann K, Calder P, Cherman N, Deardorff MA, Everman DB, Golas G, Greenstein RM, Kato BM, Keppler-Noreuil KM, Kuznetsov SA, Miyamoto RT, Newman K, Ng D, O'Brien K, Rothenberg S, Schwartzentruber DJ, Singhal V, Tirabosco R, Upton J, Wientroub S, Zackai EH, Hoag K, Whitewood-Neal T, Robey PG, Schwartzberg PL, Darling TN, Tosi LL, Mullikin JC, Biesecker LG. A mosaic activating mutation in AKT1 associated with the Proteus syndrome. N Engl J Med, 18;365:611-619. 2011. [PubMed]

Brinckman DD, Keppler-Noreuil KM, Blumhorst C, Biesecker LG, Sapp JC, Wiggs, EA. Cognitive, sensory, and psychosocial characteristics in patients with Bardet-Biedl syndrome. Am J Med Genet A, 161A:2964-2971. 2013. [PubMed]

Johnston JJ, Wen KK, Keppler-Noreuil KM, McKane M, Maiers JL, Greiner A, Sapp JC, DeMali KA, Rubenstein PA, Biesecker LG. Functional analysis of a de novo ACTB mutation in a patient with atypical Baraitser-Winter syndrome. Hum Mutat, 34:1242-1249. 2013. [PubMed]

Keppler-Noreuil KM, Sapp JC, Lindhurst MJ, Parker VER, Blumhorst C, Darling T, Tosi LL, Huson SM, Whitehouse RW, Jakkula E, Grant I, Balasubramanian M, Chandler KE, Fraser JL, Gucev Z, Crow YJ, Brennan LM, Clark R, Sellars EA, Pena LDM, Krishnamurty V, Shuen A, Braverman N, Cunningham ML, Sutton VR, Tasic V, Graham JM, Geer J, Henderson A, Semple RK, Biesecker LG. Clinical delineation and natural history of the PIK3CA-related overgrowth spectrum Am J Med Genet A, 164A:1713-1733. 2014. [PubMed]

Rasmussen SA, Hernandez-Diaz S, Abdul-Rahman OA, Sahin L, Petrie CR, Keppler-Noreuil KM, Frey SE, Mason RM, Nesin M, Carey JC. Assessment of congenital anomalies in infants born to pregnant women enrolled in clinical trials. Clin Infect Dis, 59; Suppl7:S428-436. 2014. [PubMed]

Hannoush H, Sachdev V, Brofferio A, Arai A, LaRocca G, Sapp J, Sidenko S, Brenneman C, Biesecker L, Keppler-Noreuil KM. Myocardial fat overgrowth in Proteus syndrome. Am J Med Genet A, 167A:103-110. 2014. [PubMed]

Keppler-Noreuil KM, Rios JJ, Parker VE, Semple RK, Lindhurst MJ, Sapp JC, Alomari A, Ezaki M, Dobyns W, Biesecker LG. PIK3CA-related overgrowth spectrum (PROS): Diagnostic and testing eligibility criteria, differential diagnosis and evaluation. Am J Med Genet A, 167A:287-295. 2015. [PubMed]

Quintero-Rivera F, Xi QJ, Keppler-Noreuil KM, Lee JH, Higgins AW, Anchan RM, Roberts AE, Seong IS, Fan X, Lage K, Lu LY, Tao J, Hu X, Berezney R, Gelb BD, Kamp A, Moskowitz IP, Lacro RV, Lu W, Morton CC, Gusella JF, Maas RL. MATR3 disruption in human and mouse associated with bicuspid aortic valve, aortic coarctation and patent ductus arteriosus. Hum Mol Genet, 24:2375-2389. 2015. [PubMed]

Reeder MR, Botto L, Keppler-Noreuil KM, Carey J, Byrne J, Feldkamp M; National Birth Defects Prevention Study. Risk factors for Dandy-Walker Malformation: A population-based assessment. Am J Med Genet A, 167:2009-2016. 2015. [PubMed]

Reutter H, Keppler-Noreuil K, Keegan CE, Thiele H, Yamada G, Ludwig M. Genetics of bladder-exstrophy-epispadias complex (BEEC): Systematic elucidation of Mendelian and multifactorial phenotypes. Current Genomics, 17: XXX 2016. [In Press]

Johnston JJ, Sanchex-Contreras MY, Keppler-Noreuil K, Sapp JC, Crenshaw M, Finch NA, Cormier-Daire V, Rademakers R, Sybert VP, Biesecker LG. 2015. A point mutation in PDGFRB causes autosomal dominant Penttinen syndrome. Am J Hum Genet, 97:465-474. [PubMed]

Keppler-Noreuil KM, Baker EH, Sapp JC, Lindhurst MJ, Biesecker LG. Somatic AKT1 Mutations Cause Meningiomas Colocalizing with a Characteristic Pattern of Cranial Hyperostosis. American Journal of Medical Genetics, 170A:2605-2610. 2016. [PubMed]

Stevenson DA, Schill L, Schoyer L, Andresen BS, Bakker A, Bayrak-Toydemir P, Burkitt-Wright E, Chatfield K, Elefteriou F, Elgersma Y, Franz D, Gelb B, Goriely A, Gripp KW, Hardan A, Keppler-Noreuil K, Kerr B, Korf B, Leoni C, McCormick F, Plotkin S, Rauen KA, Reilly K, Roberts A, Sandler A, Siegel D, Walsh K, Widemann BC. The Fourth International Symposium on Genetic Disorders of the RAS/MAPK Pathway. American Journal of Medical Genetics, 170:1959-1966. 2016. [PubMed]

Gripp KW, Baker L, Kandula V, Conard K, Napoli J, Griffin G, Thacker M, Knox R, Clark G, Parker V, Semple R, Mirzaa G, Keppler-Noreuil KM. Nephroblastomatosis or Wilms Tumor in a Fourth Patient with a Somatic PIK3CA Mutation. American Journal of Medical Genetics,170A:2559-2569. 2016. [PubMed]

Nathan N, Keppler-Noreuil KM, Biesecker LG, Moss J, Darling TN. Mosaic Disorders of the PI3K/PTEN/AKT/TSC/mTORC1 signaling pathway. Dermatologic Clinics, 35:51-60. 2017. [PubMed]

Keppler-Noreuil KM, Parker VER, Darling TN, Martinez-Agosto JA. Somatic Overgrowth Disorders of the PI3K/AKT/mTOR Pathway & Therapeutic Strategies. American Journal of Medical Genetics Part C, Seminars in Medical Genetics, "Therapy for non-metabolic genetic disorders". 2016. [PubMed]
Last updated: January 24, 2017