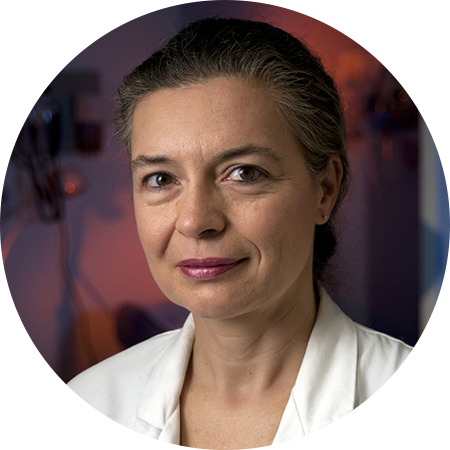 Raphaela Goldbach-Mansky, M.D.
Adjunct Investigator
Medical Genetics Branch
Investigator and Acting Chief, Translational Autoinflammatory Disease Section
Education
M.D. Universität Witten-Herdecke, Germany, 1990
M.H.S. Duke University, 2005
Biography

Dr. Goldbach-Mansky's research applies a systematic approach to clinical and immunological descriptions of of autoinflammatory diseases, including a recently identified group of systemic immune dysregulatory disorders with distinct abnormalities in the innate immune system.

Her research group uses targeted interventions to understand the role of specific inflammatory pathways in the pathogenesis of autoinflammatory diseases with perinatal onset. The discovery of single gene mutations, which modify the regulation of inflammatory pathways triggered by exogenous and endogenous danger-signaling molecules in a number of autoinflammatory diseases, have provided new targets to treat - and new concepts to understand - this disease group.

Studies in patients with Mendelian monogenic disorders in the IL-1 pathway, such as neonatal-onset multisystem inflammatory disease (NOMID) and deficiency of the IL-1 receptor antagonist (DIRA), have demonstrated the pivotal role of IL-1 in often devastating inflammatory multi-organ disease manifestations. These symptoms include CNS, sensory organ and systemic inflammation. The overlap of clinical symptoms has led to the investigation of the role of IL-1 in other autoinflammatory diseases, including Behçet's disease and chronic recurrent multifocal osteomyelitis (CRMO). The recent genetic and clinical description of chronic atypical neutrophilic dermatosis with lipodystrophy and elevated temperatures (CANDLE) points to inflammatory pathways causing systemic fever syndromes that are not IL-1 mediated.

Dr. Goldbach-Mansky conducts clinical phenotyping, genetic analyses and characterization of the immunophenotype to explore disease pathogenesis and to find lead to better treatment approaches.

Dr. Goldbach-Mansky's research group works in partnership with NHGRI's Inflammatory Disease Section to characterize genetic mutations in patients with these diseases. The group collaborates within and outside NIH to characterize the pathogenesis of inflammatory manifestations.
Publications

Goldbach-Mansky R, Lee J, McCoy A, Hoxworth J, Yarboro C, Smolen J, Steiner G, Rosen A, Zhang C, Menard H, Zhou Z, Palusuo T, van Venrooj W, Wilder R, Klippel J, Schumacher HR, El-Gabalawy HS. Autoantibodies in patients with synovitis of recent onset; diagnostic and prognostic value. Arthritis Res, 2 (3): 236-243. 2000. [PubMed]

Aksentijevich I, Nowak M, Mallah M, Chae J J, Watford WT, Hofmann SR, Stein L, Russo R, Goldsmith D, Dent P, Rosenberg HF, Austin F, Remmers EF, Balow JE, Rosenzweig S, Komarow H, Shoham NG, Wood G, Jones J, Mangra N, Carrero H, Adams BS, Moore TL, Schikler K, Hoffman H, Lovell DJ, Lipnick R, Barron K, O'Shea JJ, Kastner DL and Goldbach-Mansky R. De novo CIAS1 mutations, cytokine activation, and evidence for genetic heterogeneity in patients with neonatal-onset multisystem inflammatory disease (NOMID): A new member of the expanding family of pyrin-associated autoinflammatory diseases. Arthritis Rheum, 46(12):3340-8. 2002. [PubMed]

Goldbach-Mansky R, Dailey NJ, Canna SW, Gelabert A, Jones J, Rubin BI, Kim HJ, Brewer C, Zalewski C, Wiggs E, Hill S, Turner ML, Karp BI, Aksentijevich I, Pucino F, Penzak S, Haverkamp MH, Stein L, Adams BS, Moore TL, Fuhlbrigge R, Shaham B, Jarvis JN, O'Neil K, Vehe RK, Beitz LO, Gardner G, Hannan W, Warren R, Horn W, Cole JL, Paul S, Hawkins P, Pham TH, Snyder C, Wesley R, Hoffmann SC, Butman JA, Holland SM, and Kastner DL. Neonatal Onset Multisystem Inflammatory Disease - A Disorder of Interleukin 1 Signaling Responsive to Anakinra. NEJM, Aug 10; 355(6):581-92. 2006. [PubMed]

Hill S, Namde M, Dwyer A, Poznanski A, Canna S, Goldbach-Mansky R. Arthropathy of NOMID. Pediatr Radiol, 37(2):145-52. 2007. [PubMed]

Aksentijevich I, D Putnam C, Remmers EF, Mueller JL, Le J, Kolodner RD, Moak Z, Chuang M, Austin F, Goldbach-Mansky R, Hoffman HM, Kastner DL. The clinical continuum of cryopyrinopathies: Novel CIAS1 Mutations in North American Patients and a Now Cryopyrin Model. Arthritis Rheum., 56(4):1273-85. 2007. [PubMed]

Goldbach-Mansky R, Shroff S, Wilson M, Snyder C, Barham B, Pham TH, Wesley R, Papadopoulos J, Weinstein S, Mellis S, Kastner DL. A pilot study to evaluate the safety and efficacy of the long-acting IL-1 inhibitor, rilonacept (IL-1 Trap) in patients with familial cold autoinflammatory syndrome (FCAS). Arthritis Rheum, 58(8):2432-42. 2008. [PubMed]

Glaser R, Goldbach-Mansky R. The spectrum of monogenic autoinflammatory syndromes: understanding disease mechanisms and use of targeted therapies. Curr Allergy Asthma Rep, 7(4):288-98. 2008. [PubMed]

Aksentijevich I, Masters SL, Ferguson PJ, Dancey P, Frenkel J, van Royen-Kerkhoff A, Laxer R, Tedgard U, Edward CW, Pham TH, Booty M, Estes JD, Sandler NG, Plass N, Stone D, Turner ML, Hill S, Butman JA, Schneider R, Babyn P, El-Shanti HI, Pope E, Barron K, Bing X, Laurence A, Chapelle D, Clarke GI, Ohson K, Nicholson M, Gadina M, Yang B, Korman BD, Gregersen PK, M.D., van Hagen PM, Hak AE, Huizing M, Rahman P, Douek DC, Ph.D., Remmers EF, Kastner DL, and Goldbach-Mansky R. Deficiency of the Interleukin-1 Receptor Antagonist (DIRA) - A Systemic Autoinflammatory Disease of Skin and Bone. NEJM, 360:2426-37. 2009. [PubMed]

Goldbach-Mansky R, Wilson M, Fleischman R, Olsen N, Silverfield J, Kempf P, Kivitz A, Sherrer Y, Pucino F, Csako G, Costello R, Pham TH, Snyder C, van der Heijde D, Tao X, Wesley R, Lipsky PE. Efficacy and Safety of the Chinese Herbal Remedy, Tripterygium wilfordii Hook F in the treatment of rheumatoid arthritis - a multi-center, double blind randomized active comparator study. Ann Intern. Med, 151:229-40, W49-51. 2009. [PubMed]

Henderson C, Goldbach-Mansky R. Monogenic IL-1 mediated autoinflammatory and immunodeficiency syndromes: finding the right balance in response to danger signals. Clin Immunol, 135(2):210-22. 2010. [PubMed]

Kastner DL, Aksentijevich I, Goldbach-Mansky R. Autoinflammatory disease reloaded: a clinical perspective. Cell, 140(6):784-90. 2010. [PubMed]

Almeida MQ, Tsang KM, Wang X, Cheadle C, Watkins T, Grivel JC, Nesterova M, Carney JA, Goldbach-Mansky R, & Stratakis CA. Protein kinase A regulates caspase-1 via Ets1 in bone stem cell-derived lesions: a link between cyclic AMP and pro-inflammatory pathways in osteoblast progenitors. Hum Mol Genet, 20(1):165-75. 2011. [PubMed]

Liu Y, Ramot Y, Torrelo A, Paller AS, Si N, Babay S, Kim PW, Sheikh A, Lee C-CR, Chen Y, Vera A, Zhang X, Goldbach-Mansky R, Zlotogorski A. Mutations in PSMB8 Cause CANDLE Syndrome with Evidence of Genetic and Phenotypic Heterogeneity. Arthritis Rheum, 64(3): 895-907. 2012. [PubMed]

Tanaka N, Izawa K, Saito MK, Sakuma M, Oshima K, Ohara O, Nishikomori R, Morimoto T, Kambe N, Goldbach-Mansky R, Aksentijevich I, de Saint Basile G, Neven B, van Gijn M, Frenkel J, Arostegui JI, Yagüe J, Merino R, Ibañez M, Pontillo A, Takada H, Imagawa T, Kawai T, Yasumi T, Nakahata T, Heike T. High incidence of NLRP3 somatic mosaicism in chronic infantile neurological cutaneous and articular syndrome patients: The results of an international multicenter collaborative study. Arthritis Rheum, 63(11):3625-32. 2011. [PubMed]

Goldbach-Mansky R. Immunology in clinic review series; focus on autoinflammatory diseases: Update on monogenic autoinflammatory diseases: the role of interleukin (IL)-1 and an emerging role for cytokines beyond IL-1. Clin. and Exp. Immunology, 167(3):391-404. 2012. [PubMed]

Jordan CT, Cao L, Roberson EDO, Pierson KC, Yang CF, Joyce CE, Ryan C, Duan S, Helms C, Liu Y, Chen Y, McBride A, Hwu W-L, Wu J-W, Chen Y-T, Menter A, Goldbach-Mansky R, Lowes MA, Bowcock AM. PSORS2 is due to mutations in CARD14. Am J Hum Genet, 90(5):796-808. 2012. [PubMed]

Sibley C, Plass C, Snow J, Wiggs E, Brewer C, King K, Zalewski C, Kim HJ, Bishop R, Hill S, Kicker P, Phillips Z, Dolan JG, Widemann B, Jayaprakash N, Pucino F, Stone D, Chapelle D, Snyder C, Butman JA, Wesley R, and Goldbach-Mansky R. Sustained Response and Prevention of Damage Progression in Patients with Neonatal-Onset Multisystem Inflammatory Disease (NOMID) Treated with Anakinra: A Cohort Study to Determine 3 and 5 year Outcomes. Arthritis Rheum, 64(7): 2375-86. 2012. [PubMed]

Lee GS, Subramanian N, Kim AI, Aksentijevich I, Goldbach-Mansky R, Sacks DB, Germain RN, Kastner DL, Chae JJ. Nature. The calcium-sensing receptor regulates the NLRP3 inflammasome through Ca2+ and cAMP. Nature, 492(7427):123-7. 2012. [PubMed]

Aubert P, Suárez-Fariñas M, Mitsui H, Johnson-Huang L, Harden JL, Pierson K, Sun H-W, Dolan JG, Krueger JG, Novitskaya I, Coats I, Estes J, Cowen E, Plass N, Lowes MA and Goldbach-Mansky R. Homeostatic tissue responses in Skin Biopsies from NOMID Patients with Constitutive Overproduction of IL-1b. PLoS One, 7(11):e49408. 2012. [PubMed]

Montealegre Sanchez GA., Jesus AA, Goldbach-Mansky R. Monogenic Autoinflammatory Diseases "Disorders of Amplified Danger Sensing and Cytokine Dysregulation. Rheum Dis Clin North Am, 39(4):701-34. 2013. [PubMed]

Jesus AA, Goldbach-Mansky R. IL-1 Blockade in Autoinflammatory Syndromes. Annu Rev Med, 65:223-44. [PubMed]

Zhou Q, Yang D, Ombrello AK, Zavialov AV, Toro C, Zavialov AV, Stone DL, Chae JJ, Rosenzweig SD, Bishop K, Barron KS, Kuehn HS, Hoffmann P, Negro A, Tsai WL, Cowen EW, Pei W, Milner JD, Silvin C, Heller T, Chin DT, Patronas NJ, Barber JS, Lee CC, Wood GM, Ling A, Kelly SJ, Kleiner DE, Mullikin JC, Ganson NJ, Kong HH, Hambleton S, Candotti F, Quezado MM, Calvo KR, Alao H, Barham BK, Jones A, Meschia JF, Worrall BB, Kasner SE, Rich SS, Goldbach-Mansky R, Abinun M, Chalom E, Gotte AC, Punaro M, Pascual V, Verbsky JW, Torgerson TR, Singer NG, Gershon TR, Ozen S, Karadag O, Fleisher TA, Remmers EF, Burgess SM, Moir SL, Gadina M, Sood R, Hershfield MS, Boehm M, Kastner DL, Aksentijevich I. Intermittent Fever and Early-Onset Stroke Due to Mutations in ADA2. NEJM, 370(10):911-20. 2014. [PubMed]

Han S, Lin YC, Wu T, Salgado AD, Mexhitaj I, Wuest SC, Romm E, Ohayon J, Goldbach-Mansky R, Vanderver A, Marques A, Toro C, Williamson P, Cortese I, Bielekova B. (2014). Comprehensive Immunophenotyping of Cerebrospinal Fluid Cells in Patients with Neuroimmunological Diseases. J Immunol, 192(6):2551-63. 2014. [PubMed]

Sibley C, Yazici Y, Tascilar K, Khan N, Bata Y, Yazici H, Goldbach-Mansky R, and Hatemi G. Behçet's Syndrome Manifestations and Activity in the United States vs. Turkey - A Cross-Sectional Cohort Comparison. J Rheumatol, 41(7):1379-84. 2014. [PubMed]

Liu Y, Jesus AA, Marrero B, Yang D, Ramsey SE, Montealegre Sanchez GA, Tenbrock K, Wittkowski H, Jones OY, Kuehn HS, Lee C-CR, DiMattia MA, Cowen EW, Palmer I, DiGiovanna JJ, Biancotto A, Kim H, Tsai WL, Trier A, Huang Y, Stone DL, Hill S, H. Kim HJ, St. Hilaire C, Gurprasad S, Plass N, Chapelle D, Horkayne-Szakaly I, Foell D, Barysenka A, Candotti F, Holland SM, Hughes JD, Mehmet H, Issekutz AC, Raffeld M, McElwee J, Fontana JR, Minniti CP, Moir S, Kastner DL, Gadina M, Steven AC, Wingfield PT, Brooks SR, Rosenzweig SD, M.D., Fleisher TA, Deng Z, Boehm M, Paller AS and Goldbach-Mansky R. De novo gain of function mutations in TMEM173 cause a vasculopathy and pulmonary syndrome. NEJM, 371(6):507-18. 2014. [PubMed]

Chang Z, Spong C, Jesus AA, Davis M, Plass N, Stone D, Chapelle D, Hoffmann P; Kastner DL, Barron K, Goldbach-Mansky R, Stratton P. (2014). Anakinra Use During Pregnancy in Patients with Cryopyrin-Associated Periodic Disease. Arthritis Rheumatol,66(11):3227-32. 2014. [PubMed]

Canna SW, Jesus AA, Gouni S, Brooks SR, Marrero B, Liu Y, Dimattia M, Zaal KJM, Montealegre-Sanchez G, Kim H, Chapelle D, Plass N, Huang Y, Villarino AV, Biancotto A, Fleisher TA, Duncan JA, O'Shea JJ, Benseler S, Grom A, Deng Z, Laxer RM, Goldbach-Mansky R. An activating NLRC4 inflammasome mutation causes autoinflammation with recurrent macrophage activation syndrome. Nat Genet, 46(10):1140-6. 2014. [PubMed]

Sibley C., Chioato A., Felix S., Colin L., Chakraborty A., Plass N., Rodriguez-Smith J, Brewer C., King K., Zalewski C., Kim J, Bishop R., Stone D., Chapelle D., Kost B, Snyder C., Butman J., Wesley R., Goldbach-Mansky R. (2014). A 24-month open-label study of canakinumab in neonatal-onset multisystem inflammatory disease. Ann Rheum Dis, 74(9); 2014. 2015. [PubMed]

Jesus AA, Canna SW, Liu Y, Goldbach-Mansky R. Molecular Mechanisms in Autoinflammatory Diseases: Disorders of Amplified Danger Sensing. Annu Rev Immunol, 33:823-74. 2015. [PubMed]

Jabbari A, Dai Z1, Xing L, Cerise JE, Ramot Y, Berkun Y, Montealegre Sanchez GA, Goldbach-Mansky R, Christiano AM, Clynes R, Zlotogorski A. Reversal of alopecia areata following treatment with the JAK1/2 inhibitor baricitinib. EBioMedicine, 2(4), 351-355. 2015. [PubMed]

Canna SW and Goldbach-Mansky R. New monogenic autoinflammatory diseases-a clinical overview. Semin Immunopathol, 37(7):517-22. 2015. [PubMed]

Torrelo A, Colmenero I, Requena L, MDc; Paller AS, Ramot Y, Lee C-CR, MDf; Angel Vera A, Zlotogorski A, Goldbach-Mansky R, Heinz Kutzner H. Histologic and Immunohistochemical Features of the Skin Lesions in CANDLE Syndrome. Am J Dermatopathol, 37(7):517-22. 2015. [PubMed]

Edwan JH, Goldbach-Mansky R, Colbert RA. Identification of IL-1β-producing monocytes that are susceptible to pyronecrotic cell death in patients with NOMID. Arthritis Rheumatol. Aug. 5 2015. [PubMed]

Brehm A*, Liu Y*, Sheikh A, Marrero, B, Omoyinmi E, Zhou Q, Montealegre Sanchez MA, Biancotto A, Reinhardt A, Jesus AA, Pelletier M, Tsai WL, Remmers EF, Kardava L, Hill S, Kim H, Lachmann HL, Megarbane A, Chae JJ, Brady J, Castillo RD, Brown D, Casano AV, Gao L, Chapelle D, Huang Y, Stone D, Chen Y, Sotzny F, Lee C-CR, Kastner DL, Torrelo A, Zlotogorski A, Moir S, Gadina M, McCoy P, Wesley R, Rother K, Hildebrand PW, Brogan P, Krüger E, Aksentijevich I, Goldbach-Mansky R. Additive Loss-of-Function Proteasome Subunit Mutations in CANDLE/PRAAS promote Type-I-interferon production. J Clin Invest, 125(11):4196-211. 2015. [PubMed]
Last updated: August 19, 2013