NHGRI Names New Scientific Director

NHGRI Names New Scientific Director
Dr. Eric D. Green to Lead Division of Intramural Research
November 18, 2002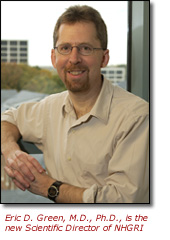 BETHESDA, Md. - After a vigorous national search, Eric D. Green, M.D., Ph.D., has been selected as the new scientific director of the National Human Genome Research Institute (NHGRI). The scientific director leads the institute's Division of Intramural Research (DIR), a research program that includes a staff of more than 400 and an annual budget exceeding $80 million.
"Dr. Green manifests in a spectacular way all of the credentials and qualities that NHGRI needs in a scientific director," said NHGRI Director Francis S. Collins, M.D., Ph.D. "As a researcher, he knows how to use ever-improving genomic technologies to wrest new knowledge from nature. As a physician, he will provide essential leadership in translating genomic science into medical benefits. As a leader, he has demonstrated an impressive ability to organize multidisciplinary teams of researchers to complete complex scientific projects. And as a person, he brings boundless energy and vision to all of his professional responsibilities."
Dr. Green, 42, came to NHGRI in 1994 and was appointed the chief of the Genome Technology Branch in 1996. An early member of the vanguard of young scientists who launched their careers as part of the Human Genome Project (HGP), Dr. Green has made major contributions to the mapping and sequencing of the human genome, particularly in the development of technologies and strategies for the large-scale analysis of vertebrate genomes. In addition, his research in human genetics has led to the identification of genes implicated in several human diseases, including deafness, cancer and neurological disease.
In 1997, Dr. Green founded the National Institutes of Health (NIH) Intramural Sequencing Center (NISC), a state-of-the-art DNA sequencing facility embedded within the NIH intramural program. After five years, this center has blossomed into a multi-million dollar research program that employs 40 scientists and technicians and plays an important role in the rapidly growing area of comparative genomics. NISC's program focuses on generating and analyzing genomic sequence from multiple vertebrate species, with the resulting data already advancing the understanding of genome structure, function and evolution. Such a comparative study is designed to help researchers understand genomic functions that have been conserved among various organisms over evolutionary time, providing clues about the regulatory networks that turn genes on and off. NISC's genomic explorations will also help scientists decide which set of species to select for complete genome sequencing.
"The success of the Human Genome Project has brought numerous new and exciting opportunities for leading major genomics initiatives, with the NHGRI's intramural program being the premier example," said Dr. Green. "I am proud and honored to be given the opportunity to lead this enterprise into the new millennium of genomics research."
Dr. Green's vision for the future of NHGRI's intramural program includes an increased focus on the application of genomics to clinical research, an expansion of bioinformatics and computational biology research, and continued growth in the general area of "high-throughput biology," in which large amounts of biological information are rapidly generated and analyzed.
Dr. Green replaces Jeffrey M. Trent, Ph.D., NHGRI's first scientific director and founder of the institute's intramural program in 1993. Dr. Trent left NHGRI at the end of October to become president and chief scientific officer of the Translational Genomics Research Institute, a new public-private research consortium in Phoenix, Ariz.
Born in 1959 in St. Louis, Dr. Green received a B.S. in bacteriology in 1981 from the University of Wisconsin in Madison, and then earned an M.D. and Ph.D. from Washington University in St. Louis in 1987. He did his residency in clinical pathology from 1987 to 1992, serving as chief resident from 1990 to 1992. From 1988 to 1992, Dr. Green was also a postdoctoral research fellow in the laboratory of Maynard V. Olson, Ph.D., one of the early visionaries of the HGP. It was in Dr. Olson's laboratory that Dr. Green launched his genomics research career. Before coming to NHGRI, Dr. Green was an assistant professor in the departments of Pathology and Genetics at Washington University School of Medicine.
Dr. Green has co-authored more than 150 publications and helped to edit a series of laboratory manuals entitled Genome Analysis. He also is a founding editor of the journal Genome Research and serves on the editorial boards of several biomedical journals.
He is married to Gabriela Adelt Green, M.D., and they have two children, Joshua, 6, and Abigail, 3.
A high-resolution portrait of Dr. Green is available at www.genome.gov/dmd.
NHGRI is one of the 27 institutes and centers at the National Institutes of Health, which is an agency of the Department of Health and Human Services (DHHS). The NHGRI Division of Intramural Research develops and implements technology to understand, diagnose and treat genomic and genetic diseases. Additional information about NHGRI can be found at its Web site: www.genome.gov.
Contact:
Geoff Spencer
NHGRI
Phone: (301) 402-0911
Last updated: July 31, 2012