NHGRI Appoints Mark S. Guyer, Ph.D. Director for the Division of Extramural Research

NHGRI Appoints Mark S. Guyer, Ph.D. Director for the Division of Extramural Research
Two New Associate DER Directors Also Named
November 18, 2002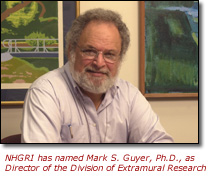 BETHESDA, Md. - The National Human Genome Research Institute (NHGRI) has named Mark S. Guyer, Ph.D., as Director of the Division of Extramural Research (DER). In addition, NHGRI has named two DER Associate Directors: Jane L. Peterson, Ph.D., and Bettie J. Graham, Ph.D.
The associate directorships are new positions in the DER leadership structure. Drs. Guyer, Peterson and Graham will be managing DER through an important transition period as NHGRI moves beyond the initial goal of sequencing the human genome.
"The National Human Genome Research Institute is indeed fortunate to have individuals of this caliber in our extramural program," said NHGRI Director Francis S. Collins, M.D., Ph.D. "Drs. Guyer, Peterson and Graham have played a critical role in achieving the many ambitious goals of the Human Genome Project up to this point, and these promotions will allow them to exercise even stronger leadership of our research program as we move into the next phase of genome research."
As director, Dr. Guyer will be responsible for the entire extramural program, which administers research grants, plans activities to advance genomics and directs the Ethical, Legal and Social Implications Program at NHGRI. Previously, he served as the assistant director for scientific coordination at DER. In this role, Dr. Guyer provided leadership to DER's Large-Scale Sequencing Program, and developed new research initiatives for the mouse genome map and for human DNA sequence variation. He also planned the scientific budget for NHGRI's portion of the Human Genome Project (HGP) and helped develop the 1998-2003, five-year plan for the HGP in the United States.
Dr. Guyer was one of several DER program directors to win the Department of Health and Human Services (DHHS) Secretary's Award for Distinguished Service in 2001 for oversight and coordination of an international effort to produce a draft version of the human sequence. He received his Ph.D. in bacteriology and immunology from the University of California, Berkeley.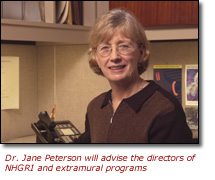 Dr. Jane Peterson will advise the director of NHGRI and the director of extramural programs on identifying and implementing new research initiatives for grants, contracts and cooperative agreements, as well as on formulating NHGRI's position regarding all policy issues for the extramural programs. She will share responsibility with the director for the management of DER programs. In addition, Dr. Peterson will direct NHGRI's program in comparative sequencing and serve as coordinator for the Genome Resource and Sequencing Priority Panel (GRASPP). Having served as program director for large-scale sequencing since 1995, she will continue to administer and evaluate cooperative agreements with large-scale DNA sequencing centers.
Dr. Peterson was another DER program director to win the DHHS Secretary's Award in 2001. She received her Ph.D. from the University of Colorado's Department of Molecular, Cellular and Developmental Biology.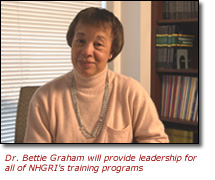 Dr. Bettie Graham will provide leadership for all of NHGRI's training programs, especially for the NHGRI Minority Action Plan. This bold new program aims to increase substantially the number of individuals from underrepresented groups conducting genomic and ethical, legal and social implications (ELSI) research. Dr. Graham will manage the review of proposed minority action plans from NHGRI grantees, and will devise new approaches regarding training of underrepresented groups. A program director for DER since 1989, she will continue to oversee the NHGRI Training and Career Development Program and the Small Business Innovation Research Program/Small Business Technology Transfer Program. Dr. Graham will remain involved in the trans-NIH mouse initiative, as well as the scientific program management of grants related to mapping technology and the application of mass spectrometry to sequencing.
Dr. Graham won the National Institutes of Health (NIH) Director's Award in 1993 and 1999. She received her Ph.D. in virology from Baylor College of Medicine in Houston.
High-resolution portraits of Drs. Guyer, Peterson and Graham are available at www.genome.gov/dmd.
NHGRI is one of the 27 institutes and centers at the National Institutes of Health, which is an agency of the Department of Health and Human Services (DHHS). The NHGRI Division of Extramural Research supports grants for research and for training and career development at sites nationwide. Additional information about NHGRI can be found at its Web site: www.genome.gov.
Contact:
Geoff Spencer
NHGRI
Phone: (301) 402-0911
Last updated: January 30, 2014