Marsupial Among the Model Organisms Next in Line for Genome Sequencing

Marsupial Among the Model Organisms Next in Line for Genome Sequencing
NHGRI-Supported Centers Also to Target More Insects, Worms and Fungi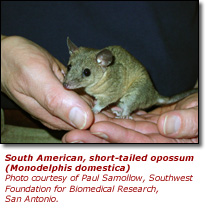 BETHESDA, Md., Wed., Feb. 25, 2004 - The Large-Scale Sequencing Research Network this year will begin sequencing the genomes of more than a dozen new model organisms, including the first marsupial to have its DNA deciphered. The research network, supported by the National Human Genome Research Institute (NHGRI), one of the National Institutes of Health (NIH), is part of an effort to further advance understanding of the human genome.
The efforts will be carried out by the five sequencing centers in the NHGRI-supported network: Agencourt Bioscience Corp., Beverly, Mass.; Baylor College of Medicine, Houston; The Eli & Edythe L. Broad Institute, Massachusetts Institute of Technology (MIT), Cambridge, Mass.; The Institute for Genomic Research (TIGR), J. Craig Venter Science Foundation Joint Technology Center, Rockville, Md.; and Washington University School of Medicine, St. Louis.
"Comparing the human genome sequence with those of other organisms allows us to identify regions of similarity and difference, providing critical clues about the structure and function of human genes," said NHGRI Director Francis S. Collins, M.D., Ph.D. "The ability to compare a wide range of genomes is the best tool currently available for understanding the underlying genomic components that affect human health and disease."
NHGRI's Associate Director of Extramural Research Jane Peterson, Ph.D., added, "Building on the success of the Human Genome Project, we are carrying out a strategic plan to use large-scale sequencing to expand our knowledge of the human genome, as well as to gain new insights into the genomes of major biomedical model systems and to open new windows into evolutionary biology."
The first marsupial selected for sequencing is a gray short-tailed, South American opossum (Monodelphis domestica). The opossum's position in the evolutionary tree provides a major reason to obtain its DNA sequence. Opossums and humans diverged from a common ancestor 130 million years ago, providing a unique midpoint on the evolutionary timeline for comparative studies involving other mammals, such as the mouse, which diverged from human 75 million years ago; and non-mammalian relatives, such as birds, which diverged from human 300 to 350 million years ago.
The elucidation of the genome sequence of Monodelphis domestica will also provide new insights into a broad range of topics that are relevant to human development, physiology and disease susceptibility. Marsupials are unique among mammals because their young are born at an extremely early stage of development, attach to their mother's teats and complete their subsequent development while in a protective pouch. This makes the young readily available for early developmental research. In addition, there are other areas of biomedical research for which Monodelphis serves as a model. For example, it is the only laboratory animal known in which ultraviolet radiation alone can cause melanoma, a type of skin cancer that also strikes humans exposed to too much of the sun's ultraviolet rays. Having the sequence of the opossum genome will give researchers the ability to learn more about the molecular basis of melanoma and its progression, as well as explore development of new therapies and preventive treatments.
In 2004, scientists at the Broad Institute will produce a draft sequence of the opossum genome and also begin working on the genomes of four fungi (Candida albicans, Candida tropicalis, Lodderomyces elongisporus, Saccharomyces cerevisiae-RM11-1A). Some of the fungi are important because of their threat to human health, while others hold the potential to reveal basic biological processes that have been conserved through evolution. Currently, the Massachusetts sequencing center is nearing completion of a working draft assembly of the dog genome.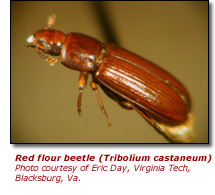 Baylor College of Medicine's Human Genome Sequencing Center this year expects to begin sequencing the genome of the red flour beetle (Tribolium castaneum). Understanding the genome of the red flour beetle is expected to provide information to help control this insect that is a major pest in many stored grain and cereal products around the world. Additionally, Tribolium represents an important branch of the evolutionary tree and its sequence will help to shed light on changes that occurred in the evolution of insects. The Houston group also is presently working on assembling a draft of the purple sea urchin (Strongylocentrotus purpuratus) genome and continues to sequence the genomes of the cow (Bos taurus) and the rhesus macaque (Macaca mulatto), which is being done in collaboration with Washington University and TIGR.
In addition to sequencing species that are far apart on the evolutionary tree, it is important to sequence sets of species that are closely related. For example, comparative genomic analysis of six species of yeast has prompted scientists to significantly revise their initial catalog of yeast genes and to predict a new set of functional elements thought to play a role in regulating genome activity. Experiments to validate the existence of these and other predicted elements, and study their function within the cell, are expected to enhance understanding of how the human genome works.
During 2004, scientists at the Washington University School of Medicine will sequence the genomes of three species of roundworm (Caenorhabditis remanei, Caenorhabditis japonica, and CB5161-Caenorhabditis sp. 1), adding to the two species of roundworm that public sequencers have previously completed (Caenorhabditis elegans, Caenorhabditis briggsae). The St. Louis group is already assembling a working draft of the chicken genome, as well as sequencing the genomes of two species of fruitfly (Drosophila simulans, Drosophila yakuba) and the flatworm (Schmidtea mediterranea), a laboratory organism known for its ability to regenerate a complete individual from a severed body part.
TIGR plans to sequence the genome of a species of fruitfly (Drosophila willistoni) in 2004 and is currently collaborating with the Baylor group on the rhesus macaque sequencing project. Agencourt Bioscience will focus in 2004 on sequencing an additional five species of fruitfly (Drosophila ananassae, Drosophila erecta, Drosophila grimshawi, Drosophila mojavensis and Drosophila virilis).
To read the white papers describing the scientific rationales and strategies for sequencing the genomes of these and other model organisms in the NHGRI pipeline, go to: Approved Sequencing Targets. For more information on NHGRI's selection and priority process for sequencing of model organisms, go to: www.genome.gov/Sequencing/OrganismSelection. For more on the rapidly growing field of comparative genomic analysis, go to: www.genome.gov/10005835/background-on-comparative-genomic-analysis/.
The primary mission of the Large-Scale Sequencing Research Network is to produce a publicly available resource of high quality assembled genome sequences that researchers can use to address human biology and human health. For more information on the network, see: www.genome.gov/11508922/2003-release-nhgri-funds-next-generation-of-largescale-sequencing-centers/.
High-resolution photos of the red flour beetle and South American opossum are available at: www.genome.gov/dmd.
NHGRI is one of the 27 institutes and centers at NIH, an agency of the Department of Health and Human Services (DHHS). The NHGRI Division of Extramural Research supports grants for research and for training and career development at sites nationwide. Additional information about NHGRI can be found at its Web site, www.genome.gov.
Contact:
Geoff Spencer
NHGRI
(301) 402-0911
Last updated: July 31, 2012