NHGRI Launches Centers for Excellence in Ethical, Legal and Social Implications Research

NHGRI Launches Centers for Excellence in Ethical, Legal and Social Implications Research
Four Sites Selected to Pioneer Interdisciplinary Initiative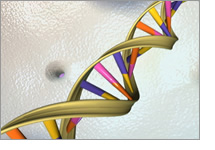 BETHESDA, Md., Aug. 31, 2004 - The National Human Genome Research Institute (NHGRI), part of the National Institutes of Health (NIH), announced today the funding of four interdisciplinary centers as part of a new initiative to address some of the most pressing ethical, legal and social questions raised by recent advances in genetic and genomic research.
The initiative, the Centers for Excellence in Ethical, Legal and Social Implications Research, is being led by NHGRI, with significant contributions from the U.S. Department of Energy (DOE) and the National Institute of Child Health and Human Development (NICHD). About $20 million in grants will be awarded over the next five years with DOE contributing $500,000 and NICHD, $450,000. The first four Centers are being established at Case Western Reserve University, Cleveland; Duke University, Durham, N.C.; Stanford University, Palo Alto, Calif.; and the University of Washington, Seattle.
"The NHGRI's pioneering program supporting research in the ethical, legal and social implications of genomic knowledge provides the basis for this exciting new initiative," said NHGRI Director Francis S. Collins, M.D., Ph.D. "We will now build upon this foundation by establishing interdisciplinary research centers that can take an even more dynamic and broad-based approach to identifying and addressing some of the most pressing issues facing individuals, families and communities in the genome era."
Each of the new centers will assemble a team of experts in several disciplines, such as bioethics, law, behavioral and social sciences, clinical research, theology, public policy, and genetic and genomic research. The interdisciplinary nature of these teams will allow the centers to develop innovative research approaches focused on specific sets of issues that relate to the numerous applications of genomic research, including the scientific goals and challenges identified by NHGRI in A Vision for the Future of Genomics Research, which was published in April 2003 in the journal Nature. The centers' output will be critical in formulating and implementing effective and equitable health and social policies related to genomic research. In addition, the centers will create new environments to support the growth of the next generation of researchers on the ethical, legal and social implications of genomic research. Special efforts will be made to recruit potential researchers from under-represented groups.
Elizabeth Thomson, M.S., R.N., of NHGRI's Ethical, Legal and Social Implications (ELSI) Research Program, said, "The breadth and depth of knowledge and skills that these centers have pulled together is impressive. These centers truly are excellent in every sense of the word. We look forward to the many ways in which their research and other activities will serve to shape discussions and inform future policy decisions related to genetics and genomics."
"Providing funding assistance, in concert with the NHGRI, to two of these centers (Duke and Stanford) reflects the importance that we continue to place on ethical, legal and social implication activities, especially issues of commercialization and of genetic contributions to complex characteristics," said Aristides Patrinos, Ph.D., associate director of DOE's Office of Biological and Environmental Research in the Office of Science.
The new Centers for Excellence in ELSI Research, their principal investigators and their total funding levels over five years are:
Case Western Reserve University's Center for Genetic Research Ethics and Law
Eric Juengst, Ph.D., $5.3 million

This center will study the ethical issues in the design and conduct of human genetic research, including issues regarding the protection of human subjects in research. After first surveying existing ethical, legal and social implications research, and current genetic research regulations and guidelines to determine how adequately they address present and emerging ethical concerns, the center will conduct research and develop resources that will contribute to stronger policies and guidelines in genetic research.

The Duke Center for the Study of Public Genomics
Robert Cook-Deegan, M.D., $4.8 million

This center will assemble a team to gather and analyze information about the role of publication, data and materials sharing, patenting, database protection and other practices that may affect the flow of information in genomics research. Research pertaining to these topics will make a much-needed contribution to the understanding of how information flow influences development, commercialization and use of genomic products and services that may benefit human health.

Stanford University School of Medicine's Center for Integration of Research on Genetics and Ethics
Mildred Cho, Ph.D., $3.8 million

This center will focus on the ethical, legal and social consequences of uncovering the genomic contributions that may contribute to behavioral and neurological conditions. Research that examines attributes and traits that are possibly found more frequently in certain populations has the potential to stigmatize both individuals and groups. The Stanford center will work to identify and understand the issues related to this genetic research, provide consultation and guidance to genetic researchers on these issues, and develop training and education materials that can be integrated into the design and implementation of neurological and behavioral genetic studies.

University of Washington's Center for Genomic Health Care and the Medically Underserved
Wylie Burke, M.D., Ph.D., $4.7 million

This center will conduct research on the ethical, legal and social factors that influence the translation of genetic information to improved human health. It will be dedicated to addressing two overarching themes resulting from the clinical integration of genomics: the need to define criteria for clinical integration that lead to clinically and socially appropriate applications of genomic health care, and the need for a translational pathway that incorporates the goal of reducing health and health care disparities among the medically underserved. A major outcome will be the development of methods to inform all segments of society about technological advances, and to improve the mechanisms for obtaining input from diverse populations to help to identify and assess policy options for addressing these challenges.
In addition to funding these four centers of excellence, NHGRI announced the award of three exploratory grants that provide two to three years of support to investigators for planning and developing potential new centers at their institutions. Exploratory grants were awarded to:
Alexandra Shields, Ph.D., Georgetown University, Washington, $560,000 over three years. Dr. Shields plans to develop a center dedicated to examining the intersection of genetics, vulnerable populations and health disparities in tobacco dependence, asthma and diabetes.


Charmaine Royal, Ph.D., Howard University, Washington, $700,000 over three years. Dr. Royal plans to develop a center to analyze social and cultural identities of individuals and communities of African descent and how those identities influence attitudes about genomics and health care as well as health behaviors.


Donald Bailey, Ph.D., University of North Carolina at Chapel Hill. $430,000 over two years. Dr. Bailey will plan a center to examine how information from large-sample genetic studies is used and disclosed in biomedical research. During the exploratory phase, the researchers will focus on issues related to newborn screening, adolescent health research and centralized DNA banking.


NHGRI's ELSI Research Program was established in 1990 as an integral part of the Human Genome Project to foster basic and applied research and to support education and outreach activities. The program, which is part of NHGRI's Division of Extramural Research, funds and manages studies related to the ethical, legal and social implications of genetic and genomic research, and also supports workshops, research consortia and policy conferences related to such topics. The ELSI Research Program is the largest sponsor of research on the ethical, legal and social aspects of biomedicine in the world.
NHGRI is one of the 27 institutes and centers at NIH, an agency of the Department of Health and Human Services. For more information about NHGRI's ELSI Research Program, see www.genome.gov/10001618/the-elsi-research-program/. For more information about NHGRI, see www.genome.gov.

Contact:

Geoff Spencer, NHGRI
Phone: (301) 402-0911
E-mail: spencerg@mail.nih.gov
Last updated: August 01, 2012