Genes, Race and Psychology in the Genome Era

Archived Page
This page has been archived and is provided for historical reference purposes only. The content and links are no longer maintained and may now be outdated.
Genes, Race and Psychology in the Genome Era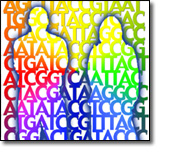 In January 2005, the American Psychological Association published a series of 10 articles in the American Psychologist, created by scholars who work in the fields of genetics, race or related areas to begin a discussion of the issue of race and genetics within the field of psychology.
Two articles in the series were written by scholars from the National Human Genome Research Institute (NHGRI): NHGRI Director Francis S. Collins, M.D., Ph.D., NHGRI Associate Investigator Vence Bonham, J.D. and NHGRI Ethical, Legal and Social Implications (ELSI) Researcher Vivian Ota Wang, Ph.D. (The ELSI Research Program).
All of the documents on this page are in

format. To view these pdfs you will need Adobe Acrobat Reader.

From NHGRI:
---
The Complete Series: Genes, Race and Psychology in the Genome Era:
Last updated: January 13, 2015