NHGRI Targets 12 More Organisms for Genome Sequencing

NHGRI Targets 12 More Organisms for Genome Sequencing
Strategic Mix Includes Marmoset, Skate and the vector of Chagas' disease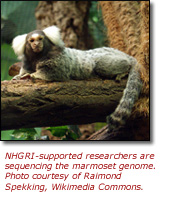 BETHESDA, Md., Tues., Mar. 1, 2005 - The National Human Genome Research Institute (NHGRI), one of the National Institutes of Health (NIH), announced today that the Large-Scale Sequencing Research Network will begin sequencing 12 more strategically selected organisms, including the marmoset, a skate and several important insects, as part of its ongoing effort to expand understanding of the human genome.

The National Advisory Council for Human Genome Research, which is a federally chartered committee that advises NHGRI on program priorities and goals, recently approved a comprehensive plan that identified two groups of new sequencing targets on the basis of their collective scientific merits.

"Our sequencing strategy continues to focus on identifying the sets of organisms with the greatest potential to fill crucial gaps in biomedical knowledge," said Mark S. Guyer, Ph.D., director of NHGRI's Division of Extramural Research. "The most effective approach we currently have to identify the essential functional and structural components of the human genome is to compare it with the genomes of other organisms."
Two of the sequencing projects are aimed at gaining new insights into model organisms utilized in research on drug development and disease susceptibility. They are: sequencing the genome of a fellow primate, the marmoset (Callithrix jacchus); and identification of genetic variations (in the form of single nucleotide polymorphisms) in eight strains of rats.
The marmoset is a key model organism used in neurobiological studies of multiple sclerosis, Parkinson's disease and Huntington's disease. The marmoset is also an important model for research into infectious disease and pharmacology.
The marmoset was chosen also because of its unique position on the evolutionary tree, one step further removed from humans than other non-human primates already being sequenced, such as the chimpanzee (Pan troglodytes), the rhesus macaque (Macaca mulatta) and orangutan (Pongo pygmaeus). Obtaining the marmoset genome sequence will provide a powerful tool to illuminate the similarities and differences among these primate genomes.

The second project chosen for its considerable medical relevance to humans will identify 280,000 single nucleotide polymorphisms, known as "SNPs," in the genomes of eight different strains of laboratory rats. SNPs can be used as markers to zero in on genetic variations that may affect an individual's risk of developing common, complex illnesses such as heart diseases, diabetes and cancer. Building a catalog of rat SNPs will assist researchers trying to find genetic variations associated with common, complex diseases in rats, which can then be used to help identify similar genetic variations that may be involved in human disease.
The eight rat strains selected are the PVG strain, commonly used as a healthy control in studies; the F344 strain, used in toxicological and pharmacological studies; the SS strain, used for cardiovascular disease studies; the LEW strain, often used in studies of transplants and immune response; the BB strain, used in studies of diabetes; the FHH strain, also used for cardiovascular studies; the DA strain, used for studies of arthritis and cancer; and the SHR strain, used in studies of hypertension.
"The overriding goal of sequencing the genomes of a diverse set of organisms is to understand the biological processes at work in human health and illness," said NHGRI Director Francis S. Collins, M.D., Ph.D. "It is also gratifying to know that these tools, freely available to the entire biomedical research community, can be used in other scientific fields to further improve animal and human welfare."
Another set of 11 non-mammalian organisms were strategically chosen, each representing a position on the evolutionary timeline marked by important innovations in animal anatomy, physiology, development or behavior. The organisms are: a skate (Raja erinacea); a sea slug (Aplysia californica); a disease-carrying insect (Rhodnius prolixus); a pea aphid (Acyrthosiphon pisum); a wasp (Nasonia vitripennis) and two related insect species (Nasonia giraulti and Nasonia longicornis); a free-living soil amoeba (Acanthamoeba castellanii); and three fungi (Schizosaccharomyces octosporus, Schizosaccharomyces japonicus, Batrachochytridium dendrobatidis).
It has been shown that most sequences of the human genome originated long before humans themselves. Consequently, scientists will use the genome sequences of the 11 non-mammalian animals to learn more about how, when and why the human genome came to be composed of certain DNA sequences, as well as to gain new insights into organization of genomes. In addition, many of the organisms can shed light on human disease.
For instance, the skate (related to many species of shark and cartilaginous fish) was chosen because it belongs to the first group of primitive vertebrates that developed jaws, an important step in vertebrate evolution. Other innovations in this group of animals include an adaptive immune system similar to that of humans, a closed and pressurized circulatory system, and myelination of the nervous system. Understanding these systems of the skate at a genetic level will help scientists identify the minimum set of genes that create a nervous system or develop a jaw, possibly illustrating how these systems have evolved in humans, and how they sometimes go wrong.

Aplysia (Aplysia californica) is a sea slug that has been a very useful model in studying learning and memory in humans. Aplysia have very large neurons which can be manipulated and studied easily by researchers. In 2000, Eric Kandel, M.D., of Columbia University in New York, shared the Nobel Prize in Physiology or Medicine for his work elucidating how memories are formed in the human brain using Aplysia as a model.
The disease-carrying insect, Rhodnius prolixus, spreads Chagas' disease, caused by the parasite Trypanosoma cruzi,which is carried by the insect. Chagas' disease is prominent in Latin America, affecting about 20 million people in South America alone and killing 50,000 of them a year. Having the genome sequence of Rhodnius prolixus presents an opportunity for experts from the United States, Canada and Latin America to collaborate on understanding this widespread infectious disease.
The pea aphid (Acyrthosiphon pisum) is an insect which causes hundreds of millions of dollars of crop damage each year. The pea aphid is a model for studying rapid adaptation because this species is exceptionally able at adapting to and resisting many pesticides. Understanding this resistance at a molecular level can lead to safer and more effective pesticides and improve human nutrition. The genome of the pea aphid, used extensively as an experimental model, will be a valuable comparison with other insects, such as the closely related insect, Rhodnius prolixus.
Another insect, the parasitoid wasp Nasonia vitripennis, is a natural enemy of houseflies, and its relatives are natural enemies of ticks, mites, roaches and other arthropods. It is the genetic model for parasitoids, which lay their eggs on and kill arthropods, thus controlling pest populations. In the United States, the use of parasitoid wasps in agriculture as a biological control of crop damaging insects saves approximately $20 billion annually. The wasp will serve as a good comparison for the honey bee genome, which has been sequenced already. Two related wasp species, Nasonia giraulti and Nasonia longicornis, will be sequenced at less dense coverage to aid in the comparative studies.

Sequencing efforts will be carried out by the five centers in the NHGRI-supported Large-Scale Sequencing Research Network: Agencourt Bioscience Corp., Beverly, Mass.; Baylor College of Medicine, Houston; the Broad Institute of MIT and Harvard, Cambridge, Mass.; The J. Craig Venter Science Institute, Rockville, Md.; and Washington University School of Medicine, St. Louis. Assignment of each organism to a specific center or centers will be determined at a later date.
NHGRI's selection process begins with two working groups comprised of experts from across the research community. Each of the working groups is responsible for developing a proposal for a set of genomes to sequence that would advance knowledge in one of two important scientific areas: understanding the human genome and understanding the evolutionary biology of genomes. A coordinating committee then reviews the working groups' proposals, helping to fine-tune the suggestions and integrate them into an overarching set of scientific priorities. The recommendations of the coordinating committee are then reviewed and approved by NHGRI's advisory council, which in turn forwards its recommendations regarding sequencing strategy to NHGRI leadership.
The genomes of a number of organisms have been or are being sequenced by the large-scale sequencing capacity developed by the Human Genome Project. These include the dog, the mouse, the rat, the chicken, the honey bee, two fruit flies, the sea urchin, two puffer fish, two sea squirts, two roundworms, several fungi, baker's yeast and many prokaryotes (bacteria and archaea) including Escherichia coli. Additional organisms already in the NHGRI sequencing pipeline are: the macaque, the orangutan, the kangaroo, the cow, the gray short-tailed opossum, the platypus, the red flour beetle, the domestic cat, the flatworm Schimdtea mediterranea, more species of fruit fly and several species of fungi.
To learn more about the rapidly growing field of comparative genomic analysis, go to: www.genome.gov/10005835/background-on-comparative-genomic-analysis/. For the white papers on other organisms currently in NHGRI's sequencing pipeline, go to: Approved Sequencing Targets. For more on NHGRI's selection process for large-scale sequencing projects, go to: www.genome.gov/Sequencing/OrganismSelection.
High-resolution photos of the marmoset, skate, aplysia, and Rhodnius prolixus and many other organisms are available at: www.genome.gov/dmd.
NHGRI is one of the 27 institutes and centers at NIH, an agency of the Department of Health and Human Services. The NHGRI Division of Extramural Research supports grants for research and for training and career development at sites nationwide. Additional information about NHGRI can be found at its Web site, www.genome.gov.
For more information, contact:
Geoff Spencer, NHGRI
(301) 402-0911
spencerg@mail.nih.gov
---
Last Reviewed: February 28, 2012
Last updated: February 28, 2012