Life in the Lab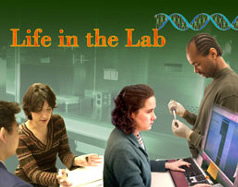 Learn what it is like to choose the career of a scientist from three young and very different individuals who decide to invest their lives in research. Introduction: NHGRI Director Francis S. Collins. Feature scientists Dr. Belen Hurle, Dr. Milton English and Dr. Elizabeth Gillanders.

Watch the video
(
Running Time: 15:03 minutes
)

Subscribe directly using your preferred podcasting tool:

Or, copy and paste this URL into your podcasting tool of choice:
http://www.genome.gov/rss/podcasts.xml
A Teaching Guide for Life in the Lab
Teaching Guide: Life in the Lab
A guide for increasing student awareness of careers in genomic science, as well as to dispel stereotypes about who has what it takes to become a scientist.
General Online Resources:
About Our Webcasts
Each webcast is about 15 minutes long.
To view a webcast, click on the appropriate link.
No permission is needed to view or duplicate any events broadcast by NHGRI.
Last updated: March 17, 2012