DNA - The Next Generation
DNA - The Next Generation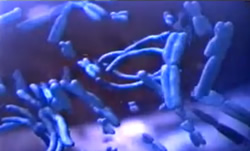 ABC News correspondent Robert Krulwich hosts a program featuring Nobel laureate James Watson and former NHGRI Director Francis Collins who discuss the history and future of human genetics.
This webcast was created as a part of the April 2003 celebration of the historic culmination of one of the most important scientific projects in history: the sequencing of the human genome. In addition, April 2003 marked the 50th anniversary of another momentous achievement in biology: James Watson and Francis Crick's Nobel Prize winning description of the DNA double helix.

Watch the video
(
Running Time: 30:39 minutes
)
50 Years of DNA: From Double Helix to Health, A Celebration of the Genome
General Online Resources:
About Our Webcasts
Each webcast is about 15 to 30 minutes long.
To view a webcast, click on the appropriate link.
No permission is needed to view or duplicate any events broadcast by NHGRI.
Last updated: April 11, 2012