Expanding Her Horizons: Linda Rivera
Expanding Her Horizons: Linda Rivera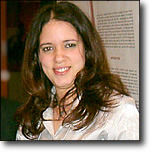 Linda Rivera says that what she learned last summer during her National Human Genome Research Institute (NHGRI) internship was an empowering event she now hopes will be the foundation for a long scientific career.
Rivera, a doctoral student in microbiology at the University of Puerto Rico, was one of the NHGRI's summer interns for 2006. She first came to NHGRI in 2005 to attend a week-long course called Current Topics in Genomic Research, known also as the "Short Course." The annual course offers teachers and students from minority-serving institutions a broad background in the fields of genetics and genomics, information they can apply to their own research and share with students and colleagues back home.
Rivera first learned about the National Institutes of Health (NIH) Summer Internship Program (SIP) during the Short Course, where students also learn about all of NIH's training programs. Rivera applied and was accepted into the SIP. She was assigned to the NHGRI laboratory of Dr. David Bodine, chief of the Genetics and Molecular Biology Branch, because her interests were closely aligned with Dr. Bodine's research.
"Dr. Bodine is a great mentor," said Ms. Rivera. "He and his team create a cooperative environment that encourages enthusiasm and makes the work comfortable and productive. I was only there for two months, but I obtained valuable data that I presented at the 2006 Annual Meeting of the American Society of Hematology."
Rivera said that everyone she met at the National Institutes of Health (NIH) made her feel like a part of the team, and fully supported her as she learned how to apply new research techniques to her work. Rivera was given access to all the supplies and facilities she needed to do first-class science, and she was encouraged to master as many skills as she could during her stay. Because of this experience, she is now determined to pursue postdoctoral study after she receives her Ph.D. later this year.
When asked what she wanted to tell other students about her research experience at NHGRI, Rivera said that Dr. Bodine and others at NHGRI made her realize the sky was the limit and that the only barriers in her way were those she placed on herself.
"Being at NHGRI allowed me to leave my borders and safe cocoon behind," said Rivera. "Everyone should take the opportunity to come to the NIH and expand their horizons!"
Last updated: March 14, 2014