2008 News Feature Nhgrifunded Scientists Win Nih Directors Pioneer Award
NHGRI Grantees Win Pioneer Awards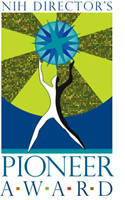 Two National Human Genome Research Institute grantees, Alice Y. Ting, Ph.D., and Saeed Tavazoie, Ph.D., are among the 15 scientists of exceptional creativity chosen to receive a 2008 NIH Director's Pioneer Award. The awards enable researchers to pursue innovative approaches that could possibly transform biomedical and behavioral science.
An associate professor of chemistry at the Massachusetts Institute of Technology in Cambridge, Mass., Dr. Ting received her doctorate in chemistry from the University of California, Berkeley, in 2000. She is an organic chemist and biochemist who is developing new tools and technologies for imaging live cells. She will use her Pioneer Award to investigate new approaches for the studying cell proteins in their native form and context.
Dr. Ting's past achievements include a McKnight Technology Award, a Technology Review TR35 Award, a Sloan Research Fellowship, an Office of Naval Research Young Investigator Award, an NIH Career Development Award and a Camille and Henry Dreyfus Teacher-Scholar Award.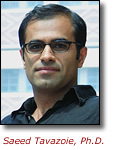 Dr. Tavazoie, who received his doctorate in biophysics from Harvard University in Cambridge, Mass., in 1999, is an associate professor of molecular biology and a member of The Lewis-Sigler Institute for Integrative Genomics at Princeton University in Princeton, N.J. He uses genomic and computational methods to study the structure, function and evolution of regulatory networks across organisms, ranging from bacteria to humans.
Dr. Tavazoie will use his Pioneer Award to study how regulatory networks are shaped by the complex and dynamic environments of native microbial habitats. His research will also explore how such "internal representations" allow single-celled microbes to carry out cognitive tasks typically associated with the nervous systems of multi-celled animals. His previous honors include a CAREER Award from the National Science Foundation.
The NIH Director's Pioneer Award Program [nihroadmap.nih.gov] targets researchers at the early to middle stages of their careers and is a major component of the NIH Roadmap for Medical Research [nihroadmap.nih.gov].
Last Reviewed: May 11, 2012
Last updated: May 11, 2012