2010 News Feature Gelbart Receives Distinguished Service Award
Dr. William M. Gelbart, NHGRI Advisor and Grantee, Receives Distinguished Service Award from Genetics Society of America
February 2010
William M. Gelbart, Ph.D.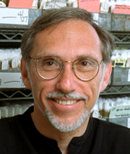 National Human Genome Research Institute (NHGRI)
advisor and grantee, William M. Gelbart, Ph.D., Harvard University professor of molecular and cell biology, is the recipient of the 2010 Genetic Society of America's (GSA) George W. Beadle award for "outstanding contributions to the community of genetic researchers."
Dr. Gelbart was nominated and selected for the honor by his peers for the value of his contributions to the field of genetics. He was cited for his groundbreaking work over the past two decades as the co-developer and current leader of FlyBase [flybase.org], a database for the community of researchers exploring the genetic and molecular aspects of the fruit fly (D. melanogaster). It is the model around which many other model organism databases have been built.
In addition to his work on FlyBase, Dr. Gelbart has made important contributions to our understanding of the molecular basis of development using the fruit fly as a model organism. His work on the decapentaplegic gene lead to important insights into growth factor signaling in humans involved in early development, organ formation, and cancer. Given his wide-ranging expertise and experience in genomics, Dr. Gelbart has been asked to serve as a scientific advisor to NHGRI on various groups for more than a decade.
He currently is Chair of the NHGRI Panel on Prioritization of New Genome Sequencing Projects (2001 to present), and a member of the NHGRI Large-Scale Genome Sequencing Network (1999 to present). He has also served as a member of the Human Genome Research Study Section (1996 to 1999) and a member of the National Advisory Council of Human Genome Research (2000 to 2004), NHGRI's advisory body.
The GSA also honored four other genetic researchers with awards. Information about each award and a list of current and past recipients can be seen at: www.genetic-gsa.org/sites/default/files/genome-old/pages/awards.shtml.
The Genetic Society of America is a professional membership organization for geneticists and science educators with a particular focus on the genetics of model organisms, such as the fruit fly, human, roundworm, mouse, rat and yeast, among others.
Last Reviewed: November 15, 2012
Last updated: November 15, 2012