2011 News Feature Emerge Network Funding Expands Adds Pediatric Studies
Applicants Wanted
eMERGE network funding expands, adds pediatric studies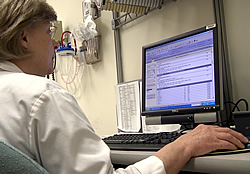 By linking data about patients' genes
with descriptions of their diseases via Electronic Medical Records (EMR), doctors may someday be able to customize patients' treatments and outcomes. This is the goal of the Electronic Medical Records and Genomics, or eMERGE, network, which was formed in 2007 by the National Human Genome Research Institute (NHGRI) with support from the National Institute of General Medical Sciences.
The first phase of eMERGE, which wraps up this year, demonstrated that genetic information from EMRs can be used to study patients' disease traits, including those associated with dementia, cataracts, HDL-cholesterol, peripheral arterial disease, type 2 diabetes and cardiac conduction defects.Some doctors are already using genetic information to identify patients who face potentially lethal side effects from the drug Warfarin and prescribing the drug Herceptin only to breast cancer patients with a genetic mutation that causes them to overproduce the HER2 protein.
"eMERGE takes a very powerful approach," said Teri Manolio, M.D., Ph.D., director of NHGRI's Office of Population Genomics which administers the five-member eMERGE network. "We found that we can take a genome-wide association study (GWAS) that might initially have involved 1000 to 2000 people and, by using clinical descriptions in the EMRs, suddenly multiply that by 10 or 12 thousand people at very little additional cost."
NHGRI will incorporate the methods and knowledge learned in the first phase to expand eMERGE this year. In the near future, NHGRI plans to award approximately $22 million to up to eight investigators for four-year studies focused on adults, and about $3.5 million to a single coordinating center.
In spring 2012, NHGRI also plans to award up to $1.6 million to as many as three investigators to conduct three-year pediatric studies. Both adult and pediatric eMERGE investigators will conduct studies to validate the link between certain genes and at least 40 disease traits. Another NIH institute, The Eunice Kennedy Shriver National Institute of Child Health and Human Development also plans to fund these grants.
The eMERGE studies contribute to understanding the biology of disease and advancing the science of medicine, two research domains outlined in the strategic vision for the field of genomic research published by NHGRI in February 2011. According to the plan, the ability to understand disease "requires the annotation and correlation of genomic information with high-quality phenotypic data. Such efforts will benefit greatly from the linkage of genomic information to data gathered in the course of actual clinical care, such as in electronic medical/health records." In addition, eMERGE can contribute to advancing the science of medicine by building a system that helps both doctors interpret genomic data and apply it to patient care.
eMERGE will include a consent and consultation group to explore consent and privacy concerns with study participants and community advisory groups to study concerns about genomic research and EMRs. eMERGE participant surveys already show that patients are willing to share their genetic and EMR information when it enhances the value of a research study. The surveys also show that patients want results of their own genetic tests returned to them regardless of whether the results affect their clinical care. Patients did report uneasiness if the information were shared with, for instance, a commercial entity, particularly an insurance company.
"This next phase of eMERGE is going to be quite exciting as we apply what has been learned in clinical care of patients," said Dr. Manolio. "However, that means we have a major responsibility to our study subjects to develop best practices and policies to meet the challenges of how and when patient information might be shared and used for research or in patient care."
To view the PDF document(s) on this page, you will need Adobe Reader.

Last Updated: October 31, 2013
Last updated: October 31, 2013