2011 News Feature Nhgris Ethical Legal And Social Implications Research Program Updates Priorities As Use Of Genomic Information Broadens
NHGRI's Ethical, Legal and Social Implications Research Program Updates Priorities as Use of Genomic Information Broadens
By Geoff Spencer
Associate Communications Director for Extramural Research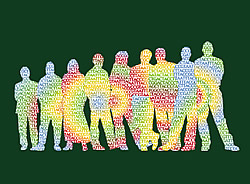 The genomics train has left the station
, and it has caught the public's attention as it goes speeding along.
People can, and some do, buy direct-to-consumer genetic tests via the Internet- no health professional needed. Early adopters hope their sequence can tell them something about their risk for disease or about their ancestral background.
As the plummeting cost of DNA sequencing promises to facilitate medical care, researchers will sequence thousands of people's genomes over the coming years and use that information for research and patient care. In the process of learning to use all this information, they will confront a host of ethical, legal and social issues. For example, a person may want to know about his or her risk for cancer, but they may not want to know their genetic risk for Alzheimer's disease since that knowledge does not substantively inform clinical care at the present time. Moreover, when an individual learns his or her genetic information it is relevant not just to them, but potentially to the whole family.
"Genomic information will challenge all of us as individuals and as a society as we seek to understand what it means for ourselves, for our families and for our global cultures," said Eric D. Green, M.D., Ph.D., director of the National Human Genome Research Institute (NHGRI) "NHGRI is more committed than ever to funding research that studies the issues stemming from the knowledge and use of genomic information and its relevance to everyone, from individuals, to families and communities, to society at large."
The NHGRI Ethical, Legal and Social Implications (ELSI) research program has re-focused its research priorities to stay in step with genomic advances. The program is now aligned with NHGRI's new strategic plan for the future of genomics published in the Feb. 10, 2011, issue of Nature entitled Charting a Course for Genomic Medicine from Base Pairs to Bedside

. To address the most pressing ELSI issues, NHGRI has issued three new program announcements to support studies in the following four research areas:
Genomic Research. Issues that arise in the design and conduct of genomic research, particularly as it increasingly involves the production, analysis and broad sharing of individual genomic information that is frequently coupled with detailed health information.


Genomic Healthcare. How rapid advances in genomic technologies and the availability of increasing amounts of genomic information influence how healthcare is provided and how it affects the health of individuals, families and communities.


Broader Societal Issues. The normative underpinnings of beliefs, practices and policies regarding genomic information and technologies, as well as the implications of genomics for how individuals conceptualize and understand such issues as health, disease and individual responsibility.


Legal, Regulatory and Public Policy Issues. The effects of existing genomic research, health and public policies and regulations and the development of new policies and regulatory approaches.


A more detailed discussion of each of these areas and a list of possible research topics is provided in the program announcements and is also available on the ELSI program webpage at www.gneome.gov/ELSI.
The three ELSI program announcements are:
Ethical, Legal and Social Implications of Genomic Research, Regular Research (R01) PA-11-250 [grants.nih.gov]
This funding opportunity announcement will primarily support research projects that request up to $500,000 in direct costs per year for three years.


Ethical, Legal and Social Implications of Genomic Research, Small Research Grant Program (R03) PA-11-249 [grants.nih.gov]
This funding opportunity announcement will support small, contained research projects for up to $50,000 in direct costs per year for two years.


Ethical, Legal and Social Implications of Genomic Research, Exploratory/Developmental Research Grant Award (R21) PA-11-251 [grants.nih.gov]
This funding opportunity announcement will support research projects for a total of up to $275,000 in direct costs spread over two years.
"NHGRI consulted and received input from both the scientific and ELSI community to develop the priorities reflected in the new program announcements," said Joy Boyer, a senior program analyst in NHGRI's ELSI research program. "Our program must remain flexible to support ELSI studies that can inform the development of sound research, health, and public policies so that we can all realize the greatest benefit from the information that exists in each of our genomes."
In addition to the NHGRI, several other institutes at the National Institutes of Health are participating in the new ELSI program announcements and have indicated an interest in funding grant applications that address ELSI issues that are relevant to their mission.
These institutes include the National Institute on Aging; The Eunice Kennedy Shriver National Institute of Child Health and Human Development; the National Institute on Deafness and Other Communication Disorders; the National Institute of Environmental Health Sciences; and the National Institute of Neurological Disorders and Stroke.
To view the PDF document(s) on this page, you will need Adobe Reader.

Last Reviewed: May 10, 2012
Last updated: May 10, 2012