Moving Genomic Medicine into the Doctor's Office
Moving Genomic Medicine into the Doctor's Office
W. Gregory Feero, M.D., Ph.D., Joins NHGRI as Senior Advisor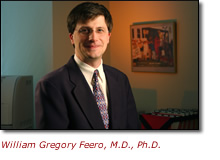 W. Gregory Feero, M.D., Ph.D., has joined the National Human Genome Research Institute (NHGRI) as the Senior Advisor to the Director for Genomic Medicine. In this position, he plays a key role in guiding the institute as it works to convert the discoveries of genomic research into advances in clinical medicine.
"For the promise of the Human Genome Project to be realized," said NHGRI Director Francis S. Collins, M.D., Ph.D., "the wealth of discoveries from our new-found genomic knowledge must be converted into diagnostic tests, prevention strategies and new medical treatments that can be used in the doctor's office. Greg Feero is a clear-sighted navigator who will help us steer a course that delivers on the promise of personalized medicine."
Dr. Feero arrives at NHGRI with a unique set of qualifications to face his new challenges. He holds a Ph.D. in human genetics from the Graduate School of Public Health at the University of Pittsburgh, as well as a medical degree from the same university. Moreover, for the past five years he was a member of the clinical faculty at the Maine-Dartmouth Family Practice Residency Program in Fairfield, Maine, where he provided the full spectrum of family practice care to patients in a rural setting. That practical experience has given Dr. Feero a broad view of the challenges health care providers face as they integrate the results of genome research into their practices.
"The leading edge of genomic research is racing far ahead of what can be done in the doctor's office today, but it won't be that way for long," Dr. Feero said. "Coming to NHGRI allows me to help shape the revolution in the clinic that will change the way medicine is practiced. My biggest job will be helping health care providers prepare for that change."
One way that genetics already can be used in the practice of medicine is older than the 1970s TV classic, Marcus Welby, M.D.: family history. Every physician learns that taking a family history is the basis of an initial plan to care for a patient, but in these days of brief office visits, that step is often skipped. That's why Admiral Richard Carmona launched The U.S. Surgeon General's Family History Initiative in 2004, and developed Internet-based programs that help individuals organize their family's medical history. Just knowing the family's medical history can provide a powerful window into the genome of that individual.
Among Dr. Feero's interests is making the Surgeon General's family history tool even more useful to health care providers by developing tools to analyze family history information, and give guidance to providers when creating a prevention or treatment plan to keep the patient healthy.
Dr. Feero is also working to connect the information gathered by the Surgeon General's family history tool to electronic medical records that are now widely used in medical practices, health maintenance organizations and hospitals. To transform family history from a passive repository of information to an active health care tool for all Americans will require its integration into the information systems now used by doctors to care for their patients.
To ensure that he stays closely connected to the needs of primary care patients and the challenges facing physicians in today's health care system, Dr. Feero will continue to practice medicine, and educate family medicine physicians in training, one day a week as a family physician at the Harpers Ferry Family Medicine Center of West Virginia University's Robert C. Byrd Health Science Center in Harpers Ferry, W.V.
Last Reviewed: February 26, 2012
Last updated: February 26, 2012