Major Findings from The ENCODE Pilot Project
Major Findings from The ENCODE Pilot Project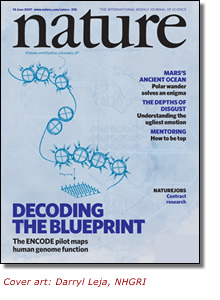 Read the first results from The ENCODE Project: The ENCyclopedia Of DNA Elements (ENCODE), the four-year effort to build a parts list of all biologically functional elements in 1 percent of the human genome.
Organized by the National Human Genome Research Institute (NHGRI) and carried out by 35 groups from 80 organizations around the world, the research served as a pilot to test the feasibility of a full-scale initiative to produce a comprehensive catalog of all components of the human genome crucial for biological function.
Collected here are the major findings, discussion, press coverage and ancillary research for this pioneering effort.
Speakers at the June 13, 2007 teleconference were:
 
Chris Gunter, Ph.D., Nature
Francis S. Collins, M.D., Ph.D., National Human Genome Research Institute
Michael Snyder, Ph.D., Yale University
Ewan Birney, Ph.D., European Bioinformatics Institute, European Molecular Biology Laboratory
 

See illustrated results at: The ENCODE Poster [nature.com]
A poster depicting some of the latest ENCODE findings. The poster is in pdf format that can be enlarged for easy reading.
 
Explore the entire ENCODE Web Focus:
Related articles on ENCODE from Nature
 
Related Information and Projects
To view the PDF on this page you will need Adobe Acrobat Reader.

Last Reviewed: February 26, 2013
Last updated: February 26, 2013