Janis Mullaney Joins NHGRI as Executive Officer
Janis Mullaney Joins NHGRI as Executive Officer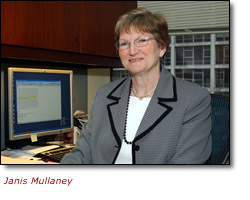 When Francis S. Collins, M.D., Ph.D., the director of the National Human Genome Research Institute (NHGRI), went looking for a successful, senior manager to serve as the institute's executive officer, one name kept coming up again and again: Janis Mullaney. There was only one problem: she had retired from the National Institutes of Health (NIH) three years earlier, taking an early out while still in her early 50s.
Fortunately, she hadn't gone far. She still had an NIH badge and a red parking pass, for she was working as the senior advisor for Public-Private Partnerships at the Foundation for the National Institutes of Health (FNIH), which kept some of its offices in the William H. Natcher Conference Center, Building 45.
"I didn't plan on coming back to government; I retired and was doing my public-private partnerships," Ms. Mullaney said, "but when Dr. Collins called and selected me for the position, that was that."
So, in January 2008, Ms. Mullaney re-entered government employment to become the executive officer of the National Human Genome Research Institute, one of the 27 institutes and centers at the NIH in Bethesda, Md. The executive officer oversees virtually every management function of an institute, from budget and the administrative offices to information technology and human relations. As a senior leader of the institute, the executive officer maintains the organization's infrastructure so research can proceed.
"I am so happy to have someone with Janis's vast NIH experience take on this important leadership role at the genome institute," Dr. Collins said. "NHGRI frequently works in collaboration with other institutes and centers and research teams around the world. For the last three years, in particular, and all through her career, Janis has been deeply involved in creating collaborations and making it possible to conduct the highest quality research. That skill will serve us well as the genome field continues to expand dramatically."
As FNIH's senior advisor for public-private partnerships, Ms.Mullaney played a key role in developing collaborations between institutes with a disease-centric mission and interested outside organizations and funders. For example, she led FNIH's activities in National Cancer Institute (NCI) projects supported by $10 million from the Avon Foundation, including giving grants for clinical investigations in prevention, detection, diagnosis and treatment. She also helped organize two projects for the National Institute of Mental Health, the largest of which invested $8 million from Bristol Myers Squibb in schizophrenia research.
"Janis has been a key figure in the foundation's success — from the earliest day — even before joining our staff," said Amy McGuire Porter, executive director of the Foundation for the National Institutes of Health. "We know that returning to NIH to work for Francis and the NHGRI is the fulfillment of her own career dream. And, although we miss her, we know she will work wonders on NHGRI's behalf."
"As satisfying as the work was with the foundation," Ms. Mullaney said, "I had a desire to come back to NIH and help. NHGRI is hot, and leading cutting edge stuff. At FNIH, genomics kept coming up over and over again in the public-private partnerships for lots of the institutes and centers. Many of them are doing genome research and that was very exciting."
Ms. Mullaney has a reputation for getting things done. "Janis is an experienced administrator who brings not only knowledge of the NIH to bear, but also the human touch in all her interpersonal dealings," said Colleen Barros, NIH Deputy Director for Management.
Indeed, Ms. Mullaney is well-known for her affable, collegial style. Many even describe her as nice. But one senior NIH manager cautioned that she can be tough: "She's certainly nice, but she's persistent and pushes to get things done. She does not take no for an answer." Ms. Mullaney just smiles in response to such comments, saying "I'm not a conservative administrator. I like to figure out how to get things done and push the envelope."
Says NHGRI Deputy Director Alan Guttmacher, M.D.: "Janis is a wonderful addition to NHGRI's leadership. We will benefit not only from her broad experience at NIH and FNIH but also from her instinctive ability to tackle challenges, whether scientific or administrative, as opportunities. We will all really enjoy working with her."
Ms. Mullaney had an impact on NHGRI long before she arrived. When the NHGRI Division of Intramural Research was being created in the early 1990s, then human relations chief Mary Glynn suddenly found herself confronted with the need to create numerous position descriptions (PDs) for all the people to populate the various staff positions. Instead of reinventing the wheel, Ms. Glynn called around to intramural administrators to collect PDs that she could use as a model. The biggest batch came from the National Institute of Environmental Health Sciences, where Ms. Mullaney had human relations within her domain. "That gave me a huge jumpstart," Ms. Glynn said. "And Janis even called me back to make sure I got them and to see if I had any questions. That was impressive since many other people did not even respond at all."
With a B.S. in Business Management and an Executive M.B.A., both from the University of Maryland, Ms. Mullaney has been in federal service since 1971 when she joined the then Bureau of Drugs of the Food and Drug Administration, reaching the rank of administrative officer for information systems when she left 10 years later. A promotion enticed her to NIH as administrative officer for clinical programs at the National Institute of Dental and Craniofacial Research, where she stayed for five years. In 1986, she became the head administrative officer for basic research in the National Institute of Neurological Disorders and Stroke, and was briefly the administrative officer for the entire National Institute of Deafness and Communication Disorders.
For the next decade, from 1989 to 1999, Ms. Mullaney moved from NIH's Bethesda campus to Research Triangle Park, N.C., where she took over as chief of the Administrative Management Branch and principal advisor to the scientific director of the National Institute of Environmental Health Sciences. Her team supported a staff of more than 800 employees with a budget exceeding $100 million.
But Ms. Mullaney did not stay settled. In the summer of 1999, she moved back to the Bethesda campus to work for Michael Gottesman, M.D., as the Intramural Management Liaison Director where she led numerous teams to improve support systems across NIH for the Office of Intramural Research.
Another promotion moved her to NCI from September 2000 to October 2004, where she became the Associate Director for Management and later the Acting Deputy Director for Management for the largest institute on campus. She provided direct leadership to a staff of some 500 in the Office of Management, which provided support to some 4,000 staff in seven divisions and four centers, both extramural and intramural. NCI's Office of Management included all of the functional areas of administrative offices, human resource management, grants management, research contracts management, procurement, management information systems and computer services, financial data and budget execution, management analysis, strategic technical review, space and facilities management.
Not all of her management experience has been in government, however. For 20 years, Ms.Mullaney and her husband, David, ran two pet stores in the Rockville and Olney area. They sold them both in 1990 when they moved to North Carolina. Mr. Mullaney retired in 2004 after dabbling in a few private ventures after closing the pet stores, including earning a patent on novelty clothing that could wave a flag on a hat for a favorite sports team. Now he pursues his favorite hobby — fishing — in his 19-foot Carolina skiff were they have a home in Southport, N.C., on the Intracoastal Waterway behind Oak Island.
Although the Mullaneys have no children, Janis knows all about big, noisy families like NHGRI. Born in Washington, D.C, and raised in Annandale, Va., she is the third oldest of eight children, five girls and three boys. Her mother was a substance abuse counselor and her father was in sales. Most of her siblings still live in the Washington metropolitan area.
Last updated: June 14, 2010