A Place for Hope
A Young Woman Finds Answers at NIH Clinical Center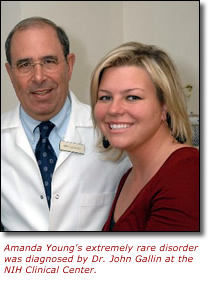 Amanda Young, 26, of Conyers, Ga., lived her young life as a mystery. Seeking an explanation for having contracted spinal meningitis, gas gangrene, salmonella poisoning of the sinuses, an abdominal abscess, and more, Amanda finally found an answer at the National Institutes of Health (NIH) Clinical Center.
Years of intensive testing led to a diagnosis of an IRAK-4 deficiency. An extremely rare genetic mutation affects her body's ability to create a protein needed to fight bacteria, leaving her vulnerable to life-threatening infections. The oldest of only about 20 patients known to have the deficiency, Mandy seems to have put the worst behind her.
Her first years were marked by three cases of meningitis - two spinal, one neisseria - and an abdominal abscess the size of a cantaloupe. Doctors couldn't tell Mandy's parents, Lisa and Speed Young, why their daughter was brought to the brink of death every few months.
Desperate for answers, the Youngs, then living in North Carolina, traveled across the Southeast visiting doctors and researchers. They attempted to find her disorder, but they were eventually told, "Mandy's body is more advanced than current medicine. The test has not been invented yet to define her disease. We are sorry, there is nothing we can do to help you."
At age 8, Mandy faced another devastating illness. A cut on her leg did not heal correctly and she developed a massive infection caused by toxin-producing bacteria. The toxin-gas gangrene, forced a complete amputation of her left leg and hip.
"The infection spread faster than they could get the lab test results back. It was horrible, simply horrible. Because the gases were moving up her leg so quickly, doctors amputated entire leg through the hip joint. She was hospitalized for months," Lisa Young remembers. Still, doctors could not identify what was causing such infections to ravage Mandy's body.
"We felt so helpless," Speed said. "You know there's something wrong. You put your faith in the doctors. But they just look at you like you know as much as they do."
Though frustrated, the Youngs were far from giving up hope and vowed to find someone to help their daughter. A doctor in Atlanta recommended the case to John I. Gallin, M.D., now director of the NIH Clinical Center. Dr. Gallin has been drawn to cases of diagnostic difficulty during his lengthy career with NIH and is involved in the inception of the recently announced NIH Undiagnosed Diseases Program.
In August 1990, Mandy made her first of many visits to NIH. She traveled north to Bethesda, Maryland, every six weeks for a series of blood tests and studies, then once every three months, to twice a year. Much of her research at NIH has been experimental. At one point, blisters were formed and popped, exposing raw skin to measure her reaction to inflammation. "I've been sort of a lab rat for years. But that's the only way that they can help me. And it's okay with me. I love the fact that I am making a contribution to science and to myself at the same time. I would much rather it be me, than someone else," Mandy stated.
"On May 13, 2003, at 8:24 a.m., Dr. Gallin was able to tell us, 'Congratulations! At long last we have figured out the basis of Amanda's problem.' I began to shake, and the tears wouldn't stop," Lisa said.
After 21 years of questions, Mandy had an answer. The meeting where the team of researchers who had worked on her case revealed their finding to the Youngs was an emotional one. "We were in shock, then ecstatic," Mandy said. "Dr. Gallin promised he wouldn't give up on me, and he didn't. After 13 years of intensive studies, my immune deficiency had a name."
Persistent effort, careful study, and ongoing consultations and collaborations with research colleagues provide the foundation for work done at the NIH Clinical Center. The Clinical Center exists for people like Mandy and her parents, Dr. Gallin said. "Our patients are partners in medical discovery. They call this the House of Hope. Our commitment to them is to marshal medical and scientific expertise, resources, and care in the search for answers. In a research setting, one patient's answers often generate new avenues for medical advancements that ultimately help others."
She has more to be happy about these days. Mandy's condition seems to improve as she ages. Her last major infection was in 2000, an unknown affliction of the eyes and throat. While the gene defect has been found, research continues into the cause, treatment and cure of the IRAK-4 deficiency. Mandy must be acutely aware of her body, as the smallest ache or sense of fatigue could mean a fatal infection has grown without detection.
Entering a career in motivational speaking, Amanda is positive about her future. She looks forward to visiting her Clinical Center "family" often for monitoring, and is ecstatic that the NIH Undiagnosed Diseases Program will be in place to help others like her.
"This new program will be more than a place for families to come for help," Amanda said. "It will be their place to come for hope."
Last updated: January 03, 2013