NHGRI Creates Informed Consent Web Resource for Genomics Research
NHGRI Creates Informed Consent Web Resource for Genomics Research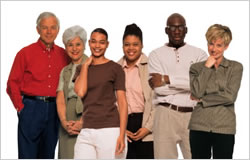 The National Human Genome Research Institute has developed an online Web resource with the goal of providing the research community with the information needed to develop complete and reliable informed consent materials for genomics-related research projects, such as genome-wide association (GWA) and genome-sequencing studies.
Informed consent involves two fundamental components: a document and a process. Through the consent form it is essential to communicate to the research participant a summary of the research project, including the study's purpose, research procedures, potential risks and benefits, and also to explain an individual's rights as a research participant. It is important to use language that is not overly technical, and take into consideration the basic scientific understanding and literacy level of potential research participants.
"We developed this resource to provide the research community with relevant and current information to assist them as they draft their consent forms," said Erin Ramos, Ph.D, M.P.H., an epidemiologist with NHGRI's Office of Population Genomics and one of the authors of the new informed consent resource.
The informed consent process together with the consent form provide research participants with explanations that will help them make informed decisions about whether to begin or continue participating in a research project. It is an ongoing, interactive process, rather than a one-time information session.
Given the complexity of the scientific and ethical issues that arise when conducting genomics research in today's collaborative research settings - which include activities such as deposition of individual-level data into controlled-access databases for broad sharing; evolving information technology (IT); and the prospect of changing attitudes about privacy - the material included in the NHGRI Web resource is by nature dynamic and not meant to provide definitive answers. Instead, it is meant to be a first iteration of an evolving discussion that will serve as a useful resource for scientific investigators as they work with their colleagues, IRBs, research participants and communities to develop appropriate informed consent materials for genomics studies.
"It is NHGRI's desire to begin an interactive dialog with the community on this issue," said Laura Lyman Rodriguez, Ph.D, acting director for NHGRI's Office of Policy, Communications, and Education.
The NHGRI welcomes comments and suggestions on the resource. Dr. Rodriguez notes that "We hope to begin a conversation with the research community to help develop best practices and facilitate the dissemination of the hard work of others in this area."
To read more about NHGRI's newly developed informed consent process go to: Informed Consent for Genomics Research.
For more specific questions about the informed consent process when conducting genomic research, send an e-mail to informedconsent@mail.nih.gov
Last updated: March 14, 2014