Genetics Pioneer and Former NHGRI Advisor Receives Presidential Medal of Freedom
Genetics Pioneer and Former NHGRI Advisor Receives Presidential Medal of Freedom
August 2009
Janet Rowley, M.D., receives NHGRI's Jeffrey D. Trent Lecture award on Dec. 5, 2003. Left to right, NHGRI Scientific Director Eric Green, Dr. Rowley, former NHGRI Scientific Director Jeffrey Trent and NHGRI Director Francis Collins. Photo credit: NIH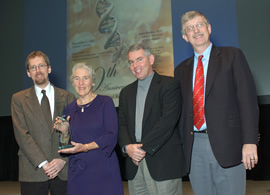 President Barack Obama has chosen Janet Davison Rowley, M.D., a pioneering cancer genetics researcher and longtime advisor to the National Human Genome Research Institute (NHGRI), to receive a 2009 Presidential Medal of Freedom. The President awarded the nation's highest civilian honor to Dr. Rowley and 15 other distinguished recipients at a White House ceremony on August 12.
The medal recognizes Dr. Rowley for her substantial contributions to cancer research, starting with her discovery in the 1970s of a wide variety of genetic rearrangements, or translocations, associated with specific subgroups of leukemia and lymphoma. Dr. Rowley's work showed that cancer is a genetic disease, transforming the understanding of cancer biology and paving the way for more personalized approaches to cancer care.
"Over the course of her scientific career, Dr. Rowley has stood at the forefront of applying basic science to problems seen in the clinic. She helped blaze a trail for future generations of physician scientists," said NHGRI Acting Director Alan E. Guttmacher, M.D.
Dr. Rowley, 84, heads an active laboratory at the University of Chicago that continues to explore the connections between genetic changes and cancer, particularly leukemia. She has received many honors for her scientific achievements, including the 1998 Lasker Award and the 1998 National Medal of Science.
Despite her many research and teaching responsibilities, Dr. Rowley has generously given of her time to serve on public scientific advisory committees. She was a member of NHGRI's Board of Scientific Counselors, which oversees the institute's intramural program, from 1994-1999, serving as the board's chair from 1994-1997. After that, she became a member of the National Advisory Council for NHGRI, which oversees the institute's extramural research and training awards, from 1999-2004. She has also served on the President's Council on Bioethics, which is an area of particular interest to the genomics research community.
In 2003, NHGRI chose Dr. Rowley to present the first annual Jeffrey M. Trent Lecture in Cancer Research. That lecture coincided with the 10th anniversary of NHGRI's Division of Intramural Research.
"We were delighted that Dr. Rowley inaugurated our new lecture series. She represents the best of both genetics research and cancer research, and is an inspiration to researchers around the world," said NHGRI Scientific Director Eric D. Green, M.D., Ph.D.
Other 2009 Presidential Medal of Freedom recipients with ties to genetics and cancer research include Sen. Edward Kennedy, D-Mass., who was a leader in the successful effort to pass the Genetic Information Nondiscrimination Act of 2008, and Nancy Goodman Brinker, who founded Susan G. Komen for the Cure, which is a leading grassroots advocacy group for breast cancer research. In 2007, then-NHGRI Director Francis S. Collins, M.D., Ph.D., received a Presidential Medal of Freedom for his leadership of the Human Genome Project.
Last updated: March 14, 2014