2009 News Feature: NHGRI Uses Recovery Act Funds To Accelerate Genome Research To Improve Human Health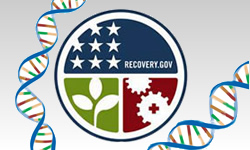 The National Human Genome Research Institute (NHGRI) has awarded more than $113 million provided by the American Recovery and Reinvestment Act. The new awards, added to NHGRI's regularly appropriated $367 million budget, will stimulate ground-breaking research ranging from studies aimed at understanding the human genome to those intended to lead to improvements in the prevention, diagnosis and treatment of human illness.
More than a dozen areas of genomic research will benefit from the investment of Recovery Act funds, which will create and retain high-quality jobs in the public and private sectors. The awards will accelerate the development of innovative technologies that can efficiently sequence an entire human genome for $1,000 or less; boost insights into the organization and function of the human genome; and promote the use of newer sequencing approaches to identify and understand the genetic roots of a number of diseases.
---
View NHGRI Recovery Act Grants
---
$1,000 Genome Sequencing Technology Development
For its Recovery Act Signature Project, NHGRI selected the development of technologies that can sequence a human genome for $1,000 or less. NHGRI leadership thinks that truly inexpensive genomic sequencing will revolutionize health and medicine, and Recovery Act funding will accelerate the Institute's research program in this area.
The success of the Human Genome Project was made possible by significant reductions in DNA sequencing costs that were fueled in large part by tools, technologies and process improvements developed as a result of NHGRI funding. To continue its efforts to make sequencing a routine tool in both research and medicine, NHGRI subsequently launched two programs, in 2004, to further accelerate the development of sequencing technologies and reduce the cost of sequencing. The goal of the first program - to produce high-quality sequence of the amount of DNA found in a human genome for $100,000 - has already been achieved. Ultimately, NHGRI's vision is to cut the cost of sequencing of an individual's genome by another factor of 100, to $1,000 or less, which may enable sequencing to become a part of everyday medical care.
Under the Recovery Act, two-year awards have been made to seven investigator teams to develop revolutionary sequencing technologies. Each of the approaches incorporates many complementary elements that integrate biochemistry, chemistry, nanotechnology and physics with engineering to enhance the effort to develop breakthrough DNA sequencing and analysis technologies.
Award recipients and their approximate total funding over the next two years are:
Mark Akeson, Ph.D., University of California Santa Cruz
Controlling Large DNA Fragments During Nanopore Sequencing
$1.1 million
 
George Church, Ph.D., Harvard University, Cambridge, Mass.
Development of Electron Microscopy-Based Nucleic Acid Polymer Sequencing
$2.5 million
 
Ronald Davis, Ph.D., Stanford University, Stanford, Calif.
A Strategy for High Quality Clinical Resequencing of the Human Genome
$2.8 million
 
Stuart Lindsay, Ph.D., Arizona State University, Tempe, Ariz.
Carbon Nanotubes: A New Synthetic Nanopore for Sequencing
$1.7 million
 
John Thompson, Ph.D. Helicos Biosciences, Cambridge, Mass.
Providing the $1,000 Genome via Improved Single Molecule Sequencing
$2.9 million
 
Stephen Turner, Ph.D., Pacific Biosciences, Menlo Park, Calif.
Direct Single Base-Pair Real-Time DNA Methylation Sequencing
$1.2 million
 
X. Sunney Xie, Ph.D., Harvard University, Cambridge, Mass.
Single Cell Single Molecule Digital mRNA Profiling with No PCR Amplification
$1.2 million
 
In addition, NHGRI recently awarded approximately $19 million in non-Recovery Act funds to 10 additional sequencing technology development projects. Information about those investigators and projects can be found at Advanced Sequencing Technology Awards 2009.
Other Recovery Act awards focus on developing methods that will enable researchers to sequence regions of the genome that are difficult to sequence with current technologies. Certain regions of the human genome — some of which may play an important role in disease — are more challenging to sequence than others, probably because of their unique physical structure. Grant recipients and their approximate total funding over the next two years are:
Annelise Barron, Ph.D., Serafim Batzoglou, Ph.D., Stephen R. Quake, Ph.D., and Eric S. Shaqfeh, Ph.D., Stanford University, Stanford, Calif.
A Universal Front End to Improve Assembly Outcomes for Next-Gen Sequencing
$1.5 million
 
Jef D. Boeke, Ph.D., Johns Hopkins University School of Medicine, Baltimore
Applying Transposon Mapping Technology to Describe Human Genetic Diversity $1 million
 
Medical Sequencing Discovery Projects
Past improvements in sequencing technology, funded by NHGRI and others, have opened the door to pursuing sequencing projects in biomedical research laboratories. Earlier technologies required large-scale sequencing centers like those funded by NHGRI to generate enough sequence data for medical sequencing projects. Recovery Act funding will provide several laboratories with an opportunity to implement newer sequencing technologies, commonly called second generation technologies, to identify and understand the genetic roots of a disease or trait.
The grantees and their approximate total funding over the next two years are:
Gonçalo R. Abecasis, Ph.D., University of Michigan, Ann Arbor
Genetics of Lipid Levels: Draft Sequencing of 1,000 Genomes
$4 million
 
Christopher B. Burge, Ph.D., Massachusetts Institute of Technology, Cambridge, Mass.
Deep Sequencing Analysis of mRNA Isoform Expression Changes in Myotonic Dystrophy
$2.9 million
 
James E. Hixson, Ph.D., University of Texas Health Science Center, Houston
Next-generation Medical Resequencing of Gout Disease Genes in the Atherosclerosis Risk in Communities Cohort
$2.8 million
 
Vamsi K. Mootha, M.D., Harvard University, Boston
Defining the Genetic Basis of Human Respiratory Chain Disease
$2 million
 
Deborah A. Nickerson, Ph.D., Jay Shendure, M.D., Ph.D., Mike Bamshad, M.D., and Wendy Raskind, M.D., University of Washington, Seattle
Next Generation Mendelian Genetics: Identify Genes for 20 Rare, Unmapped Single-gene Disorders
$3.9 million
 
Understanding Genome Function
Completely sequencing a human or other organism's genome is just one step in understanding that organism's biology. Researchers also need to understand the instructions encoded in the DNA sequence by identifying all of the functional elements in the genome. In addition to genes that code for proteins, these sequence-based elements include non-protein-coding genes; regulatory elements involved in the control of gene transcription; and DNA sequences that mediate the structure and dynamics of chromosomes.
NHGRI has awarded approximately $22 million of Recovery Act funds to support research aimed at identifying and understanding functional elements. This includes the ENCyclopedia Of DNA Elements (ENCODE) project, which is working to assemble a comprehensive catalog of functional elements in the human genome. A parallel effort, called modENCODE, will also receive support. modENCODE targets those same functional elements in two important models used in biomedical research: the roundworm and the fruit fly. Award recipients and their approximate total funding over the next two years, unless otherwise noted, are:
Eric H. Davidson, Ph.D., California Institute of Technology, Pasadena
Novel Methods for Vast Increase in Throughput and Accuracy of Cis-regulatory Analyses
$950,000
 
Morgan C. Giddings, Ph.D., and Xian Chen, Ph.D., University of North Carolina, Chapel Hill
Generating and Managing Large Scale Proteogenomic Data for ENCODE Cell Lines
$1.6 million
 
John Stamatoyannopoulos, M.D., and Mark T. Groudine, M.D., Ph.D., University of Washington, Seattle
Digital DNAsel Mapping and Footprinting of the Mouse Genome
$1.3 million
 
Ross C. Hardison, Ph.D., Pennsylvania State University, University Park
Enhance Human ENCODE By Function Comparisons to the Mouse
$1.5 million
 
Manolis Kellis, Ph.D., Broad Institute, Cambridge, Mass.
A Data Analysis Center for Integration of Fly and Worm modENCODE Datasets
$2.8 million
 
Michael P. Snyder, Ph.D., Stanford University, Stanford, Calif., and Sherman Weissman, Ph.D., Yale University, New Haven, Conn.
Mapping Transcription Factor Binding Sites in the Mouse Genome
$457,000 (six months)
 
Kevin P. White, Ph.D., University of Chicago
Enhancing ENCODE Through a Transcription Factor Tagging Approach to ChIP-seq
$1.8 million
 
Population Genomics
Understanding how and whether findings from genome-wide association studies vary according to environmental factors or geographic ancestry groups and applying the latest technology and analytical tools to well-characterized populations are important steps to fully realizing the benefits of population-based genomic research. NHGRI has awarded approximately $7.8 of Recovery Act funds to support innovative and collaborative research programs within its Office of Population Genomics, including:
More information about PAGE is available at www.pagestudy.org
More information about GENEVA is available at www.genevastudy.org.
More information about PhenX is available at www.phenx.org.
The Population Architecture of Genomics in Epidemiology (PAGE), which aims to conduct follow-up studies of promising genetic variants identified from genome-wide association studies, has awarded approximately $4.2 million in Recovery Act funds to better characterize geographic and ethnic ancestry groups and to evaluate a novel large-scale genotyping platform in the analysis of promising genetic variants in large, diverse cohorts. Award recipients and their approximate total funding over the next two years are:
 

Dana Crawford, Ph.D., Vanderbilt University, Nashville, Tenn.
Epidemiologic Architecture for Genes Linked to Environment
$331,000
 
Gerardo Heiss, M.D., Ph.D., University of North Carolina at Chapel Hill
Genetic Epidemiology of Causal Variants Across the Life Course
$980,000
 
Charles Kooperberg, Ph.D., Fred Hutchinson Cancer Research Center, Seattle
Epidemiology of Putative Genuine Genetic Variant: The Women's Health Initiative
$1.4 million
 
Loic Le Marchand, M.D., Ph.D., University of Hawaii
Epidemiology of Putative Causal Variants in the Multiethnic Cohort
$1 million
 
Tara Matise, Ph.D., Rutgers University, Newark, N.J.
NHGRI EpiGenVar Coordinating Center
$489,000
 

The Genes and Environment Association Studies (GENEVA) consortium, part of the genetics program of the NIH Genes, Environment and Health Initiative, has awarded approximately $765,000 in Recovery Act funds to support studies examining heart disease, mother's metabolism and their children's birth weight, and the eye disease glaucoma. Award recipients and their approximate total funding over the next two years are:
 

Eric Boerwinkle, Ph.D., University of Texas Health Science Center at Houston
Genome-Wide Association Study for Gene-Environment Interaction Effects Influencing Coronary
Heart Disease
$533,000
 
William Lowe, M.D. Northwestern University, Chicago
Genome-Wide Association Mapping: Maternal-Metabolism-Birth-Weight Interactions
$65,000
 
Louis Pasquale, M.D. Harvard University, Boston
Genes and Environment Initiative in Glaucoma
$167,000
 

The Consensus Measures for Phenotypes and eXposures (PhenX) initiative has been awarded $872,000 in Recovery Act funds to enhance bioinformatics tools used as part of its free online toolkit aimed at standardizing measurements of research subjects' physical characteristics and environmental exposures. The tools give researchers more power to compare data from multiple studies, accelerating efforts to understand the complex genetic and environmental factors that cause cancer, heart disease, depression and other common diseases. The award recipient and approximate total funding over the next two years is:
 

Carol Hamilton, Ph.D., RTI International, Research Triangle Park, N.C.
Building Consensus for Standard Measures for Genome-Wide Association Studies
$872,000
 
In addition to the awards in the above areas, other innovative and critical areas of genome research being supported through NHGRI's Recovery Act funds include:
Ethical, Legal and Social Implications: As revolutionary sequencing technologies emerge in the marketplace, the pace of genomic and genetic research and its application by healthcare providers is expected to increase dramatically. Examining the emerging ethical, legal and social implications of genomic research will be critical to safely and effectively moving discoveries into the clinic. Researchers, supported by Recovery Act awards, will examine issues ranging from direct-to-consumer online genetic testing to ethical challenges related to nanotechnology research.
 
1000 Genomes Project: This project is sequencing the genomes of hundreds of people from around the world to create the most detailed and medically useful picture of human genetic variation. Recovery Act funds will allow the international consortium to increase data production and analysis.
 
Statistical and Computational Data Analysis and Software Methods: New technologies are producing extremely large sets of data related to DNA sequence, genetic variation and genomic function at an unprecedented rate. NHGRI has funded researchers to develop new analytical methods and software for processing and using datasets. Particular attention will be devoted to integrating data generated by large population studies, gene expression research and environmental assessments.
 
Cellular Responses to Perturbations : This is a new area of research for NHGRI. The Recovery Act funding will allow investigators to assess the feasibility of and develop methods to conduct high-throughput studies that can catalog and examine the relationship between cell function and its response to perturbations. Examples of perturbations include: exposure to various biological molecules, small molecule compounds and genetic mutations. Understanding these relationships will provide insights into systems biology, as well as facilitate drug discovery.
 
For more information about Recovery Act funding awarded by NHGRI, go to www.genome.gov/27530304/the-recovery-act/. For more information about NHGRI's funded research programs listed above, go to: www.genome.gov/12010633/overview-of-the-extramural-research-program/.
More information about NIH's Recovery Act grant funding opportunities can be found at http://grants.nih.gov/recovery. To track the progress of HHS activities funded through the Recovery Act, visit www.hhs.gov/recovery. To track all federal funds provided through the Recovery Act, visit www.recovery.gov
Last Reviewed: April 28, 2011
Last updated: April 28, 2011