Welcome to NHGRI's Redesigned Website!
Welcome to NHGRI's Redesigned Website!
January 2010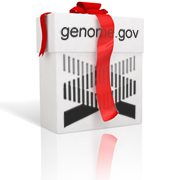 The National Human Genome Research Institute (NHGRI) has launched a new, redesigned website. Our goal is to make it easier for you to find what you're looking for, and to help you take greater advantage of social media to interact with our institute.
Genome.gov is NHGRI's public face, 24-hours a day, seven days week. The website provides information about the institute's research programs, which includes research funded by NHGRI at academic institutions, and research conducted by NHGRI scientists on the campus of the National Institutes of Health (NIH). In addition, genome.gov offers a wide range of information about grants and other funding opportunities; educational resources and programs; careers and training; genetics and genomics in health care; ethical, social and legal issues; and many other subjects.
The redesign reorganizes NHGRI's information to make it easier and more logical for you to find. It applies new tools to help specific audiences - such as students, teachers and grant applicants - to find more easily their desired information. In addition to reorganizing information, the redesign includes the increased use of multimedia, photos and other images to make the site more visually appealing.
New Navigation
New channel pages, called For You, will quickly and easily take you to a list of information, tailored to your particular needs and interests. The channels were developed for a number of different audience groups, including students, educators, patients, health professionals and grant applicants. Each For You section features a collection of quick links to resources of specific interest to that audience.
Another new addition to genome.gov are the buttons on the top, horizontal menu bar that appear on every page. Hover over the top menu bar buttons and dropdown menus appear, revealing the categories of content deeper in the site:
Research Funding leads to grant opportunities and various programs of the Division of Extramural Research.
 
Research at NHGRI describes the research programs of the Division of Intramural Research in the laboratories on the NIH campus.
 
Health will lead you to two sets of information: one set for patients and another set for health professionals.
 
Education provides information that can help teachers and students understand genetics and genomics.
 
Careers and Training points out opportunities that may lead to careers in the field of genomics research.
 
Issues in Genetics leads to a world of complex policies and issues surrounding the use and impact of genetic information.
 
Newsroom and About lead you to the latest news from NHGRI, and everything you need to know about the institute.
 
New Left-Hand Navigation
Deeper in the site, the left-hand navigation shows groups of information under a related major category; hovering a mouse over any link with an arrow will fly-out more menu selections. Additional new navigational aids include a list of keywords, or page tags, that group similarly tagged pages into a super search result that shows pages on genome.gov related to that keyword or tag.
Still not sure where to go? Use the customized Google search built into the site or check out the Popular links on the lower right side of the home page.
Social Media
For several years, genome.gov has provided RSS (Real Simple Syndication) feeds, a kind of news feed that sends updates about changes on the website to those who subscribe. Now, you can Bookmark or Share any pages on the site, and by so doing connect genome.gov pages to nearly 200 social media sites across the Internet, from FaceBook to Twitter to Technorati.
In addition, genome.gov is integrating social media capabilities into its own site, using NHGRI's successfully launched, moderated public comment system on its long-range planning process, currently being re-energized by Eric D. Green, M.D., Ph.D., the new director of the institute. As new documents are produced, genome.gov will again provide a way the genomics community can comment and help NHGRI plan its future.
More immediately, you can now comment on and discuss the highlights that regularly appear on the genome.gov home page. The chat will be moderated by members of the NHGRI communications staff, following guidelines already developed for government sites. More opportunities for social interaction on genome.gov are being planned for 2010.
YouTube
Along with the genome.gov redesign, NHGRI has just launched a YouTube channel at www.youtube.com/genometv. The institute is moving toward increased video and audio content on its website with the launch of a new multimedia section that serves video, audio and still images for free use by anyone. Products of the federal government are in the public domain, so any content may be used without permission.
As always, we'd appreciate your feedback. The NHGRI Web team is currently running the American Consumer Satisfaction Index (ASCI) survey on genome.gov, so if it pops up in the browser, we'd appreciate it if you'd take a few minutes to tell us what you think of our new site. You also can ask questions or provide feedback at www.genome.gov/10005049/questions-and-feedback/. We're listening.
Last updated: March 14, 2014