Multiplex Initiative Showcases Outcomes of Genetic Test Study at Detroit Symposium
Multiplex Initiative Showcases Outcomes of Genetic Test Study at Detroit Symposium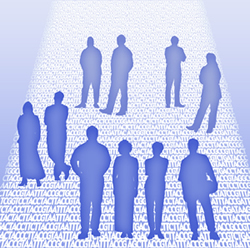 How can complex genetic information be communicated to the lay public?
How does genetic risk information fit into the scope of family histories and the health risks posed by environmental factors? As personalized genetic information becomes more readily available, social scientists are arriving at some of these insights.
A team of researchers that included National Human Genome Research Institute (NHGRI) investigators convened in Detroit on May 27 to present data and analysis from a study of how healthy, young people use genetic risk-susceptibility tests. The one-day symposium, entitled The Multiplex Initiative: Implications for Personalized Medicine, dealt with a range of provocative issues that are increasingly relevant as such tests become more easily available to the public. Lectures included the presentation of important, first-time analyses of who might use predictive genetic tests and how such information might be used by individuals when making decisions about their own health.
The Multiplex Initiative study was launched in May 2007 by the NHGRI and the National Cancer Institute, at the National Institutes of Health (NIH), along with the Group Health Cooperative in Seattle and the Henry Ford Health System in Detroit. For the first two years of the study, the investigators accumulated data from 2,000 Detroit residents who were offered a multiplex genetic test for eight common conditions.
The Multiplex Symposium was hosted by the Detroit-based Henry Ford Health System, which played a key role in recruiting subscribers from their health group plan into the study. Approximately 40 researchers and observers took part in the one-day summation of the study's outcomes.
"The research highlighted in this symposium is bringing evidence to the controversial questions raised by new multiplex genetic tests being offered to the public," said co-lead investigator Colleen McBride, Ph.D., senior investigator and chief of NHGRI's Social and Behavioral Research Branch. "The study provided an important glimpse into the realities of how everyday people will respond to genetic risk-susceptibility tests and how they might use the information if they elect to be tested."
Questions that Multiplex Initiative researchers have tackled include whether all social groups will be interested in testing and their motives for seeking genetic susceptibility testing. Even as these questions are being considered, technologies for learning about personal genomic characteristics are advancing. Before the Multiplex Initiative, no systematic study had been conducted to learn what genetic information to pass along to people about their risk of disease and how to best-present that information to individuals. Answers to these questions are important for the patient, but are also important for the medical community who are already encountering patients who have purchased test kits and received their results.
Since the summer of 2008, study investigators have published five scholarly articles that explore issues or analyze data from the Multiplex Initiative study. Two articles are in press and another two are under review by peer-reviewed journals. The first published article was a commentary in the August 2008 issue of the journal Nature Genetics that introduced the study by addressing emerging issues facing the scientific community as the field moves from genome discovery to medical impact. Taking their own advice, Multiplex Initiative researchers are already drawing upon this study to generate publications as important guidance for other investigators who are actively pursuing research questions in the field of personalized medicine.
About the Study
Multiplex tests, such as the one being used in this study, can detect common variants of genes that slightly alter the chances of acquiring particular diseases. The term "multiplex" refers to performing multiple genetic tests at the same time, using a single blood sample. The multiplex test used in the study was designed to yield information about 15 different genes that play roles in type 2 diabetes, coronary heart disease, high blood cholesterol, high blood pressure, osteoporosis, lung cancer, colorectal cancer and malignant melanoma.
Of the 2,000 participants who took part in the Multiplex Initiative, 266 agreed to the free multiplex genetic testing. The participants were randomly selected, healthy individuals between the ages of 25 and 40. On average, those tested received results indicating that they carry four to 10 risk versions of individual genes. However, having a risk version of one of the 15 genes on the multiplex genetic test does not mean that a person is certain to get the condition - only that he or she might have a greater chance of developing the disorder. There are many things other than genetics that contribute to the risk of common diseases, including lifestyle factors such as diet, exercise, smoking and sun exposure.
Once enrolled, participants were asked to review information online about the multiplex genetic test and to decide whether they were interested in taking the test. Those who agreed to testing met with a research educator, who provided more information about the risks and benefits of testing, and obtained the patient's written consent. Test results were mailed to participants. Trained research educators called the participants to help them interpret and understand their results. The study also included follow-up interviews with participants three months after they received their results.
The Multiplex Initiative study team included Dr. McBride; Lawrence Brody, Ph.D., senior investigator in the NHGRI Genome Technology Branch; NHGRI Deputy Scientific Director Andy Baxevanis, Ph.D.; Henry Ford epidemiologist Sharon Hensley Alford, Ph.D., M.P.H., who led the Detroit-based team; Eric B. Larson, M.D., M.P.H., executive director of the Group Health Research Institute, who led the Seattle group; and Robert Reid, M.D., Ph.D., Group Health Research Institute's associate medical director for preventive care.
Last updated: November 15, 2012