60th ASHG Program Showcased NHGRI Research
60th ASHG Program Showcased NHGRI Research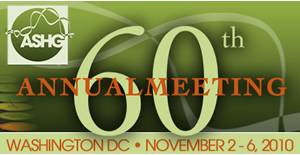 The 60th annual meeting of the American Society of Human Genetics (ASHG)
, the largest human genetics gathering in the world, was held at Walter E. Washington Convention Center in the nation's capital from November 2-6, 2010. National Human Genome Research Institute (NHGRI) researchers and staff participated in presentations, poster sessions and exhibits at this widely attended event.
"ASHG's annual meeting is a great opportunity for exchange of ideas among thousands of people who study the human genome," said NHGRI Scientific Director Daniel Kastner, M.D., Ph.D. "The event always is a vibrant forum, affording those from NHGRI and colleagues across the National Institutes of Health an opportunity to showcase a wide array of advances in genetics and genomics research."
ASHG is the primary professional membership organization for human genetics specialists worldwide, representing 8,000 researchers, academicians, clinicians, genetic counselors, nurses and others with a special interest in this area.
On the meeting's opening day, Tuesday, Nov. 2, The National Institutes of Health (NIH) hosted a town hall meeting to gather community perspectives on its plan to develop the Genetic Testing Registry, which will help consumers and health care providers determine the best options for genetic testing. More than 1,600 genetic tests are available to patients and consumers but there is no single public resource that provides detailed information about them. The Genetic Testing Registry, announced this past March, is intended to fill that gap.
The majority of meeting sessions ran from Wednesday through Friday. Laura Lymon Rodriguez, Ph.D., acting director of the Office of Policy, Communications and Education and senior advisor to the director for research policy, kicked off NHGRI's participation on Wednesday, Nov. 3, with a presentation of NIH's policy developments at a social issues session on "Identifiability in the Era of Genome-scale Research." Also that day, Charles Rotimi, Ph.D., director of the Center for Research on Genomics and Global Health (CRGGH), chaired an invited scientific session on "Complex Disease Genetics Research in Admixed Populations."
On Thursday, Nov. 4, Colin Fletcher, Ph.D., program director in NHGRI's Division of Extramural Research spoke as an invited scientific presenter on the "Knock-out Mouse Project and Other Targeted Mouse Mutant Resources." Also, Inherited Disease Research Branch Co-Chief Joan Bailey-Wilson, Ph.D., was invited to present "Linkage was successful, so why can't we find a gene? Examples from cancer and other diseases."
A research group including Charles Venditti, M.D., Ph.D., Genetics and Molecular Biology Branch investigator, presented a platform talk on Friday, Nov. 5, during the Mechanisms and Treatment of Metabolic Disease session. A number of platform talks this day featured NHGRI researchers, including presentations on genetic variants associated with stuttering and a population study in African Americans of a gene associated with influences on risk of body mass index, hypertension and type 2 diabetes.
More than 50 posters were presented by NHGRI researchers across three days of poster sessions. These posters ranged from research that introduces the clinical application of whole exome sequencing for atherosclerosis, to detection of neurological disease genes, to new discoveries in the canine genome correlating human gastric cancer and that found in the Chow Chow breed. Poster presenters included members of the NIH Intramural Sequencing Center, the Office of Population Genomics, the Center for Inherited Disease Research, the Center for Research on Genomics and Global Health, as well as all seven NHGRI intramural branches.
NHGRI representatives were available in the exhibit hall at booth 436, distributing information on requests for applications (RFAs), employment and training opportunities, and the institute's research portfolio.
Participation from the National Human Genome Research Institute (NHGRI)


Read NHGRI abstracts for each ASHG presentation.
To view the PDF document(s) on this page, you will need Adobe Reader.

Last updated: March 14, 2014