Four NHGRI Scientists, Grantees Recognized By President Obama
Four NHGRI Scientists, Grantees Recognized By President Obama
Clockwise from top left: Dr. Charles Venditti (NHGRI), Dr. Brian Brooks (NHGRI, NEI), Dr. Manolis Kellis (MIT) and Dr. Bradley Malin (Vanderbilt University)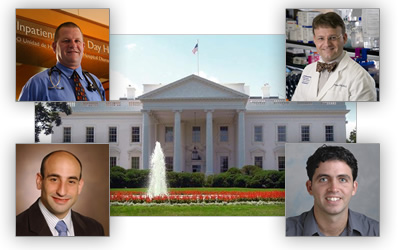 Personal electronic devices have been known to interrupt life's rhythms, including tender moments like putting one's four-year-old to bed. For Charles Venditti, M.D., Ph.D., an investigator in the Genetics and Molecular Biology Branch of the National Human Genome Research Institute (NHGRI), his device held news that was worth the interruption: it was an e-mail from the White House informing him that he'd been selected to receive a prestigious Presidential Early Career Award for Scientists and Engineers (PECASE).
Dr. Venditti is one of four researchers affiliated with NHGRI, and 85 researchers from across the country, who all received similar transmissions indicating they had been selected for the highest honor awarded by the U. S. government to science and engineering professionals in the early stages of their independent research careers. President Barack Obama will greet the PECASE recipients at a Dec. 13 ceremony at the White House complex.
"Science and technology have long been at the core of America's economic strength and global leadership," said President Obama in a White House press release. "I am confident that these individuals, who have shown such tremendous promise so early in their careers, will go on to make breakthroughs and discoveries that will continue to move our nation forward in the years ahead."
Joining Dr. Venditti in receiving the award are Brian Brooks, M.D., Ph.D., NHGRI adjunct investigator in the Genetic Diseases Research Branch, and investigator and chief of the National Eye Institute's (NEI) Pediatric, Developmental and Genetic Ophthalmology Laboratory; Manolis Kellis, Ph.D., associate professor of computer science, Massachusetts Institute of Technology (MIT), Cambridge ; and Bradley Malin, Ph.D., assistant professor of biomedical informatics in the school of medicine and assistant research professor of computer science in the school of engineering, Vanderbilt University, Nashville, Tenn. Both Drs. Kellis and Malin currently receive funding from NHGRI's Division of Extramural Research.
"I am thrilled to join President Obama in extending my congratulations, on behalf of our institute, to Drs., Brooks, Kellis, Malin, and Venditti," said NHGRI Director Eric Green, M.D., Ph.D. "They each are to be commended for the caliber of their research, which has the potential to benefit patients with common and rare diseases, and advances the field of genomic science."
President Barack Obama poses with the PECASE recipients at the White House complex on December 13, 2010.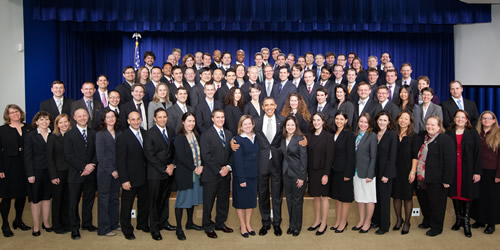 On Dec. 13, the PECASE recipients met with President Obama at the White House after a ceremony at the U.S. Department of Agriculture. The National Institutes of Health (NIH) winners celebrated at an NIH reception the next day.
PECASE selection reflects the high priority the president and the administration places on producing outstanding scientists and engineers to advance the nation's goals, tackle grand challenges and contribute to the U.S. economy. Ten federal departments and agencies join together annually to nominate the most meritorious scientists and engineers whose early accomplishments show the greatest promise for assuring the country's preeminence in science and engineering and contributing to the awarding agencies' missions.
The awards, established by President Clinton in 1996, are coordinated by the Office of Science and Technology Policy within the Executive Office of the President. Awardees are selected for their pursuit of innovative research at the frontiers of science and technology, and their commitment to community service as demonstrated through scientific leadership, public education or community outreach.
"I saw the note and couldn't believe it," Dr. Venditti said about reading the e-mail from the White House Office of Science and Technology. "It is the top honor I've ever received." Dr. Venditti's PECASE comes on the heels of his 2010 Outstanding New Investigator Award, which he accepted this past May from the American Society of Gene and Cell Therapy.
Dr. Venditti studies a group of inherited metabolic disorders that cause methylmalonic acid and homocysteine to accumulate in body fluids until they reach toxic levels. Methylmalonic acidemia, for instance, is associated with multiple conditions, including the failure of babies to thrive, severe metabolic instability, seizures and strokes, developmental delays, pancreatitis and kidney disease.
"I am glad this award can reflect on some of the work we are doing on methylmalonic acidemia and to rare metabolic disorders that are under studied and often lack effective therapies," Dr. Venditti said, adding that he is hopeful that his research in the lab can improve outcomes for affected children. "I think to the future when we can help them avoid medical complications of these disorders."
Dr. Brooks studies a potentially blinding congenital malformation of the eye called uveal coloboma, which accounts for about 10 percent of childhood blindness. He has identified genes that play a role in the closure of the optic fissure, which is incomplete in the disease, including two genes that are being pursued with particular interest in ongoing studies.
"I was caught off guard by the announcement," said Dr. Brooks, who also received notification of his award in an e-mail from the White House. Initially incredulous, Dr. Brooks was assured by NEI Director Paul Sieving, M.D., Ph.D., that the message meant he was going to the White House.
"I was humbled that I had even been considered and am thankful to all those who have supported me at the NEI and NHGRI. I feel privileged to be able to be at the NIH, where I can see - and hopefully help - patients, and do meaningful research on their conditions," said Dr. Brooks. I enjoy the stimulating, collaborative and interdisciplinary research climate and the ability to teach residents, fellows and students for the next generation." Drs. Brooks and Venditti are, in fact, collaborators on a research protocol for a metabolic condition that causes blindness.
Dr. Kellis develops analytical tools that enable the comparison of genome sequences among many model organisms, from the fruit fly to primates and humans, in an effort to identify and understand how the functional parts of genomes interact to contribute to health and disease. His group at MIT has developed sophisticated computational methods that integrate large and diverse genomic datasets so that they can be analyzed to ultimately improve knowledge of the human genome.
"Genome science will undoubtedly herald continued breakthroughs in our understanding of genome function, and its role in human health and disease," said Dr. Kellis. "It promises to yield new insights into disease-associated variants that were previously uncharacterized."
Dr. Kellis' methods are currently used to integrate and analyze large datasets for the ENCyclopedia of DNA Elements (ENCODE) project, which is building a comprehensive catalog of all elements in the human genome crucial to biological function, as well as for model organism ENCODE (modENCODE), parallel efforts in the fruit fly and roundworm genomes, which share many of the same biological processes that humans do.
Dr. Malin is a co-investigator on two NHGRI grants and principal investigator on two grants from the National Library of Medicine. His work centers around the Vanderbilt Genome-Electronic Record (VGER) project and NHGRI's Electronic Medical Records and Genomics (eMERGE) network, which is an effort that aims to combine data from DNA repositories that collect and store biospecimens such as DNA, linked to electronic medical records for genomic research. This resource has the potential to help researchers' studying the relationship between genetic variation and a common human trait using the technique of genome-wide association analysis.
"I have been fortunate to work with some truly inspiring mentors and students," said Dr. Malin. "I am honored to receive such a distinguished award and am grateful to the National Institutes of Health for their support of my research."
The NIH institutes whose extramural grantees are also celebrating receipt of PECASE awards include the Eunice Kennedy Shriver National Institute of Child Health and Human Development; the National Eye Institute; the National Heart Lung and Blood Institute; the National Institute on Aging; the National Institute on Alcohol Abuse and Alcoholism; the National Institute of Arthritis and Musculoskeletal and Skin Diseases; the National Institute on Deafness and other Communication Disorders; the National Institute of Dental and Craniofacial Research; National Institute of Diabetes and Digestive and Kidney Diseases; the National Institute on Drug Abuse; the National Institute of General Medical Sciences; the National Institute on Neurological Disorders and Stroke; and the National Library of Medicine.
Last updated: March 14, 2014