Parents favor genetic tests that might detect children's susceptibility to common diseases
Parents favor genetic tests that might detect children's susceptibility to common diseases
By Raymond MacDougall
NHGRI Staff Writer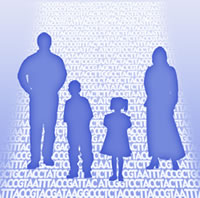 Parents are generally willing to allow genetic testing
to determine their children's susceptibility to eight, adult-onset health conditions according to a new study published in the April 18th online edition of the journal
Pediatrics
. The research team — which included an investigator from the National Human Genome Research Institute (NHGRI) — concluded that as genetic testing becomes more common, pediatricians should anticipate parents' interest in testing children and help them weigh the risks and benefits of this testing.
"Genetic testing of children is quite controversial. However, there is no evidence documenting any harm in obtaining genetic test results," said Colleen McBride, Ph.D., chief of NHGRI's Social and Behavioral Research Branch and the senior author on the paper. "It is really a question of whether it's the best way to spend money to keep your child healthy."
The survey tested 219 parents on their attitudes and beliefs about the risks and benefits of the tests for their children. The set of tests scanned DNA for individual genetic alterations that would increase children's susceptibility to colon, skin and lung cancer; heart disease; osteoporosis; high blood pressure; high cholesterol; and type 2 diabetes. Benefits of the testing included reassurance, knowledge and prevention. Potential risks included an invasion of privacy, psychological discomfort and a lack of utility.
The study survey built upon the broader Multiplex Initiative, which examines the public's use of the multiplex genetic test, a panel of 15 genetic tests for eight common health conditions. The initial study offered healthy, young adults — all members of the Henry Ford Health System in Detroit — genetic testing for susceptibility to eight common, adult-onset health conditions. Participants received, on average, nine indicators of elevated risk for a common disease, and virtually everyone who was tested received elevated risk feedback. However, these results generally indicated only modest elevations in disease risk, since multiple behavioral and genetic factors also can contribute to disease risk.
"This time we focused on parents because multiplex genetic tests are marketed as a way to promote family health, which implicitly targets children," Dr. McBride said. "We are hearing anecdotally about parents starting to bring questions about multiplex genetic test results to their pediatricians."
The study found that parents tended to consider that the benefits of testing outweighed the risks, and that they were inclined to have their child tested if the test were offered. Parents were more likely to want to have their child tested if they thought their child was at risk for disease, were interested in gene-health links and anticipated a positive emotional reaction to learning their child was at a decreased risk of disease. The study also found that parents may not accurately anticipate their full range of emotional reactions to genetic information about their children's risk for common disease conditions, and may benefit from greater discussion of the limited value and potential downside of testing children. No children were actually tested in this study.
In addition to researchers from NHGRI and the Henry Ford Health System, the study team included experts in bioethics, pediatrics, health intervention, clinical psychology and risk communication affiliated with Georgetown University Medical Center, Harvard School of Public Health, Duke University School of Nursing and Seattle Children's Hospital.
"We've been working on aspects of our study for four solid years and the team represents a lot of different disciplines and perspectives," said Dr. McBride. "It was a very diverse team, which shows that you have to bring these different perspectives together to answer the important questions generated by these new health tools."
Reviewed: April 11, 2012