Genomics and Health Information Technology Systems: Exploring the Issues
Genomics and Health Information Technology Systems:
Exploring the Issues
April 27-28, 2011
Bethesda North Marriott, Salon A
Bethesda, Md.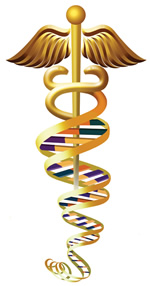 The National Human Genome Research Institute (NHGRI) held a conference entitled "Genomics and health information technology systems: Exploring the issues," on April 27-28, 2011. This conference brought together leaders in genomics research and health care delivery to explore the important research and policy issues facing the integration of genomic information into health information technology systems.
The pace of health-related genomic discoveries is accelerating. A major hallmark of genomic science is the complex and substantial quantity of data that gets generated. Successful management of genomic information in research settings requires robust informatics infrastructure to store, share, and analyze these data. The application of genomics to improving health outcomes will require similarly robust clinical informatics systems to securely store, transmit, and analyze genomic information. The conference explored the spectrum of issues that must be addressed to ensure that the public derives the maximum benefit from the intersection of genomic discoveries and clinical informatics systems.
Materials from the conference are available below:
To view the PDF document(s) on this page, you will need Adobe Reader.

---
Last updated: September 11, 2012