Take the 'Talking Glossary of Genetic terms' mobile app with you
Take the 'Talking Glossary of Genetic terms' mobile app with you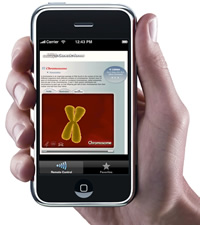 Looking for an on-the-go genetics tool for your mobile device? Well, wait no longer: There's an app for that!
Just in time for the back-to-school season, the National Human Genome Research Institute (NHGRI) is releasing the free 'Talking Glossary of Genetic Terms' mobile app.
"Now, when you hear a genetic term on TV, from your physician or in any conversation, you can quickly hear an expert tell what that term means. Literally, it is in the palm of your hands," said Jeff Witherly, Ph.D., senior advisor in NHGRI's Education and Community Involvement Branch. The glossary app is exclusively available for the iPhone, iPad, and iPod Touch.
In addition to a written definition, users can listen to a scientist explain the term and provide context. The glossary also contains more than 150 colorful illustrations and more than thirty 3-D animations that illustrate genetic concepts at the cellular level.
The mobile version of the glossary includes all of the bells and whistles of the online version, including new and simplified search methods, easy-to-find terms of interest, alphabetical navigation to search functions and lists of related terms. There's even a fun "Test Your Gene Knowledge" quiz so users can check their understanding of the glossary's contents.
Many of the glossary terms are studied in middle school, high school and collegiate science classes. Teachers at all levels were used to help compile the terms and evaluate the glossary during development.
To download the talking glossary app, please visit: http://itunes.apple.com/us/app/talking-glossary-of-genetics/id428340581?mt=8&ls=1
Last updated: May 22, 2012