Create a health portrait for your family this Thanksgiving
Create a health portrait for your family this Thanksgiving
By Raymond MacDougall
Associate Communications Director for Intramural Research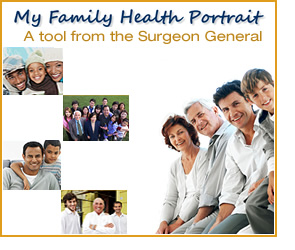 Millions of families across the nation will celebrate the Thanksgiving Holiday with a traditional family meal and an extra helping of time together. It's a golden opportunity to learn about, record and pass down your family health history - using a customized resource for you and for your healthcare provider. Gathering this information can help you identify the diseases and conditions that run in your family, and help you make informed decisions about preventive health screening and improved health behaviors.
The U.S. Surgeon General has declared Thanksgiving National Family History Day and November Family History Month. To help record and share your health history with family members, there's a free, online tool from the U.S. Surgeon General called, "My Family Health Portrait," available at https://familyhistory.hhs.gov. The tool organizes family health information into a printout you can share with health care professionals who can then help determine whether you are at higher risk for certain diseases.
It takes less than 20 minutes to enter each family member's health history information about common diseases. The tool also allows users to return and enter additional information as it becomes available, and does not require complete information about every family member. To ensure privacy, no user information is saved on any computer of the U.S. federal government.
If you prefer to use a paper version of the tool to gather and record your family's information, a printable PDF of the Surgeon General's tool is available in several languages at My Family Health Portrait Tool - Printable Versions [hhs.gov].
To learn more about the U.S. Surgeon General's online family history tool, see The U.S. Surgeon General's Family History Initiative: My Family Health Portrait.
There's also a wealth of information at the NIH Senior Health website, at Creating a Family Health History [nihseniorhealth.gov].
A recent webinar produced by the Genetic Alliance and featuring NHGRI's Dr. Greg Feero of the Genomics Healthcare Branch, explores a variety of health history tools at Family Health History Collection Tools: Start Building Your Family Tree [geneticalliance.org].
Last Reviewed: February 4, 2012
Last updated: February 04, 2012