African researchers weigh in on ethics of genomic research on African continent
African researchers weigh in on ethics of genomic research on African continent
Dr. Clement Adebamowo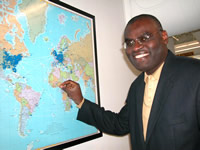 Bioethicists, scientists, policy makers and representatives from Africa, the United States and the United Kingdom met Nov. 28-29, 2011, in Abuja, Nigeria, to develop a comprehensive plan for the ethical conduct of genomic research in Africa.
"Our goal at this meeting - the very first of its kind ever held in Africa - was to identify gaps in our knowledge and policies related to ethics in genomic research. This will help us to begin developing standards of conduct for the future of genomic research in Africa," said Clement Adebamowo, Sc.D., meeting organizer and director of the West African Bioethics Training Program at the University of Ibadan in Nigeria, which is funded by the U.S. National Institutes of Health (NIH).
The landmark meeting was sponsored by Ethics and Genomics Research in Africa (EAGER-Africa) (http://eager-africa.com), part of the Human Heredity and Health in Africa (H3Africa) program. NIH and the Wellcome Trust, a global charity based in London, formed H3Africa in 2010 with input from the African Society of Human Genetics. The goal is to improve African scientists' capacity to solve some of their country's health problems through research on the genomic and environmental causes of common diseases. The National Human Genome Research Institute (NHGRI) administers H3Africa on behalf of the NIH Common Fund.
Charles N. Rotimi, Ph.D., director of NHGRI's Center for Research on Genomics and Global Health, provided the conference opening statement, highlighting the H3 Africa Program and the importance of including research on the ethical, legal, and social implications of genomics. The two-day conference, culminated a series of recommendations for investigators, policy makers and international funding agencies. African researchers cited the following high priority needs:
The need to build and strengthen the capacity of African researchers to conduct research in resource-limited settings.
 
The need for African investigators to maintain some control over how the samples and data are used. In H3Africa, this will be achieved in part by funding the development of a biorepository in Africa, rather than shipping samples to a repository overseas.
 
The need to pay adequate attention to the environmental factors that contribute to disease - not just genetic factors.
 
The need for guidance on obtaining meaningful informed consent from research participants who may have very limited understanding about genomics i.e., who may not have words in their language for concepts like "genes," for deciding how to return research results to communities and individual research participants, and for protecting the privacy of research participants.
 
The need to incorporate religious perspectives into ethical deliberation about genomics. This includes perspectives of Islam and of local religions that emphasize the role of entities like good and evil spirits.
 
The need to develop mechanisms to facilitate the sharing of information about research approaches and among funded African bioethics researchers.
 
"Genetics and genomics researchers have always been interested in studying people in Africa - the original source of all human genetic diversity," said Jean E. McEwen, J.D., Ph.D., program director of NHGRI's Ethical, Legal, and Social Implications Research program. "The EAGER-Africa meeting was novel in its recognition of the need to have Africans serve not just as donors of samples, but as active participants in the genomics research enterprise."
Based on meeting recommendations, NIH plans to issue a request for applications in fiscal year 2012 to support research on the societal implications of genomics in Africa. Funding would begin in fiscal year 2013. H3Africa funding opportunities can be found at http://h3africa.org/links/funding.
Last Updated: February 5, 2014
Last updated: February 05, 2014