Characterizing and Displaying Genetic Variants for Clinical Action Workshop
Characterizing and Displaying Genetic Variants for Clinical Action Workshop
December 1-2, 2011
Marriott Washingtonian Center I
Gaithersburg, Md.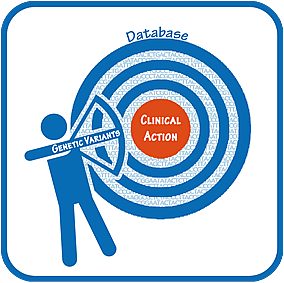 On Dec. 1-2, 2011, the National Human Genome Research Institute (NHGRI), organized a workshop - Characterizing and Displaying Genetic Variants for Clinical Action Workshop - at the Marriott Washingtonian Center I, Gaithersburg, Md.
The goal of the workshop was to consider the processes and resources needed to identify clinically relevant genetic variants; to decide whether they are actionable and what the action should be; and to provide this information for clinical use.
The workshop addressed topics such as:
Perspectives on Existing Genetic Variation Resources
Current Approaches for Identifying Genetic Variants for Clinical Use
Developing Consensus for Binning Variants for Clinical Use
Creating a Translation Loop for Genomic Medicine
Translating Actionable Variants into Evidence-Based Practice
The agenda with associated PowerPoint presentations and videos from the workshop are linked below.
Last updated: March 01, 2017