Pharmacists focus on education in genomics at meeting with NHGRI
Pharmacists focus on education in genomics at meeting with NHGRI
By Jeannine Mjoseth
NHGRI Deputy Communications Director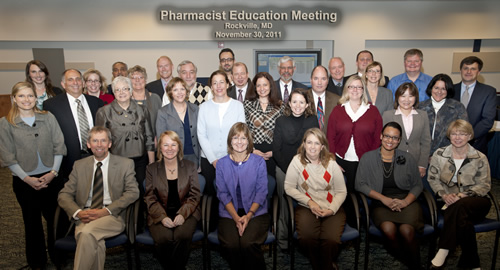 Pharmacogenomics is the science of determining how differences in our genes can affect our response to medicines. This field has exploded in recent years with genomic discoveries relevant to medications commonly dispensed in pharmacist practice including warfarin and clopidogrel, several anti-viral agents and a wide range of targeted chemotherapies for cancer. These discoveries, coupled with the rise in direct-to-consumer marketing of pharmacogenetic testing, emphasize the need to enhance pharmacist pharmacogenomics education. On Nov. 30-Dec. 1, 2011, the National Human Genome Research Institute (NHGRI) hosted a meeting of several major U.S. pharmacy organizations in Rockville, Md., to discuss the current landscape of pharmacist education in genomics.
"There are many drugs on the market. They all work, but just not in everyone," said Eric D. Green, M.D., Ph.D., NHGRI director. "Pharmacists are in a unique position to help implement genetically guided drug selection - pharmacogenomics - because of their expertise and their role at point of care."
Meeting participants contributed to the conversation, sharing perspectives about individual and organizational efforts, and identifying potential opportunities for focused action. Topics discussed included:
The current status of pharmacist education in genomics from the perspective of genetics, pharmacist care, pharmacy practice and academic pharmacist communities.
Core educational needs in genomics as defined by pharmacists.
Opportunities and barriers that face efforts to enhance pharmacist genomic literacy.
Concrete strategies to take advantage of existing opportunities for genomics education, including interdisciplinary collaborations, at various stages of health professional education.
Planning for next steps for strategically addressing pharmacist education.
"There's an increasing recognition that doctors are not adequately prepared to tackle pharmacogenomics by themselves; it's going to take a team approach," said Greg Feero, M.D., Ph.D., special advisor to the NHGRI director for genomic medicine in the Office of Policy, Communications and Education's Genomic Healthcare Branch. "Among pharmacy schools and organizations, there's no dearth of pharmacogenomic policies, competencies and statements. But it does seem like we need a plan to harmonize and fully implement those."
To help distribute already available educational tools, pharmacy organization representatives will soon be discussing the opportunity to add their resources to the Genetics/Genomics Competency Center for Education (www.g-2-c-2.org). This online tool provides a centralized repository for health professional education resources for use in genetics/genomics education. At present, educational information for nurses, physician assistants and genetic counselors is available on the website. More information will be available on www.genome.gov in Spring 2012.
Posted: January 19, 2012
Last updated: January 19, 2012