Nurses, administrators sought for research project on genomic competency
Nurses, administrators sought for research project on genomic competency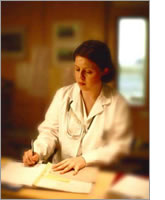 The National Human Genome Research Institute (NHGRI) has found a number of ways to encourage health care professionals to get more training in genomics research and practice. This includes convening health care professionals, publishing in professional journals and supporting the development of resources such as the Genetics/Genomics Competency Center [genomicseducation.net], an online educational resource for nurses, genetic counselors and physician assistants.
Now, Jean F. Jenkins, Ph.D., Genomic Healthcare Branch senior clinical advisor, is inviting nursing departments to participate in a research project called Expanding RN Scope of Practice: A Method for Introducing a New Competency into Nursing Practice. The project is designed to strengthen a nursing department's ability to translate the benefits of the latest genomic discoveries to the bedside and document innovative practice across magnet hospitals. The National Council of State Boards of Nursing (NCSBN) funded this project.
For one year, champion dyad teams, consisting of an administrator and an educator from 25 magnet hospitals, will receive support, education, resources and consultations with genomics experts to facilitate excellence in professional nursing practice. Nurse administrator and educator dyads who would like to strengthen their ability to translate new innovations into nursing practice through leadership, education and nursing research and to be a model program for genomics competency are encouraged to apply. To learn more about the program and the application process, please visit http://www.hsc.wvu.edu/son/MINC.aspx.
Applications are closed.
For information, please contact the principal investigator:
Laurie Badzek, L.L.M., J.D., M.S., R.N., F.A.A.N.
Director, Appalachian Quality of Life Institute
Director, ANA Center for Ethics and Human Rights
West Virginia University School of Nursing
Health Sciences Center
PO Box 9600
Morgantown, WV 26506
(304) 293-1604
lbadzek@hsc.wvu.edu
Last updated: November 28, 2017