Health disparities research program life-changing for postdoctoral fellows
Health disparities research program life-changing for postdoctoral fellows
By Omar McCrimmon
Assistant Public Affairs Specialist
Despite notable progress in the overall health of the nation, there are continuing disparities in the burden of illness and death experienced by African Americans; Hispanics or Latinos; American Indians and Alaska Natives; and Native Hawaiian and other Pacific Islanders, compared to the U.S. population as a whole.
The National Human Genome Research Institute (NHGRI) Intramural Health Disparities Postdoctoral Fellowship Program provides recent doctoral graduates the opportunity to use genetic and genomic approaches to advance the growing area of health disparities research. The fellowship involves basic, clinical or behavioral research related to populations affected by health disparities and the medically underserved. It also cultivates a diverse group of genetic and genomic scientists who want to engage and educate the public about genomic research. The fellowship experience supported profound scientific growth in two recent outstanding fellows: Keisha Findley, Ph.D., and Bashira Charles, Ph.D.
Keisha Findley
Keisha Findley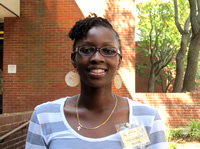 Keisha Findley, Ph.D., a Takoma Park, Md. native, conducted microbial research while studying for her doctorate in molecular genetics and microbiology at Duke University in Durham, N.C. Findley initially entered graduate school with a passion for viruses but soon realized that virology wasn't her only passion, but microbiology in general. Her very first rotation was in a fungal lab and, from that moment, she was intrigued.
"The field of mycology was new to me and I decided to venture down a path of the unknown," she said. "Fungi are a key component for life and I continued exploring that field."
As Dr. Findley neared the end of her graduate training, she began looking for a post-doctoral fellowship at the National Institutes of Health (NIH). While pursuing her graduate studies, Dr. Findley enjoyed reading gut microbiome papers, but was puzzled with the lack of interest in fungal diversity in many microbiome papers. She later decided to merge her interests in fungi with the Human Microbiome Project, headed by Dr. Julie Segre, and applied for the Minority Health Disparities fellowship at NHGRI. The Human Microbiome Project, launched in 2008, focuses on all the microorganisms that reside in or on the human body and how they affect human health.
One of Dr. Findley's key projects includes assessing the stability of the fungal microbiome on healthy human volunteers. Another key project includes analyzing the link between fungi and eczema. This project fascinated Dr. Findley because eczema is a common skin problem in individuals with brown skin, including those of Asian, Latino and African descent. It is the second most common skin disease in African Americans.
"When I came across the announcement for the fellowship, I knew right away that this program would complement both my research and outreach interests," said Dr. Findley. "My fungal background made the transition to post-doctoral work relatively easy and for that I am very grateful."
In the future, Dr. Findley hopes to become involved in educating underserved communities about careers in science. In particular, she hopes to build science, technology, engineering and mathematic programs for inner city school systems.
Bashira Charles
Bashira Charles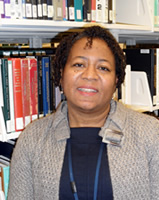 Bashira Charles, Ph.D., earned a bachelor's of science at Temple University in her home town of Philadelphia, and a master's degree in nursing from the University of Pittsburgh. She decided to combine her clinical knowledge with genetics to explore the genetic factors associated with disease susceptibility.
"I was very lucky that I went to the University of Pittsburgh," she said. "Though my Ph.D. was in nursing, they tailored a program of study for me."
For her Ph.D. project, she collaborated with both the human genetics and epidemiology departments on the genetic basis of diabetic retinopathy. She received the Ruth L. Kirschstein National Research Service Award, now known as the Research Service Award, to support her doctoral research. Dr. Charles conducted a related study using data and genetic material from the Epidemiology of Diabetes Interventions and Complications Study (EDIC), which she published in the Feb. 18, 2010, issue of Ophthalmic Research.
In 2009, Dr. Charles accepted a post-doctoral position at the National Institute of Nursing Research (NINR). During her brief tenure at NINR, she became interested in investigating complex human diseases. In particular, Dr. Charles wanted to focus on the genetic factors associated with diabetes and its related complications, specifically problems that diabetic patients have with their small blood vessels.
"Raymond Dionne, my mentor at NINR, recommended that I apply for the health disparities post-doctoral fellowship prior to my arrival at NINR," she said. Dr. Dionne is NINR's scientific director and interim intramural training director.
Dr. Charles applied for the fellowship and began looking for a mentor. She was impressed by Dr. Charles Rotimi, director of NHGRI's Center for Research on Genomics and Global Health (CRGGH), and his studies of African ancestry populations.
"CRGGH research interests coincided with the follow-up work I had proposed on diabetes-associated phenotypes and diabetes complications so I selected Dr. Rotimi as a potential mentor," she said.
At CRGGH, Dr. Charles conducted a genome wide association study of uric acid in African Americans (A genome-wide association study of serum uric acid in African Americans

) and a project investigating the association of interleukins with measures of obesity and insulin resistance (The roles of IL-6, IL-10, and IL-1RA in obesity and insulin resistance in African-Americans: PubMed). She also contributed to a review paper on statistical genetics.
Dr. Charles would like to remain at NIH as an investigator or staff scientist researching complications associated with diabetes. She hopes to combine her clinical background, knowledge of genetic epidemiology and administrative skills.
For more information about the NHGRI Intramural Health Disparities Postdoctoral Fellowship Program, please visit: www.genome.gov/26525053/nhgri-intramural-health-disparities-postdoctoral-fellowship-program/
Posted: February 3, 2012
Last updated: February 03, 2012