Advances in Genomics Research Summer Program
The National Human Genome Research Institute
invites talented and dedicated graduate students to the:
Advances in Genomics Research Summer Program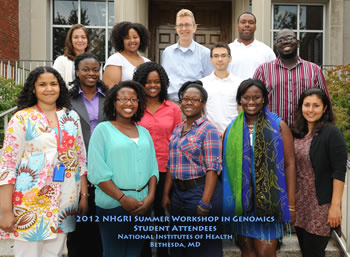 The National Human Genome Research Institute (NHGRI) coordinated the efforts of the National Institutes of Health (NIH) to sequence the human genome as part of the International Human Genome Project (HGP). This project was successfully completed in April 2003. Now, the NHGRI's mission has expanded to encompass a broad range of studies aimed at understanding the structure and function of the human genome and its role in health and disease.
The NHGRI Advances in Genomics Research Summer Program is targeted to Ph.D. and M.D.-Ph.D. students enrolled in programs with areas of concentration in Molecular Biology, Computational Biology and/or Genetics. This intensive five-day course will include seminars presented by leading NHGRI research investigators, focusing on the latest advances in basic genomics research, the genetic basis of disease, and the ethical, legal and social implications of genomics research. Students will present their research at a poster session and engage with NIH investigators, postdoctoral trainees and career counselors. This is a unique opportunity for students interested in pursuing careers in genomics research to gain information, career advice and visibility in the research-rich context of the NIH.
A Sample of Course Content
2012 Agenda

Accommodations, Travel, Meals
NHGRI will pay for hotel accommodations, meals and domestic travel both to and from the National Institutes of Health in Bethesda, MD.
Eligibility
Applicants must be enrolled in a PhD or MD-PhD program at an accredited U.S. college or university. This course is intended to encourage participation of students from racial and ethnic groups that have been shown to be underrepresented in health-related sciences on a national basis (See: Women, Minorities, and Persons with Disabilities in Science and Engineering [nsf.gov]). To be eligible, candidates must also be U.S. citizens or permanent residents.
How to Apply
The application period for 2015 will open in September 2014.
For more information
Faith Harrow, Ph.D.
Training Program Coordinator
Intramural Training Office
National Human Genome Research Institute
National Institutes of Health
Bethesda, MD 20892
Phone: (301) 451-3645
Fax: (301) 480-3897
E-mail: harrowf@mail.nih.gov
To view the PDF document(s) on this page, you will need Adobe Reader.

Last Updated: February 14, 2014
Last updated: February 14, 2014