Rare Disease Day 2012
Patients and Researchers: Partners for Life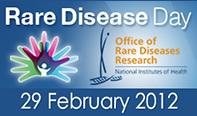 The National Human Genome Research Institute will help raise the awareness of rare diseases by observing Rare Disease Day on Wednesday, Feb. 29, 2012, as it participates in a daylong symposium on the disorders. The event is coordinated in the United States by the National Organization for Rare Disorders and is supported in part by the NIH Office of Rare Diseases Research. This year's theme is Solidarity.
Nearly 30 million Americans are affected by one of 7,000 rare diseases. About 80 percent of rare diseases are genetic in origin and about 75 percent affect children. Rare diseases can be chronic, progressive, debilitating, disabling and life-threatening. Information is often scarce and research is usually insufficient. People affected face numerous challenges, such as delays in obtaining a diagnosis, misdiagnosis, psychological burden and lack of patient and family support services. The goal of rare disease advocates is to obtain for patients the highest attainable standard of health and the resources required to overcome common obstacles in their lives.
Rare Disease Day at NIH (RDD@NIH)
On February 29, 2012, the National Institutes of Health (NIH) will celebrate the 5th annual Rare Disease Day with a daylong symposium focused on various rare diseases research supported by the NIH Office of Rare Diseases Research, the NIH Clinical Center, NIH institutes and centers, the Health Resources and Services Administration (HRSA), the Food and Drug Administration's Office of Orphan Product Development (OOPD), the National Organization for Rare Disorders (NORD), and the Genetic Alliance.
Rare Disease Day at NIH (RDD@NIH) will be held in the Clinical Center's Masur Auditorium (Building 10) from 8:30 a.m. to 5:00 p.m. Attendance is free and open to the public. In addition to the various scheduled talks, there will be posters and exhibits from many groups involved in the rare diseases research community. Attendance is free and open to the public. You can view the agenda here

While attendance is free, NIH would like to know how many people are planning to attend to prepare accordingly. If you would like to display a poster or exhibit, please include that information on your registration form. You can contact Dr. David J. Eckstein at eckstein@od.nih.gov for more information.
The NIH Office of Rare Diseases Research encourages all attendees to also plan on attending the Food and Drug Administration's Rare Disease Day activities on March 1, 2012.
Visit the NIH Visitors and Security website for the latest instructions and updates. Please allow 30 minutes to move through security. Sign language interpreters will be provided. Individuals with disabilities who need reasonable accommodation to participate in this event should contact Kimberly Potter at kpotter@icfi.com or 301-251-4962 or the Federal TTY Relay number at 1-800-877-8339. Requests should be made at least five days in advance of the event.
NHGRI Information and Resources about Rare Diseases
For Students, Teachers, Patients and Families, and Researchers and Healthcare Professionals
Genetic and Rare Diseases Information Center (GARD)
Established by NHGRI and the NIH Office of Rare Disease Research, GARD was established to help people find useful information about genetic conditions and rare diseases. The center is staffed by experienced information specialists to answer questions in English and Spanish.
Frequently Asked Questions About Genetic and Rare Diseases
Find out about genetic and rare disorders, genetic testing, genetic counseling and evaluation, and more.
Rare Disease Research Involving NHGRI Researchers
NIH Therapeutics for Rare and Neglected Diseases (TRND) [trnd.nih.gov]
Launched in 2009, NIH's TRND project, which involves NHGRI researchers, is the first integrated, drug development pipeline to accelerate the production of new treatments for rare and neglected diseases.
NIH Undiagnosed Diseases Program [rarediseases.info.nih.gov]
NHGRI clinical researchers play a prominent role in this NIH clinical research program that aims to provide answers to patients with mysterious conditions that have long eluded diagnosis. The Undiagnosed Diseases Program focuses on the most puzzling medical cases referred to the NIH Clinical Center in Bethesda, Md., by physicians across the nation.
Specific Genetic Disorders
More information on specific genetic, orphan and rare diseases.
Find out more about Rare Disease Day and how YOU can get involved.
To view the PDF document(s) on this page, you will need Adobe Reader.

Posted: February 27, 2012
Last updated: February 27, 2012