NIH summer student alum wins Best Graduate Student Presentation award
NIH summer student alum wins Best Graduate Student Presentation award
By Omar McCrimmon
Assistant Public Affairs Specialist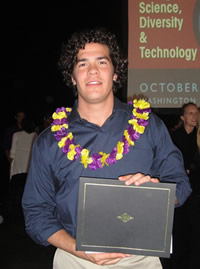 Keolu Fox, a 2010 alumnus of the National Human Genome Research Institute (NHGRI) Diversity Action program, has taken big steps towards his dream of opening a genome center in Hawaii that focuses on health disparities.
"Everyone thinks of Hawaii as a tropical paradise or tourist destination," said Mr. Fox. "The Hawaii I know is plagued with diabetes, obesity, cancer and heart disease." Polynesians' health problems were essentially neglected because, until 1997, their health reports were combined with Asian Americans who are some of the healthiest individuals in the United States, he noted.
"Keolu is very passionate about returning to his native Hawaiian community and applying his training in genomics and interest in health disparities," said Ed Ramos, Ph.D., an NHGRI research fellow, who served as one of Mr. Fox's mentors. "It is wonderful to see a young trainee driven by such a personal and important goal."
His drive and ambition were recognized at the 2011 annual conference of the Society for Advancement of Chicanos and Native Americans in Science (SACNAS), an organization that fosters the success of Hispanic/Chicano and Native American scientists from college students to professionals. He won distinction as the "Best Graduate Student Presenter for Genetics" for his presentation on the genetic cause of autism spectrum disorder in Mexican American Families. He worked on the project with Evan Eichler, Ph.D., University of Washington, whose lab focuses on a specific type of human genetic variation called structural variation, or copy number variation. Although Mr. Fox was never affected by autism personally, he was eager to work on this project because no one had ever taken a detailed look at the copy number of variants within Mexican-American families. He felt that this was his chance to make a difference.
During his tenure at NHGRI, Mr. Fox contributed to a project on the effects of type 2 diabetes on the renal function of various populations. He learned about the intersection of human genetic variation and pharmacogenomics, the branch of pharmacology that deals with the influence of genetic variation on patients' responses to medication.
"The time I spent at NHGRI was priceless. Being exposed to world-class research inspired me and fed my imagination," said Mr. Fox. "It definitely gave me confidence in my big-picture goals."
Charles Rotimi, Ph.D., director of the Center for Research on Genomics and Global Health and Dr. Ramos both mentored Fox at the National Institutes of Health (NIH). Under their leadership, Mr. Fox learned much-needed skills, including how to prepare for presentations and publications, write publications, communicate with senior level scientists and be a team player.
"Keolu has an infectious enthusiasm that will serve him very well as he continues his training," said Dr. Ramos. "He always managed to maintain a positive and creative approach to his project and this is something that you just can't teach."
Mr. Fox is currently enrolled at the University of Washington in Seattle where he studies genome sciences and health disparities. He is also an F31 pre-doctoral minority fellow through a program designed to promote diversity in health-related research, and teach young investigators how to prepare standard NIH grants.
For more information on the summer internship in biomedical research program, please go to www.training.nih.gov/programs/sip.
Posted: April 9, 2012
Last updated: April 09, 2012