Establishing a Central Resource of Data from Genome Sequencing Projects
Establishing a Central Resource of Data from Genome Sequencing Projects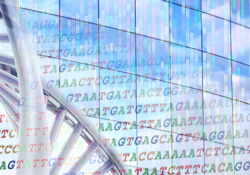 On June 5-6, 2012, the National Human Genome Research Institute (NHGRI) participated in a National Institutes of Health workshop - Establishing a Central Resource of Data from Genome Sequencing Projects -  at the Hilton Washington D.C./Rockville Hotel & Executive Meeting Center, Rockville, Md.
The workshop addressed the challenges to aggregating and analyzing data sets from genome sequencing studies, such as:
Data sets being generally hard to access.
Data residing in various databases.
Variant and exposure/phenotype data not being comparable across studies.
Participants in the workshop discussed options for dealing with these challenges, along with their costs and tradeoffs.
Tuesday, June 5, 2012
 
Topic
Speaker
1
The Challenges to Aggregating and Analyzing Datasets from Sequencing Studies

Video | Slides not availalable

Francis Collins, M.D., Ph.D.
National Institutes of Health
2
Goals of the Workshop

Video | Slides

Eric D. Green, M.D., Ph.D.
National Human Genome Research Institute
3
Scope of the Data Sets

Video | Slides

Adam Felsenfeld, Ph.D.
National Human Genome Research Institute
4
Questions to Address in Disease Biology

Video | Slides

David Altshuler, M.D., Ph.D.
Broad Institute

5
Questions to Address in Drug Target Validation

Video | Slides

Jeff Trimmer, Ph.D.
Pfizer Inc.
6
Challenges in Analyzing Across Multiple Sequencing Data Sets

Video | Slides

Eric Boerwinkle, Ph.D.
University of Texas Health Sciences Center
7
Approaches to Streamlining the Data Access Process (Technical/Analysis)

Video | Slides

Ewan Birney, Ph.D.
European Bioinformatics Institute
8
Approaches to Streamlining the Data Access Process (Policy/ELSI)

Video | Slides

Laura Lyman Rodriguez, Ph.D.
National Human Genome Research Institute
 
9
Central Analysis Server (Technical/Analysis)

Video | Slides

Mark DePristo, Ph.D.
Broad Institute
10
Central Analysis Server (ELSI Issues)

Video | Slides

Pearl O'Rourke, M.D.
Partners Healthcare Systems
11
Policy and ELSI Issues Related to Data Access

Video | Slides

Wylie Burke, M.D., Ph.D.
University of Washington
Wednesday, June 6, 2012
 
Topic
Speaker
12
Sequencing Data Processing

Video | Slides

Gonçalo Abecasis, D.Phil.
University of Michigan School of Public Health
13
Phenotype and Exposure Data Harmonization

Video | Slides

Leslie Lange, Ph.D.
University of North Carolina School of Medicine
14
Databases and Computation

Video | Slides

Stephen Sherry, Ph.D.
National Center for Biotechnology Information
15
Analysis Tools and Portals

Video | Slides

Gabor Marth, D.Sc.
Boston College
16
What needs to be done to address these issues?

Video | Slides not availalable

Michael Boehnke, Ph.D.
University of Michigan School of Public Health

Wylie Burke, M.D., Ph.D.
University of Washington

Last Updated: June 19, 2012
Last updated: June 19, 2012