San Francisco hosts 62nd annual meeting of ASHG, Nov. 6-10
San Francisco hosts 62nd annual meeting of ASHG, Nov. 6-10
NHGRI showcased in research, workshops, awards and exhibit-see booth #825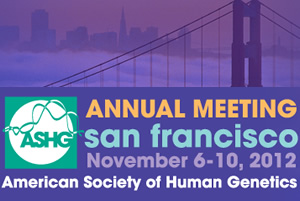 When the American Society for Human Genetics (ASHG)
convenes in San Francisco from Nov. 6-10, 2012, a quarter of the National Institutes of Health institutes and centers will be represented. The greatest share of NIH input will be from the National Human Genome Research Institute (NHGRI), which includes two scientists who are engaged in this year's program committee and dozens who will present talks, performances, workshops and information about funding, collaboration and training opportunities.
ASHG is the primary professional membership organization for human genetics specialists worldwide. The society has nearly 8,000 members who contribute to the scientific community, including researchers, clinicians, academicians, ethicists, genetic counselors, nurses and others with a special interest in human genetics.
More than 6,000 scientists, medical geneticists and genetic counselors are expected to attend the ASHG annual meeting, the world's largest scientific conference on human genetics. It will be held at San Francisco's Moscone Center.
"The ASHG annual meeting provides a forum for presenting the highest quality basic and translational science and the latest clinical information in human genetics, as well as nurturing scientific collaborations through networking" said ASHG Executive Vice President Joann Boughman, Ph.D.
Topics of the ASHG meeting's invited scientific sessions, platform presentations and posters will include:
gene discovery in human genetics
new insights and challenges in next generation sequencing
revelations about human genes from studies of model organisms
progress in gene therapy
advances in non-invasive prenatal diagnosis
implications of population genetic studies
modeling in statistical genetics
data centralization and its implications for genetics
cancer genetics
clinical and social implications of genomics
improvements in genetics education
Alec Wilson, Ph.D., co-branch chief of NHGRI's Inherited Diseases Research Branch serves on the 2012 ASHG Program Committee. "I have been tremendously impressed by the unseen choreography of the ASHG meeting staff," he said. "Nearly a year before the meeting actually takes place they focused the very diverse group of scientists that comprise the Program Committee to craft sessions that are timely and reflect cutting edge research."
Elaine Ostrander, Ph.D., NIH Distinguished Investigator and chief of NHGRI's Cancer Genetics Branch also served on the ASHG Program Committee "We've worked hard to be topical and focus on areas of interest and need," she said, adding that the committee made effort to attract "the best of genetics research and genomic science."
Invited sessions will be among the array of scientific talks. At one on Wednesday morning, Ellen Sidransky, M.D., Ph.D., senior investigator in NHGRI's Medical Genetics Branch, will explore the link between the enzyme glucocerbrosidase and Parkinson's disease. At another on Saturday morning, Leslie Biesecker, M.D., Ph.D., chief of NHGRI's Genetic Diseases Research Branch, will discuss ClinSeqTM, a pilot study of large-scale medical sequencing.
Four of the 20 concurrent sessions will be moderated by NHGRI investigators. More than 10 platform talks will be delivered by individuals selected from NHGRI laboratories to present findings, from the genetics of obesity and diabetes to pharmacogenomic decision making for global populations. NHGRI research teams will present more than 40 posters among a dizzying array of more than 3,300 posters in the poster sessions.
As in years past, the NHGRI exhibit will be on display, this year in booth # 825. The booth will be staffed by NHGRI exhibit manager Omar McCrimmon, who will be joined by staff and scientists from the institute throughout the hours the exhibit is opened. For a schedule of those times, see ASHG Meeting Staff Booth Schedule

In conjunction with the ASHG meeting, NHGRI science policy analyst Jonathan Gitlin will moderate a special workshop on Wednesday evening to discuss strategies that scientists can adopt for using social media to advance their research and careers. The workshop will provide an overview of different social media platforms and will demonstrate how social media can be used in the context of genetics and genomics work. Jeannine Mjoseth, NHGRI deputy chief of communications, will be a workshop panelist and will discuss the role that social media plays in NHGRI's communications outreach.
An additional special event planned for Friday evening, in conjunction with the ASHG meeting, is an interactive play aimed at illuminating the ethical, psychological, social, legal and policy issues raised by sharing information from next-generation DNA sequencing. NHGRI advisor Karen Rothenberg developed the play, which will include a guest role for Carla Easter, Ph.D., deputy chief of NHGRI's Education and Community Involvement Branch.
The final day of the meeting, Saturday, Nov. 10, will feature ASHG's annual awards, including the 2012 Victor A. McKusick Leadership Award that will be presented to Francis Collins, M.D., Ph.D., director of the National Institutes of Health. Dr. Collins will be the sixth recipient of the award, named in honor of the late Dr. Victor A. McKusick, a medical genetics pioneer who during a 60-year medical was an early proponent of mapping the human genome.
For a complete selection of NHGRI participation in the 62nd Annual ASHG meeting, go to ASHG 62nd Annual Meeting Schedule

Posted: October 28, 2012
Last updated: October 28, 2012