Gather for a family health portrait this Thanksgiving
Gather for a family health portrait this Thanksgiving
Join in a Family History Twitter Chat on Nov. 20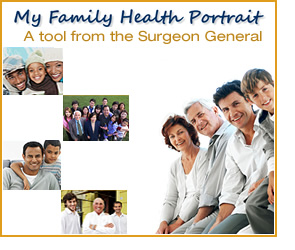 Every year since 2004, the U.S. Surgeon General has declared Thanksgiving to be National Family Health History Day. Over the holiday, or at other times when families gather, the Surgeon General encourages Americans to talk about and write down the health problems that seem to run in their family. Learning about your family's health history may help ensure a longer, healthier future together.
U.S. Surgeon General Regina Benjamin, M.D., M.B.A., started the conversation this year by co-hosting a National Family Health History Twitter chat with the March of Dimes on Tuesday. Read the one-hour Twitter chat here

, or continue the discussion on Twitter at #familyhealthhistory.
To help record and share your health history with family members, the Surgeon General's office, developed, initially with support from the National Human Genome Research Institute (NHGRI), a free, online tool called, "My Family Health Portrait" at https://familyhistory.hhs.gov. The tool helps you organize your family health information, print it out, and share it with health care professionals, who can then help determine whether you are at higher risk for certain diseases.
"Knowing your family health history provides a powerful view into your own genome without even having its sequence," said NHGRI Director Eric D. Green, M.D., Ph.D. "The U.S. Surgeon General's Family History Initiative was first proposed just as the Human Genome Project was being completed but before the dramatic drop in genome-sequencing costs made it economically feasible to sequence individuals' genomes for medical reasons. The web-based tool helps organize meaningful health information into patterns that family doctors can use to heighten surveillance for early disease detection or even to develop medical interventions to prevent disease from occurring."
It takes less than 20 minutes to enter each family member's health history information about common diseases. The tool also allows users to save their information to their own computers, return and enter additional information as it becomes available, and does not require that the information be complete for every family member. To ensure privacy, no user information is saved on any computer of the U.S. federal government.
If you prefer to use a paper version of the tool to gather and record your family's information, a printable PDF of the Surgeon General's tool is available in several languages at My Family Health Portrait Tool - Printable Versions [hhs.gov].
To learn more about the U.S. Surgeon General's online family history tool, see The U.S. Surgeon General's Family History Initiative: My Family Health Portrait.
There's also a wealth of information at the NIH Senior Health website, at Creating a Family Health History [nihseniorhealth.gov].
The Genetic Alliance hosts a variety of health history tools, including a webinar produced in partnership with NHGRI's Genomics Healthcare Branch, at Family Health History Collection Tools: Start Building Your Family Tree [geneticalliance.org].
To view the PDF document(s) on this page, you will need Adobe Reader.

Last updated: November 20, 2012