2012 SACNAS conference brings out the best in NHGRI alum Keolu Fox
2012 SACNAS conference brings out the best in NHGRI alum Keolu Fox
By Omar McCrimmon
Assistant Public Affairs Specialist
Keolu Fox at the 2012 SACNAS Conference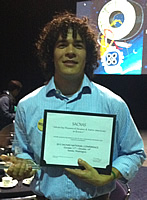 This fall, more than 3,500 students from institutions around the country converged on Seattle, for the Society of Advancing Hispanics, Chicanos, and Native Americans in Science (SACNAS) conference. The organization fosters the success of minority scientists who are pursuing advanced degrees, careers and leadership positions.
SACNAS member and 2010 National Human Genome Research Institute, Diversity Action Program alumnus Keolu Fox has refocused his research on the methods and technology that shed light on human genetic variation and its role in disease. He previously explored the contribution of human genetic variation in patients that are suffering from autism spectrum disorder in Mexican American families (NIH summer student alum wins Best Graduate Student Presentation award).
"Rather than being limited by working on one disease or phenotype, I wanted to be closer to the technology development side of things," said Mr. Fox, a native Hawaiian and a third-year student at The University of Washington (UW) in Seattle.
The conference organizers recognized Fox with the 2012 SACNAS Graduate Student Oral Presentation Award in the genetics category. His talk showcased a new technology developed at The Department of Genome Sciences, University of Washington, Seattle. The technology determines ABO blood types using next-generation human genome sequence data - specifically exome sequencing - which focuses on the critical 1 to 2 percent of the genome that codes for proteins.
Using sequence data from 6,800 individuals - half African American and half Caucasian - researchers were able to accurately identify ABO blood types and compare Red Cross population estimates for both Caucasians and African Americans.
"Specifically, we are comparing haplotypes in the ABO gene," Mr. Fox said, referring to sets of DNA variations that tend to be inherited together. "These patients were chosen for exome sequencing because they had various heart, lung and blood-related disease."
Mr. Fox's research seeks to understand the specific haplotypes found in the group's ABO genes, and to correlate that haplotype within the ABO system to detect if these sub-types predisposed study participants to different diseases.
"We were also able to determine maternally and paternally inherited haplotypes, because you have two copies of the ABO gene - one inherited from your mother and one inherited by your father." The project represents a next-generation, high-throughput look at the role of the ABO gene and its contribution to disease susceptibility.
"This is very important because depending on your blood type A, B or O, you are susceptible to different diseases. For example, AB individuals are at a higher risk of developing heart attack," said Mr. Fox. "I also believe that this technique will help reduce blood transfusion related fatalities, as well as organ transplant rejection."
Mr. Fox's passion for improving the health outcomes of underrepresented populations is still his number-one priority. He believes that human genome sequencing technology will one day be a major form of diagnostic technology in the clinic.
"Approximately 96 percent of genome wide association studies (GWAS), which compare the genetic variants of people with and without a disease of interest, have been conducted on Caucasian subjects," said Mr. Fox. "Those who are most in need must not be the last to benefit from genetic research or the gap in health disparities will continue to widen."
Posted: November 26, 2012
Last updated: November 26, 2012