NHGRI and the Smithsonian Institution: a new partnership
NHGRI and the Smithsonian Institution: a new partnership
June 1, 2012
I came to NHGRI and the D.C. area 18-plus years ago. Since that time, I have become a huge fan of the Smithsonian Institution, with countless weekend visits to its various museums with my two children as they have grown from toddlers to teenagers. Those museums are magical and captivating places to wander, to explore, and to learn. At the same time, I have frequently wondered why genomics (and NIH science more generally) is not more prominently featured by the Smithsonian Institution, especially at its National Museum of Natural History (NMNH). The intellectual and programmatic overlaps between NHGRI and NMNH seem immense, with the potential of these two local meccas to interact aided by their close proximity (less than 10 miles apart). The opportunity to share the excitement of genomics with numerous interested NMNH visitors seems both obvious and compelling.
To explore this potential, a small group of us from NHGRI met last year with the Secretary of the Smithsonian Institution, Wayne Clough, and some of his senior staff. Secretary Clough is a civil engineer specializing in geotechnical and earthquake engineering, so it did not take long for him to appreciate the 'seismic impact' of genomics and to become an enthusiastic supporter for launching a major NHGRI-Smithsonian Institution collaboration. The rest, as they say, is history.
Early in the summer of 2013, the Smithsonian's NMNH will open a special exhibition on genomics and the human genome. This opening is timed to commemorate the 10th anniversary of the completion of the Human Genome Project, which produced the first high-quality reference sequence of the human genome, and the 60th anniversary of the famous Nature paper in which James Watson and Francis Crick first reported DNA's double-helical structure.
While still in the early design stages, the NMNH genomics exhibition will provide a broad introduction to genomics, with different areas allowing each visitor to learn about their own genome, the role of genomics in health and humanity, and the role of genomics in the natural world, including evolution. Some components of the exhibition will also explore the myriad ethical, legal, and social issues arising from the new ability of humans to readily examine their own biological blueprint.
Conceptual sketch of planned Smithsonian genome exhibition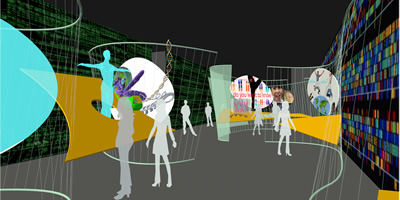 Serendipitously, the exhibition will reside in NMNH's Hall 23 — an easy number to remember since there are 23 pairs of chromosomes in most human cells. But it will not stay there forever. After a year or so in residence, the exhibition will travel around the country and likely internationally. Moreover, a wide range of new educational materials will be developed for students, teachers, and the public, including web content, hands-on laboratory demonstrations, seminars, and perhaps a television documentary. These, too, are still in development.
This is not the first time an NIH institute has worked with a Smithsonian museum in developing an exhibition. However, I believe this may be the most extensive NIH-Smithsonian collaboration to date, with a large group of professionals from NHGRI and NMNH spending countless hours meeting each week in planning this highly collaborative pursuit.
The excitement and public appeal of the exhibition quickly extended to the private sector. Life Technologies Foundation, the philanthropic arm of Life Technologies Corporation, is providing $3 million to help fund the exhibition. To date, over $500,000 of additional funds have been raised through the Foundation for the National Institutes of Health from the Brin Wojcicki Foundation, Celgene Corporation, Pacific Biosciences (and their president and chief executive officer Mike Hunkapiller and his wife Beth), New England Biolabs, and Genentech. The Foundation for the National Institutes of Health continues to raise funds, in particular for supporting the educational outreach components and the traveling of the exhibition. Both NHGRI and the Smithsonian Institution are grateful to these generous donors, as this initiative would be impossible without their support.
While the exhibition commemorates key accomplishments of the past, its content will showcase the future — particularly emphasizing the relevance that genomics will increasingly play in people's lives. We have learned a tremendous amount about the genomic contributions to health and disease in the last decade, but there is still much to discover, understand, and communicate in the coming years. This new NHGRI-Smithsonian Institution partnership has the potential to contribute to that future in a meaningful way. I am profoundly confident that this will turn out to be an extraordinary exhibition, fitting of these two great institutions and the exciting field of genomics.
Past Comments on the June 1, 2012 Page
1. Migdalisel Colon-Berlingeri (August 14, 2012, 10:54)
Congratulations on this accomplishment! I really hope to come to Puerto Rico when you tour the exhibition.
2. Amplicon Express (June 6, 2012, 18:01)
Dr. Green, We would like to be added to your BAC library resource production center link. Just so you are aware, we one of the worlds leading providers of custom made BAC libraries, and have made more than 1350 custom BAC libraries since our inception in 1996. Please include us in your resource network. Thank you Amplicon Express Team.
Posted: December 5, 2012
Last updated: December 05, 2012