Worm genome sequencing influenced Human Genome Project's data sharing principles
Worm genome sequencing influenced Human Genome Project's data sharing principles
By Kathie Y. Sun
NHGRI Scientific Program Analyst
Robert Waterston (left) and Sir John Sulston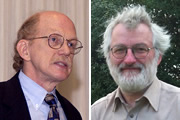 Few people outside the genomics community remember that the genome sequence of a humble worm known as Caenorhabditis elegans (C.elegans) served as a Human Genome Project's (HGP's) pilot project. Robert Waterston, M.D., Ph.D., and Sir John Sulston, Ph.D., genomic researchers who led the sequencing of the C. elegans genome back in the 1990s, recently described this ground-breaking project and their involvement in the HGP. Their February 14 presentation at the National Institutes of Health (NIH) campus, was the first of three paired lectures organized by the National Human Genome Research Institute to celebrate the 10th anniversary of completing the HGP.
In 1984, the two researchers embarked on an inter-continental collaboration: Dr. Waterston worked on the physical map of the worm genome in Dr. Sulston's lab at Cambridge University in England during a brief sabbatical, and then brought the group's work back with him to Washington University in St. Louis. Dr. Waterston is now the William H. Gates III Endowed Chair of Biomedical Sciences and chair of the Department of Genome Sciences at the University of Washington, Seattle. Nobel laureate Dr. John Sulston is chair of the Institute for Science, Ethics and Innovation at The University of Manchester in the United Kingdom, and previously was the founding director of the Wellcome Trust Sanger Institute in Hinxton, England.
Dr. Waterston stayed in touch with his English colleagues via the "Worm Breeder's Gazette," a twice yearly publication from the Sulston group. The Gazette provided updates on research by the C. elegans research community, and encouraged researchers to share data and develop the worm map as a communal project. It was during this time that researchers developed etiquette for exchanging information to close gaps in the worm map, which was completed in 1998.
By 1989, Drs. Waterston and Sulston widened their scope of interest to include the human genome as DNA sequencing gained traction in the scientific world. With funds jointly contributed by NIH and the Medical Research Council of the U.K., they continued their cross-lab, international collaboration on one of the first grants to sequence the human genome. By the fall of 1994, the team presented their plan for completely sequencing the human genome to NHGRI and the Wellcome Trust.
The funding organizations held meetings to coordinate HGP sequencing efforts. At the time, however, genomic data and DNA sequences were protected by some research groups concerned about maintaining their intellectual property. If researchers wouldn't share data, there would be no way to complete the sequence of the human genome, Dr. Sulston said.
Drs. Waterston and Sulston were instrumental in discussions that led to the eventual ratification of the "Bermuda Principles," which guaranteed open access to HGP data. In doing so, they drew upon their prior experiences with sharing data in the worm research community.
"Importantly, all of this sequence is out there in the public domain. A high school student can call it up and use it as they like," said Dr. Waterston.
Had the human genome sequence been entirely proprietary, researchers with insufficient funding would not have been able to contribute to the project, and researchers with access might have faced legal restrictions on publishing and sharing the full extent of their research, Dr. Sulston said.
Instead, Dr. Sulston explained, the Bermuda Principles ensured that, "Everybody has that access without hindrance, which is both useful in the long term and useful to many people far beyond what you can immediately do at the time. This is, I think, the answer to the question of 'why has this been influential?' Well, because it works. It's actually good science and it is good business."
Large, collaborative projects like ENCODE, which is creating an inventory of genomic elements, and projects that target human genomic variation to aid the study of genetic diseases, will continue to rely upon public data as research in genomics progresses, Dr. Sulston said.  He stressed that a more open attitude across society toward potential leaks in genomic data must parallel broad data sharing. Rather than viewing this as a loss of privacy, he emphasized that this data must not be used against anyone.  
"Society needs a principle of genetic equity in some way or another," he said.
Beyond the HGP, Dr. Sulston called for this collaborative spirit to extend to all scientific research funded by both non- and for-profit sources. By securing revenue through a strict interpretation of gene patents, private companies have blocked utilization of particular sequences, Dr. Sulston said. He cited the case against Myriad Genetics, in which the company used intellectual property laws to prevent medical professionals from applying a diagnostic test for breast cancer without paying royalties.
Dr. Sulston warned that the path for scientific research in the for-profit biomedical industry has strayed from the notion that science should reap benefits for all humans and not just shareholders. Science, as a whole, should reexamine its ethical roots and unshackle its results from its monetary returns, he said. A research climate where access to all advancements are distributed fairly among scientists and patients is better for innovation, maximizes the public good and ultimately benefits all, he said.
For Drs. Sulston and Waterston, the goals of encouraging data sharing and the fair application of intellectual property policies are to promote justice. The importance of the data sharing principles pioneered in Bermuda run deeper than the HGP.
"These are principles of life for an equitable world," Dr. Sulston said.
Drs. Waterston and Sulston are widely regarded as the icons of leadership for the open data sharing that became an influential hallmark of genomics and the Human Genome Project, said Eric Green, M.D., Ph.D., director of NHGRI.
Thanks, in part, to their efforts, the HGP "began to change the culture of biomedical research, in particular with respect to the free and open sharing of scientific data," Dr. Green said.
Last Reviewed: September 3, 2013