The Genomics Landscape a Decade after the Human Genome Project
The Genomics Landscape a Decade after the Human Genome Project
April 25, 2013
About the Speakers

Ewan Birney, Ph.D., is a British computational biologist and associate director of the European Molecular Biology Laboratory-European Bioinformatics Institute (EMBL-EBI) in Hinxton, England. EMBL-EBI hosts some of the world's most important collections of biological data. Dr. Birney is a founder of the Ensembl genome browser and other databases. He has played a key role in many large-scale genomics projects, including the sequencing of the human genome and the analysis of genome function in the Encyclopedia Of DNA Elements (ENCODE) project. He has been lead analysis coordinator for ENCODE since 2007. Dr. Birney has played a significant part in annotating the genome sequences of the human, mouse, chicken and several other organisms, which has been important in increasing the understanding of genomic biology. His research currently focuses on genomic algorithms and inter-individual differences in humans and other species. Among his many honors, he was awarded the Francis Crick Lecture, the Overton Prize and the Benjamin Franklin Award.
---

Jeffrey Botkin, M.D., MPH, is professor of pediatrics and associate vice president for research integrity at the University of Utah. He oversees the Institutional Review Board, conflict of interest, responsible conduct of research, biosafety and research ethics education. Trained as a fellow in law, ethics and health at the Johns Hopkins University in Baltimore, in affiliation with the Kennedy Institute of Ethics at Georgetown University in Washington, D.C., Dr. Botkin has more than 20 years of experience in the clinical care of pediatric patients. His research focuses on the ethical, legal and social implications of genetic technology with a particular emphasis on research ethics, genetic testing for cancer susceptibility, newborn screening and prenatal diagnosis. He currently is the chair of the Committee on Bioethics for the American Academy of Pediatrics and a member of the subcommittee on research with children of the Secretary's Advisory Committee on Human Research Protections at the U.S. Department of Health and Human Services. He is also an elected fellow of The Hastings Center in Garrison, N.Y.
---

David Botstein, Ph.D., is a geneticist, educator and director of the Lewis-Sigler Institute for Integrative Genomics at Princeton University in Princeton, N.J. His fundamental contributions to modern genetics include the development of genetic methods for understanding biological functions and the discovery of the functions of many yeast and bacterial genes. In 1980, Dr. Botstein and three colleagues proposed a method for mapping human genes that laid the groundwork for the Human Genome Project. In the 1990s, Dr. Botstein and a colleague used DNA microarrays to study genome-wide gene expression patterns in yeast and in human cancers. A graduate of Harvard College in Boston, Dr. Botstein earned his doctorate from the University of Michigan in Ann Arbor. He taught at the Massachusetts Institute of Technology in Boston, served as vice president for science at Genentech in San Francisco and chaired the Department of Genetics at the Stanford University School of Medicine, Stanford, Calif., before joining the Princeton faculty in 2003.
---

Francis S. Collins, M.D., Ph.D., 16th director of the National Institutes of Health (NIH), is an internationally renowned physician-geneticist. He is noted for his landmark discoveries of several disease genes and his leadership of the National Human Genome Research Institute (NHGRI). Dr. Collins served as director of NHGRI from 1993 to 2008, steering it from its early beginnings as a Center to an NIH Institute, culminating in the April 2003 completion of the much-anticipated human DNA instruction book. Prior to his arrival at NIH, Dr. Collins was a Howard Hughes Medical Institute investigator at the University of Michigan in Ann Arbor. Over his career, he and his colleagues have discovered a number of important genes, including those responsible for cystic fibrosis, neurofibromatosis and Huntington's disease. Most recently, his team identified genes for type 2 diabetes and Hutchinson-Gilford progeria syndrome. A member of both the Institute of Medicine and the National Academy of Sciences, he was awarded the Presidential Medal of Freedom in 2007 and the National Medal of Science in 2009.
---

Nancy J. Cox, Ph.D.
, is professor of medicine and human genetics and chief of the section of genetic medicine at the University of Chicago. Her research focuses on identifying and characterizing variation in genes and how this contributes to common human diseases and related complex traits. More specifically, her laboratory is working to integrate information on DNA variation with genome function for statistical analysis of genotype and sequence data. Her research includes work in pharmacogenomics, and studies on a range of diseases and disorders, including diabetes and diabetic complications, breast cancer, asthma, autism, bipolar disorder, schizophrenia, Tourette syndrome, obsessive-compulsive disorder, specific language impairment, and stuttering. A recipient of several awards, Dr. Cox was a co-winner of the Landon Foundation-AACR INNOVATOR Award for International Collaboration in Cancer Research from the American Association for Cancer Research in 2008, and was named a Pritzker Scholar at the University of Chicago in 2012. She previously served as editor-in-chief of the journal Genetic Epidemiology.
---

Kevin Davies, Ph.D., is the founding editor of Nature Genetics and Bio-IT World. Dr. Davies studied biochemistry at Oxford University in Oxford, England, and received his Ph.D. from St Mary's Hospital Medical School in London for his studies on the genetics of cystic fibrosis. After postdoctoral fellowships at Massachusetts Institute of Technology and Harvard Medical School in Boston, he moved into scientific publishing in 1990, joining the editorial staff of Nature. He became the founding editor of the journal Nature Genetics in 1992. After subsequent positions with the Howard Hughes Medical Institute and Cell Press, where he developed the journal Cancer Cell, he became the founding editor of Bio-IT World, a monthly trade magazine covering the intersection of information technology and life sciences. Dr. Davies is the author of three popular science books, including Breakthrough (co-authored with Michael White), which chronicles the race to isolate the breast cancer gene, and Cracking the Genome, an account of the race to complete the Human Genome Project. His latest book, The $1,000 Genome, explores advances in sequencing and personal genomics.
---

Eric Green, M.D., Ph.D., is the director of the National Human Genome Research Institute (NHGRI) at the National Institutes of Health, a position he has held since late 2009. NHGRI is the largest organization in the world dedicated to genomics research. Previously, Dr. Green was the NHGRI Scientific Director, Chief of the NHGRI Genome Technology Branch, and Director of the NIH Intramural Sequencing Center. Prior to becoming NHGRI Director, his own research focused on using large-scale DNA sequencing to address important problems in genomics, genetics, and biomedicine. Dr. Green received his B.S. degree in bacteriology from the University of Wisconsin-Madison, and M.D. and Ph.D. degrees from the Washington University in St. Louis, Mo.
---

Claire M. Fraser, Ph.D., is director of the Institute for Genome Sciences at the University of Maryland School of Medicine in Baltimore, and one of the world's experts in microbial forensics. Dr. Fraser was previously president and director of the Institute for Genomic Research in Rockville, Md., and led the teams that sequenced the genomes of several microbial organisms, including important human and animal pathogens. She helped launch the field of microbial genomics and revolutionized the study of microbiology. In addition, her work was instrumental in allowing the Federal Bureau of Investigation to trace anthrax material back to its original source. The author of more than 200 scientific publications, Dr. Fraser has edited three books and served on the editorial boards of nine scientific journals. For the past decade, she has been the most highly cited investigator in the field of microbiology. She has received many awards for her work, including the Department of Energy's prestigious E.O. Lawrence Award.
---

Levi A. Garraway, M.D., Ph.D., is an associate professor of medicine in the Department of Medical Oncology at the Dana-Farber Cancer Institute and Harvard Medical School in Boston. Dr. Garraway is also a faculty member of Dana-Farber Center for Cancer Genome Discovery and an associate member of the Broad Institute of MIT and Harvard, where he is co-director of Cancer Genome Analysis in the Broad Cancer Program. With his 20-member investigative team at Dana-Farber and the Broad, he has identified several gene targets and "druggable" pathways relevant to the development and treatment of melanoma, prostate cancer and other cancers. He and his colleagues developed OncoMap, a novel screening approach to profile tumor DNA and find mutations for which targeted therapies already exist or are under development. He has published dozens of papers in leading scientific journals, serves on the editorial boards of major cancer research journals, and received several awards and honors, including the Minority Scholar in Cancer Research Award from the American Association of Cancer Research, the Partners in Excellence Award from the Massachusetts General Hospital, and the Career Award in the Biomedical Sciences from the Burroughs-Wellcome Fund.
---

Kirk Johnson, Ph.D., is the Sant Director of the National Museum of Natural History at the Smithsonian Institution in Washington, D.C. He oversees an annual federal budget of $68 million (fiscal year 2012) and a collection of more than 126 million specimens and artifacts, the largest collection at the Smithsonian. Previously, Dr. Johnson served as a vice president and chief curator of the Denver Museum of Nature & Science, leading its research and collections division and managing its $3.5 million annual budget. Dr. Johnson's research interests include the geology and fossil plants of the Great Plains and the Rocky Mountains from 34 to 145 million years ago. He also studies the cretaceous-tertiary boundary extinction event and the origin of major ecological communities called biomes. In 2010, he led a 10-month excavation in Colorado that recovered more than 5,400 bones of mammoths, mastodons and other ice age animals. The author of numerous scientific papers, he has written nine books, including his most recent, Digging Snowmastodon: Discovering an Ice Age World in the Colorado Rockies.
---

David Kingsley, Ph.D., is a professor and Howard Hughes Medical Institute investigator in the department of developmental biology at Stanford University. For more than two decades, Dr. Kingsley has been employing the help of mice, stickleback fish and humans to study the genetic mechanisms controlling vertebrate skeletal formation and evolution. His laboratory has identified the molecular basis of several mouse skeletal mutations, detailed various aspects of developmental control genes and pioneered the genetic and genomic analysis of vertebrate evolution using populations of threespine stickleback fish. He received his undergraduate degree in biology in 1981 from Yale University in New Haven, Conn., and earned a Ph.D. in biology in 1986 from the Massachusetts Institute of Technology in Boston. Among his many awards and honors, Dr. Kingsley has received the Belknap Prize and Henry Chittenden Award from Yale, and the Conklin Medal for distinguished research in developmental biology. He is a member of the American Academy of Arts and Sciences and the National Academy of Sciences.
---

Dan Roden, M.D., is professor of medicine and pharmacology, director of the Oates Institute for Experimental Therapeutics and assistant vice chancellor for personalized medicine at Vanderbilt University in Nashville, Tenn. His research centers on understanding underlying differences among individuals in their responses to drug therapy, with a particular focus on therapies used to treat cardiac arrhythmias. Over the last decade, he has led Vanderbilt's efforts in pharmacogenomics discovery and use. Dr. Roden is a principal investigator for the Vanderbilt sites of the NIH Pharmacogenomics Research Network and the Electronic Medical Records and Genomics (eMERGE) Network. He directs the Vanderbilt DNA databank BioVU, and co-leads the Vanderbilt PREDICT (Pharmacogenomic Resource for Enhanced Decisions in Care & Treatment) project, which is aimed at placing genetic information into electronic medical records to help predict individual drug responses. Dr. Roden has received many awards and honors, including the Leon Goldberg Young Investigator Award and the Rawls-Palmer Progress in Medicine Award from the American Society for Clinical Pharmacology and Therapeutics.
---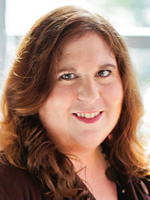 Sarah Tishkoff, Ph.D., is the David and Lyn Silfen University Associate Professor in the Departments of Genetics and Biology at the University of Pennsylvania in Philadelphia. Dr. Tishkoff studies genomic and phenotypic variation in ethnically diverse Africans, combining field work and laboratory research. She uses computational methods to examine African population history and how genetic variation can affect a wide range of practical issues, such as why humans have different susceptibility to disease, how they metabolize drugs and how they adapt through evolution. Dr. Tishkoff has received a number of honors for her work, including an NIH Pioneer Award, a David and Lucile Packard Career Award, a Burroughs Wellcome Fund Career Award and a Penn Integrates Knowledge endowed chair. She is on the editorial boards of several journals, including Genome Research; Evolution, Medicine, and Public Health; Molecular Biology and Evolution; G3 (Genes, Genomes, and Genetics); and The Quarterly Review of Biology. Her research is supported by grants from the National Institutes of Health and the National Science Foundation.
---

David R. Williams, Ph.D., is the Florence Sprague Norman and Laura Smart Norman Professor of Public Health and professor of African and African American Studies and of Sociology at Harvard University in Boston. He is an internationally recognized authority on social influences on health, with special expertise in socioeconomic and racial disparities in health, the effects of racism on health and the ways in which religious involvement can affect health. The Everyday Discrimination scale that he developed is one of the most widely used measures of discrimination in health studies. Dr. Williams is the author of more than 300 scientific papers and is a member of the Institute of Medicine and the American Academy of Arts and Sciences. He has served on the National Committee on Vital and Health Statistics and on seven panels for the Institute of Medicine, including the committee that prepared the 2002 report, Unequal Treatment: Confronting Racial and Ethnic Disparities in Health Care. Currently, Dr. Williams directs the Lung Cancer Disparities Center at Harvard.
Posted: April 4, 2013
Last updated: April 04, 2013