Genomic Sequencing and Newborn Screening Telebriefing Resources
Genomic Sequencing and Newborn Screening Telebriefing Resources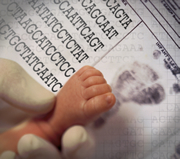 The Eunice Kennedy Shriver National Institute of Child Health and Human Development (NICHD) and the National Human Genome Research Institute (NHGRI), both part of NIH, have awarded $5 million to four grantees from multiple institutions in fiscal year 2013 under the Genomic Sequencing and Newborn Screening Disorders research program.
The program, which will be funded at $25 million over the next five years, was developed from the advice of experts who attended the December 13-14, 2010 meeting, Newborn Screening in the Genomic Era: Setting a Research Agenda. It will sponsor research projects that bring together teams of researchers with expertise in genomic sequencing and analysis of genomic sequence information, application of knowledge gained from genomic sequencing to patient care and the ethical, legal, and social implications of genomic information.
Press Materials
From NHGRI
From NICHD
From NIH Office of Extramural Research
Related Press Releases
Grantees
Public Information Officers
To view the PDF document(s) on this page, you will need Adobe Reader.

Last updated: September 06, 2013