The African Diaspora: Integrating Culture, Genomics and History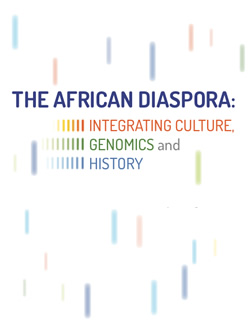 September 12, 2013
Baird Auditorium
National Museum of Natural History
Smithsonian Institution
10th Street and Constitution Ave, NW
Washington, D.C. 20560
The National Human Genome Research Institute, the National Museum of African American History and Culture, and the National Museum of Natural History held a full-day symposium that brought together scholars, scientists and practitioners from various disciplines who are exploring the African Diaspora throughout historical, cultural and genomic lenses with the purpose of understanding a person's ancestry and how that impacts individual health and collective identity.
The symposium's objectives were to foster interdisciplinary dialog on what we can learn about:
Ancestral history from genomic information and historical records.
Ethnic identity and cultural diversity from historical and genomic information.
The arts and culture from ancestral information.
 
Topic
Speaker(s)
1
Welcome and Introductions
Video
Kirk Johnson, Ph.D.
Smithsonian National Museum of Natural History

Eric Green, M.D., Ph.D.
NHGRI

Lonnie G. Bunch III
Smithsonian National Museum of African American

Vence Bonham, Jr., J.D.
NHGRI
 
2
Setting the Stage for Understanding Ancestry of African Americans (Panel)
Video
Moderator: Corey Dade
The Root

Panelists:

Sarah Tiskoff, Ph.D., University of Pennsylvania
Linda Heywood, Ph.D., Boston University
Michael Blakey, Ph.D., College of William and Mary

3
Genealogical Methods: Using Historical Records (Introduction)
Video
William Pretzer, Ph.D.
Smithsonian National Museum of African American History and Culture
4
Library of Congress African American Collections
Video
Ahmed Johnson
Library of Congress
5
African American Genealogical Research at the National Archives
Video
Damani Davis
National Archives and Records Administration
6
Schomburg Center for Research in Black Culture
Video
Steven Fullwood
Shomburg Center for Research in Black Culture
7
Using DNA to Explore Ancestry (Introduction)
Video
Mark Shriver, Ph.D.
Penn State University
8
Synthesizing Genetic and Genealogical Data to Elucidate African American Ancestry
Video
Jake Byrnes, Ph.D.
Ancestry.com
9
Inference of Ancestry of African Americans from Autosomal DNA
Video
Joanna Mountain, Ph.D.
23andMe
10
Using DNA to Explore African Ancestry
Video
Rick Kittles, Ph.D.
University of Illinois
11
Using DNA to Explore African Ancestry (Panel)
Video
Panelists:

Rick Kittles, Ph.D., University of Illinois
Joanna Mountain, Ph.D., 23andMe
Jake Byrnes, Ph.D., Ancestry.com
Mark Shriver, Ph.D., Penn State University

12
Identity and Genetics (Introduction)
Video
Yolanda Moses, Ph.D.
University of California, Riverside
13
The Social Life of DNA
Video
Alondra Nelson, Ph.D.
Columbia University
14
Consuming Genetic Ancestry
Video
Sandra Soo-Jin Lee, Ph.D.
Stanford University
15
Ancestry and Health (Introduction)
Video
Charles Rotimi, Ph.D.
NHGRI
16
Medical Importance of Ancestry Training
Video
Esteban Gonzales Burchard, M.D., M.P.H.
University of California, San Francisco
17
The Confounding of Ancestry and Health
Video
Aravinda Chakravarti, Ph.D.
Johns Hopkins University
18
Population Genetics in the Personal Genome Era
Video
Carlos Bustamante, Ph.D.
Stanford University
19
Ancestry and Health (Panel)
Video
Panelists:

Carlos Bustamante, Ph.D., Stanford University
Aravinda Chakravarti, Ph.D., Johns Hopkins University
Esteban Gonzales Burchard, Ph.D., University of California, San Francisco
Charles Rotimi, Ph.D., NHGRI

20
Arts, Ancestry and Culture (Introduction)
Video
Johnetta Cole, Ph.D.
National Museum of African Art
Smithsonian Institution
21
Arts, Ancestry and Culture
Video
Cheryl Finley, Ph.D.
Cornell University
22
Arts, Ancestry and Culture
Video
Carla Williams, M.F.A.
Rochester Institute of Technology
23
American Cypher Project
Video
Mendi Obadike, Ph.D.
Pratt Institute

Keith Obadike, M.F.A.
William Patterson College
24
Report of the American Society of Human Genetics Ancestry (Introduction)
Video
Vence Bonham, Jr., J.D.
NHGRI
25
Report from the ASHG Roundtable on Genetic Ancestry Inference
Video
Malia Fullerton, Ph.D.
University of Washington
26
Report from the ASHG Roundtable on Genetic Ancestry Inference 
Video
Charmanine Royal, Ph.D.
Duke University
27

Report from the ASHG Roundtable on Genetic Ancestry Inference (Panel)
Video

Moderator: Malia Fullerton, Ph.D.
University of Washington

Panelists:

Charmaine Royal, Ph.D., Duke University
Michael Bamshad, M.D., University of Washington
Last updated: May 29, 2014