FDA clears next-generation sequencer for routine medical care
FDA clears next-generation sequencer for routine medical care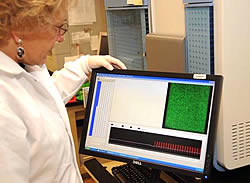 For the first time, the U.S. Food and Drug Administration has cleared a next-generation sequencer for use in clinical laboratories, advancing the use of genomic medicine in routine medical care. FDA announced the regulatory clearance on Nov. 19, 2013, authorizing the clinical use of Illumnia MiSeq DX, a sequencing machine that traces its roots by to research projects funded by the National Human Genome Research Institute (NHGRI), a component of the National Institutes of Health (NIH), but which previously has only been used for research.

"The marketing authorization for the first next-generation genome sequencer represents a significant step forward in the ability to generate genomic information that will ultimately improve patient care," wrote NIH Director Francis S. Collins, M.D., Ph.D., and FDA Commissioner Margaret A. Hamburg, M.D., in a Perspective article in The New England Journal of Medicine published on the same day that FDA authorized the next-gen sequencer.

FDA authorized four diagnostic tests for high throughput gene sequencing, including two assays for cystic fibrosis looking at specific mutations that cause the inherited disorder. The test uses a drop of the patient's blood that then compares specific parts of the patient's genome to the Human Genome Build 19, the reference sequence that evolved out of the Human Genome Project. To evaluate its methodology, Illumina tested its instrument and reagent systems by comparing it to a publicly available reference sequence that was developed by FDA and the National Institutes of Standards and Technology (NIST).

FDA also approved the first test system based on two devices - the Illumina MiSeqDx instrument and the reagents in the Illumina Universal Kit - to allow laboratories to develop and validate sequencing of any part of the patient's genome.

"The FDA's review of the MiSeqDx and sequencer and Universal Kit reagents provides clinical laboratories with information about the expected performance of the device and the quality of the results," said Alberto Gutierrez, Ph.D., director of the Office of In Vitro Diagnostics and Radiological Health in FDA's Center for Devices and Radiological Health. "This information was not previously available for next generation sequencers, and, with this platform, labs can develop tests for clinical use with greater confidence because they use FDA authorized devices."   

Illumina MiSeqDx instrument platform, Universal Kit reagents, MiSeqDx Cystic Fibrosis 139-Variant Assay, and MiSeqDx Cystic Fibrosis Clinical Sequencing Assay are manufactured by Illumina, Inc. in San Diego, Calif.

In a statement, NIH Director Collins said:

"The availability of high-throughput DNA sequencers will enable physicians to take a comprehensive look at a patient's genetic blueprint, or genome, to search for a wide range of variations or changes that increase risk of disease, drive the disease process, and/or affect response to medications and other treatments. Such information has the potential to benefit patients in many ways. For example, an oncologist might use results of a sequencing scan to choose the chemotherapy drug that is most likely to work. 

"This action reflects our nation's commitment to a future in which health-care professionals will be able to use each person's unique genetic information to provide more precise ways of detecting, treating, and preventing disease."
Posted: November 20, 2013
Last updated: November 20, 2013